The S&P 500 Index closed on Friday at 2,071.22, down 1.19% on the week. The stock market experienced 5 straight down days and a 2nddown week as dovish Federal Reserve Board comments regarding fewer interest rate hikes in 2016 stirred concerns about the slow-growing U.S. economy and Brexit uncertainties exacerbated these concerns.
The stock market is determined to accentuate the negative and in so doing is setting stocks up for a sharp rebound once the Brexit vote on 6/24 is out of the way. Aside from a pickup in volatility nothing much has changed in our stock market outlook. We are now oversold on a short-term basis, on a relatively mild 2.5% pullback. Chaikin Money Flow remains strong and the Power Bar differential for the S&P 500 is positive, both very bullish indicators.
The Guggenheim Equal Weighted S&P ETF (NYSEARCA:RSP) continues to outperform the cap weighted SPY and the Russell 2000 small cap ETF (NYSEARCA:IWM) has been outperforming the S&P 500 Index for the past 3 months. These and other positive breadth indicators suggest the once the Brexit vote is behind us (current polls now favor staying in the EU), the stock market will once again attempt to break out above 2,135.
As expected support at 2,085 was broken, but so far little damage has been done to the bullish market structure. Support is now in the 2,025 - 2,050 area. As long as the May low of 2,025 holds on a closing basis we consider the market to be in a bullish trend. As volatility increases this week around the Brexit vote on Thursday in England, buy bullish rated Power Gauge stocks on weakness.
Charts of the S&P 500 Index
The S&P 500 Index reacted to what amounted to a weak economic outlook from the Federal Reserve Board and Brexit fears but remained in an uptrend. Chaikin Money Flow remains positive and the RSP continues to outperform the cap weight SPY.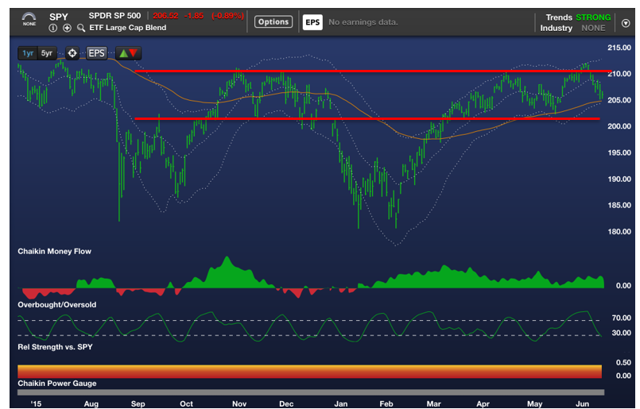 Chart from Chaikin Analytics©
Intra-day Chart of the S&P 500 Index
The stock market seesawed all week reacting to the Federal Reserve Board policy statement and the upcoming vote in Great Britain about whether to stay in or exit the European Union.
Support remains at 2,025 - 2,050 with resistance in the 2,100 - 2,135 area.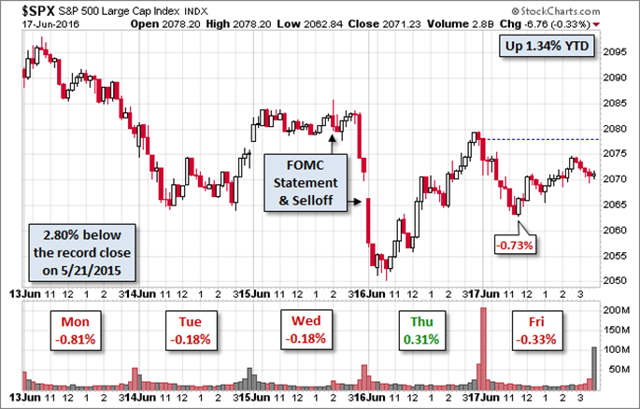 Chart courtesy of Doug Short at Advisor Perspectives
For more market insights, subscribe to PowerSuite Premium, which includes Marc Chaikin's weekly stock market analysis report, Market Insights.
Disclaimer: Chaikin Analytics LLC is not registered as a securities broker-dealer or advisor either with the U.S. Securities and Exchange Commission or with any state securities regulatory authority. Chaikin Analytics does not recommend the purchase of any stock or advise on the suitability of any trade. The information presented is generic in nature and is not to be construed as an endorsement, recommendation, advice or any offer or solicitation to buy or sell securities of any kind, but solely as information requiring further research as to suitability, accuracy and appropriateness. Users bear sole responsibility for their own stock research and decisions. Read the entire disclaimer.