Relying exclusively on technical analysis for longer term investment ideas can lead to unsavory results, but Valero Energy Corp. (NYSE:VLO) may warrant an exception.  The stock is at a significant resistance level first tested in late October 2009 and then in late April 2010.  As the picture below shows, the stock has traded in a well-defined range since mid-2009: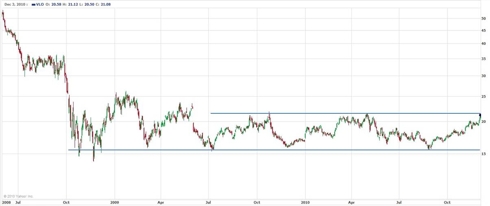 Investors bid up the stock to $21.30 today before a double top pattern completed around 11:35 EST and the stock closed $0.10 lower for the day, down to $20.98.  This bearish signal suggests VLO could begin pulling back in the next few weeks.

However, institutional investor sentiment remains bullish going into year end, and an increasing number of asset managers is looking for a double digit percentage gain in the S&P 500 index next year.  A contrarian indicator?  Perhaps, but unlikely.  VLO's beta relative to the S&P 500 has been:
Last 20 trading days:  1.61
Last 60 trading days:  1.36
Since July 1, 2009:     1.27
These beta values suggest that if the S&P 500 continues to trend higher as many institutions expect, then VLO will follow (and then some).  Additionally, since the current trading range developed around July 1, 2009, VLO's valuation has become increasingly compelling because of fundamental factors such as an improving economy, company assets and cost structure.  A breakout to the upside is also possible in the next few weeks.
So which is it?  Today's failed test of a key resistance level seems like the dominant factor, but only the next several trading sessions will confirm this view.  I am reassessing my long position and contemplating a conservative short position via the following credit call spread:
Sell June 2011 $25 calls for ~$0.77 per contract
Buy June 2011 $30 calls for ~$0.20 per contract
The spread nets ~$0.57 per contract.  Assuming Reg. T margin requirements, the annualized return would be about 20% if VLO were to stay below $25 per share between tomorrow and June 17, 2011.  Looking at the two-year stock chart above, my sense is this call spread represents a good risk-adjusted trade.
This article represents the author's opinions and in no way should be construed as investment advice or a solicitation of any kind.
Disclosure:
I am Long
VLO
.