With the steep market rally we have seen since September, we have rapidly approached and surpassed the April highs of 1220 on the S&P 500 and 11,250 on the Dow Industrials. After such a rally there is big downside risk for a pullback, as investors start taking profits. But considering we have set new yearly highs, and assuming we stay above these critical levels, there may be a possibility that this market continues to advance as uncertainty subsides (at least for now).

If the rally does continue, I expect Housing, Energy, and Technology to be top performers:

Housing appears to have stabilized, though many headwinds still stand in the way; but the absolute worst may be over. Housing stocks also have the highest short interest - with so many people betting against housing, it may be the perfect time to get in before the shorts have to cover their positions.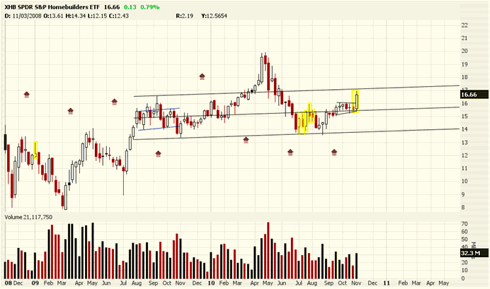 Looking at the 2-year chart of the Homebuilders ETF (NYSEARCA:XHB), we're either setting up for a very bearish Head and Shoulders pattern, or seeing the beginning of a new bull market. If we can break through the top line, expect homebuilders to outperform.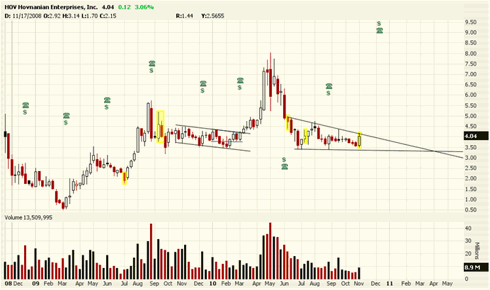 My favorite housing play is Hovnanian (NYSE:HOV). With short interest above 38%, this is a risky bet, but the one with the most reward potential. If we can break above the $4.50 level, expect a rally.

Energy is both a commodity play and an emerging markets play. With Gold (NYSEARCA:GLD), Cotton (BAL), and almost all commodity prices soaring, Energy is bound to benefit. A few years ago Oil was over $150 a barrell! Today it's only around $85. As emerging markets continue to grow, their energy consumption will grow as well. And I expect Oil (NYSEARCA:OIL) to edge higher if growth continues.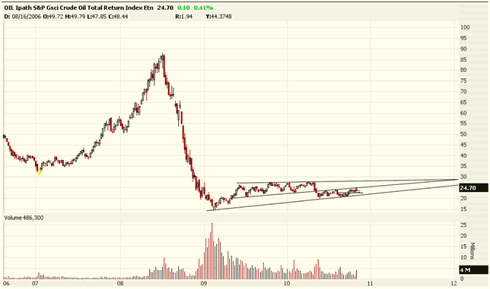 Notice the huge drop in Oil prices since the 2008 highs. We may be setting up for a return to higher levels.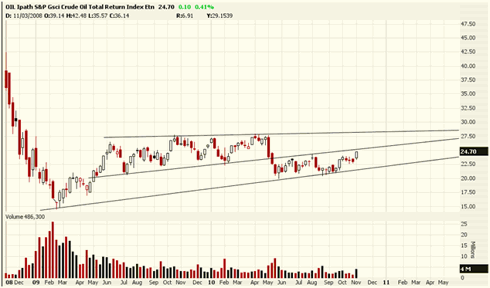 On the 2-year chart, notice the Triangle/Wedge pattern. We're approaching resistance at the middle line, and have additional resistance at around 27.50/28. If we can break through those levels, we'll have a big run-up.


Technology has been, and may continue to be, one of the strongest sectors. We had the tech bubble in the late 90s and collapse in 2000-2002, and have failed to even come close to those levels on the NASDAQ since. But we've approached the 2007 highs, and a breakout above these levels could signal the new age of tech.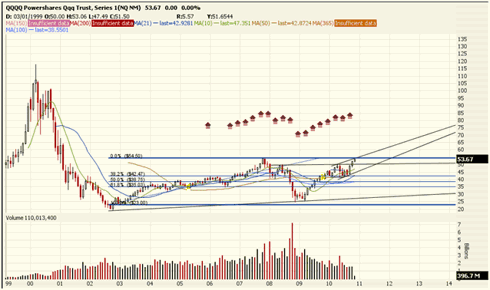 Notice the 2000 highs way beyond our current levels. Also, notice how our current level is parallel to the 2007 highs. If we can break above 55 on (QQQQ), there is little if any resistance until 70+.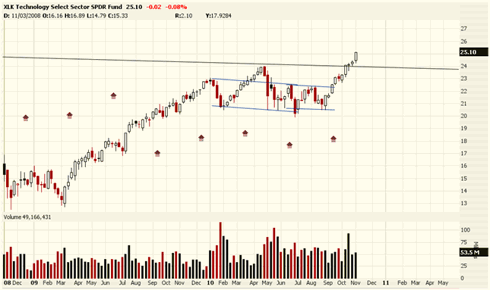 On a 2-year chart of the Technology ETF (NYSEARCA:XLK), we can see that we have surpassed the April highs on good volume. Unless we fall back below $24, there is good upside from here.

Keep your eye on these sectors. If the market rallies, expect outperformance.

Disclosure: Long HOV, Long OIL