Many stocks and companies may be at the end of an uptrend and are becoming "dead money", but investing in the "living dead" and the strengthening popularity of the Zombie theme could be a profitable opportunity.
With The Walking Dead as this fall's most popular television series, and with AMC Networks (NASDAQ:AMCX) reporting earnings this Thursday November 7th, is it a good investment? Moreover, with Viacom (NYSE:VIA) behind a potential blockbuster hit zombie movie coming out in 2013, and with Activision (NASDAQ:ATVI) soon releasing two hugely profitable zombie games, is now the time to buy?
Below, I will make the case for (1) Why zombies are the new craze, (2) How they are replacing vampires as the more popular theme, and (3) What companies you can invest in to profit from the growing trend.
Why Zombies?
Zombies represent how the world economy has been behaving and how a lot of people currently feel about the future. Zombies are slow, mindless, physically-decaying, and brutal beings with no long-term goals, no productivity, no sign of recovery, and no desires other than eating human flesh. Unfortunately, the economy and stock markets have behaved very similarly over the past 10+ years, or "Lost Decade": We've seen huge ups and downs, instability, massive turmoil, increasing risks and dangers, unfathomable events, and the collapse of much of life as we once knew it. In fact, the similarities have been so staggering that we've seen the emergence of some very popular nicknames: "zombie economy", "zombie banks", and "zombie debt" among others.
Obviously many things have greatly improved over the years, but all the volatility and chaos of multiple recessions and never-ending uncertainty have truly eaten away at people's confidence. Most investors just can't understand what's happening. Even the top business executives, politicians, fund managers, and experts have no clue what to do!
In a zombie economy, there is a self-perpetuating sense of doom - the feeling that there is no solution; that the sickness is unstoppable and the predator unkillable; the fear that even those in command have little idea how to fix things.
So why zombies? Because all of the fear, dread, and impending doom that people are feeling about the economy or personal safety. The solutions seem to escape us, the situation doesn't appear to be improving, and it feels as if everyone is either fighting to survive or preying on the weak. To many, the world feels like a harsh, dangerous place with a bleak future; it is precisely when people feel this fearful or discouraged that zombies have the most appeal.
Zombies vs. Vampires: The Triumph of the Zombie
Unlike the decaying, numb, and senseless zombie, the vampire stands for beauty, immortality, and conscious pursuit of power (though it still uses evil methods to get there). The positive characteristics of a vampire are therefore a lot more appealing when people are feeling more positively about themselves or their situation.
It is no surprise then that the two most popular vampire television shows (Buffy The Vampire Slayer and HBO's True Blood) and the most popular vampire novels and movies (Twilight) of the past 20 years were started during very positive periods for the economy. Buffy came out in 1997, as the US was at the height of its most impressive bull market ever; True Blood was developed in late 2005, near the height of the housing bubble (it made its television premiere during the recession in September 2008, but only months after the all-time peak in stocks); and the Twilight novel was released in 2005, also near the height of the housing bubble (the massively successful movies were released in 2008-2011, but well after the novels had already become best-sellers).
According to a Google books (NASDAQ:GOOG) search comparing the frequency of the words "zombies" and "vampires" in books, "vampires" have been the clear winner by far from 1940 to 2008, with an increasingly sharper rise since around 1987: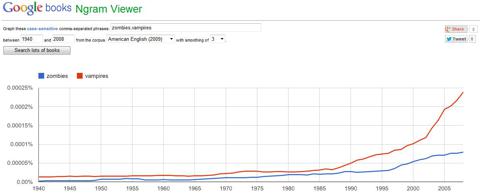 But I am happy say that vampire popularity has finally peaked. With the most successful books, shows, and movies now behind us, vampires can no longer outdo themselves. Yes, they will one day come back in a huge way, but the cycle is on its way down. When 13-year-old girls become completely obsessed with vampires (as they have with Twilight), the trend is over. It is now time for zombies to take control.
A simple indication of the soaring triumph of zombies over vampires is visible in a Google Trends search:

When we plot all of the search volume for the terms "zombies" and "vampires" since 2004, we can see how zombies have completely dominated since late 2008. While "vampires" was the more popular term for most of 2004-2008, "zombies" has skyrocketed upward since late 2008 and has massively led "vampires" since early 2009. We can see the big increase in "vampires" due to the Twilight success in 2010, but "zombies" is the runaway winner.
Rising Zombie Popularity
The growing popularity and success of the zombie theme is evident in best-selling comics and books, a top-rated television show, an upcoming blockbuster movie, zombie video games, a 5k "zombie race", and even a warning from the CDC (Center for Disease Control and Prevention - a governmental organization) about a "zombie apocalypse".
Perhaps the clearest sign of the growing zombie popularity is the hugely successful television show, The Walking Dead. The show, already into its third season, is so popular that its premiere in October 2012 was the highest-rated entertainment series this fall. It was already the most successful cable drama of all-time, but the Walking Dead premiere was even more popular than all of the big broadcast entertainment shows including ABC's Modern Family. Only football and live sports are more popular than zombies right now.
The Walking Dead television series is based on the bestselling comics written by Robert Kirkman. The books have been selling so well that (as of November 6, 2012) Kirkman is #26 in Amazon's (NASDAQ:AMZN) top 100 authors! He has probably been even higher up.

Moreover, he currently has two books in Amazon's top 100 bestseller list: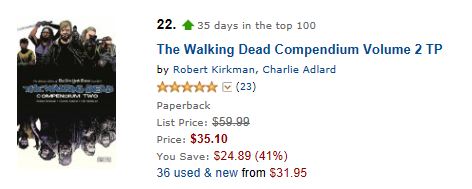 Before The Walking Dead, author Max Brooks published two bestselling books about zombies - The Zombie Survival Guide (2003) and World War Z (2006).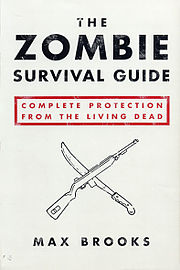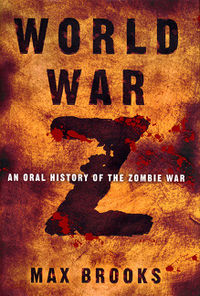 Brooks' books have been so popular that Brad Pitt's production company, Plan B Entertainment, secured the movie rights in 2007. Brad Pitt will star in World War Z (set to release on June 21, 2013), with The Zombie Survival Guide set for a 2014 release.
We are yet to find out if the movies are even good, but with superstar actor Brad Pitt starring in an upcoming zombie movie, we can safely say that the zombie theme is going strong and may have much more room to go.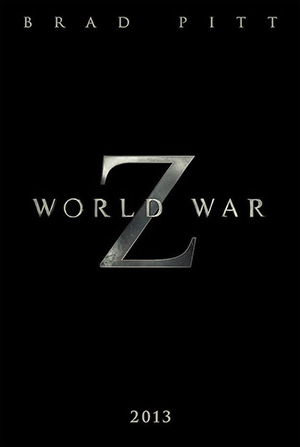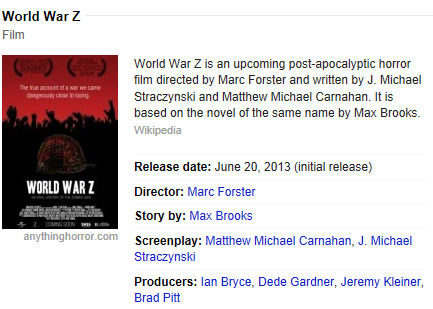 In fact, the number of zombie movies released each year has soared since 2000: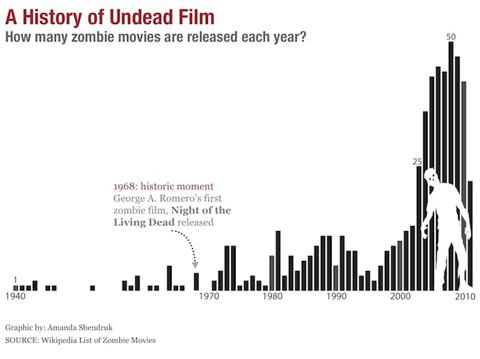 And in comparison to the stock market: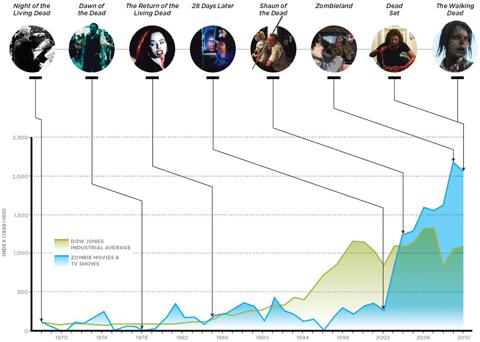 Source: Wired Magazine
Such rapid growth in popularity is a bit disconcerting, but aside from The Walking Dead we are yet to see true blockbusters in the zombie category in this cycle. We've seen big success in zombie-like movies such as Resident Evil (2002), 28 Days Later (2002), and I Am Legend (2007), but I think we are still not at the peak-level vampire equivalents like Twilight and True Blood.
Running away from zombies has even become a fun 5k race, as participants run and scale an obstacle course while avoiding the zombies that attempt to take their life, or in this case the flags on their belts: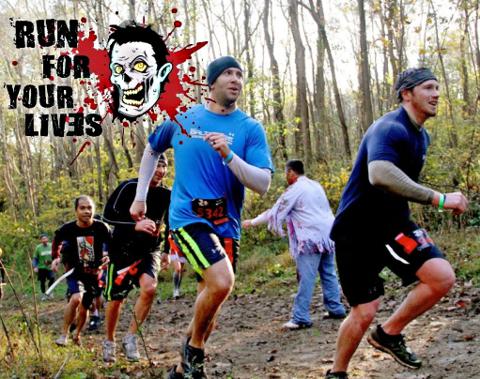 Even the Centers for Disease Control and Prevention (NASDAQ:CDC) warned about a "zombie apocalypse". In a shocking public campaign by a governmental organization, the CDC urged people to be prepared for zombies. Why?
"If you are generally well equipped to deal with a zombie apocalypse you will be prepared for a hurricane, pandemic, earthquake, or terrorist attack." So please log on, get a kit, make a plan, and be prepared!

-Dr. Ali Khan, CDC Director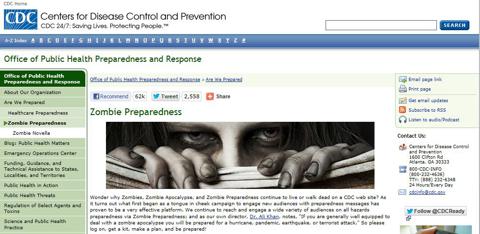 How To Invest
Zombies have been estimated to be worth over $5 billion to the economy. Between movies, video games, television, comics, books, novels, Halloween costumes, merchandise, and other items, the zombie category is both far-reaching and very lucrative. So with zombies probably getting even more popular in the next few years, here is how you can cash in:
Zombie TV: The Walking Dead. Perhaps the most popular within the zombie theme is the #1 show The Walking Dead. Already the top-rated entertainment series on TV this fall, the air-time for commercials during the show have been fetching between $200,000 and $375,000 - more than the top primetime shows. The biggest winner from this is AMC Networks , the network that owns the AMC, IFC, and Sundance channels. AMC goes well beyond zombies, with IFC and Sundance being the top independent film channels. Even more, AMC also features top shows Mad Men and Breaking Bad.
Those who would like to profit from The Walking Dead can look at AMC Networks as a potential investment. However, while its shows have been hugely successful and its ads have been selling for a lot of money, AMC Networks is not necessarily a strong buy. The company has a $3.5 billion market cap, decent growth numbers, and very strong future catalysts; but its PE ratio is relatively high at 22.5, it has a lot of debt ($2.28 billion), and its stock has already seen a nice run in the past four months.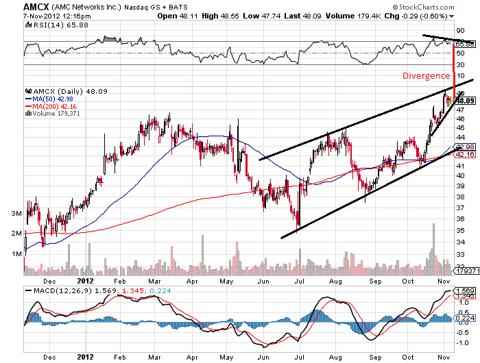 AMC is reporting earnings on Thursday November 8th, which could send the stock price up even more. AMC could benefit from the $700 million settlement that it won together with Cablevision (NYSE:CVC) against Dish Network (NASDAQ:DISH), when Dish removed AMC's channels from its service. However, because the stock price is already at the top of the upward sloping "channel" seen in the chart above, together with minor divergence in the Relative Strength (RSI), I'd rather be more cautious here and see what comes of earnings. A small position would be smarter here, but waiting for a pullback could prove to be safer and more profitable.
2. Zombie Movies: World War Z. With Brad Pitt starring in the upcoming movie World War Z, betting on the potential blockbuster hit could be a very smart move in anticipation. Unlike The Walking Dead which is already a big hit and may already be factored into AMC's stock price, betting on World War Z now will make you one of the first to do so.
So how do you do it? World War Z will be distributed by Paramount Pictures, a subsidiary of Viacom . Investing in Viacom, then, could be the best way to profit from a potential future zombie hit - especially when it stars Brad Pitt. Viacom is a powerhouse, and runs MTV, VH1, Nickelodeon, CMT, BET, and Comedy Central. There are obviously a lot of good things going for it, then.
On a weekly chart, Viacom looks a bit dangerous. It has sharply reversed down from a recent peak, it is far above its 200-day moving average at $40.64, and its relative strength (RSI) and momentum (MACD) indicators are still pointing down: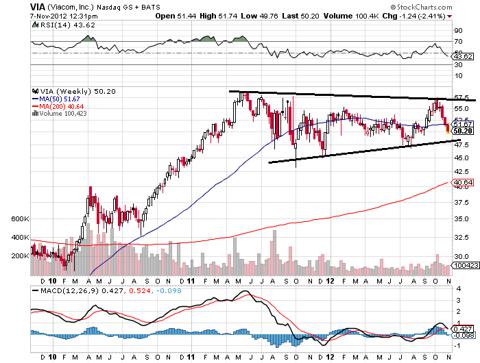 On a daily chart, however, Viacom looks like it is approaching a pretty good buying opportunity after sharply falling from over $57 to $50 in just a month. The relative strength and momentum indicators are still negative, but for those looking to buy, $50 and $47-48 are pretty good low-risk buying opportunities at support. Viacom also pays a 2% dividend.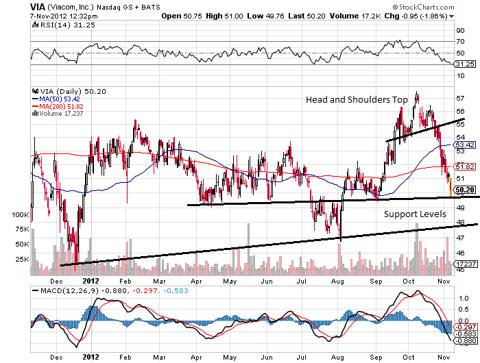 3. Zombie Video Games: Call of Duty and The Walking Dead. The best way to profit from the zombie genre is probably through the gaming industry. Luckily, there is one company that is far and beyond the number one force behind the zombie games.
Activision Blizzard is THE player here. Not only is Activision Blizzard behind the bestselling games World of Warcraft, The James Bond series, The Amazing Spiderman, and the upcoming Diablo and Starcraft, but ATVI is the company behind the Call of Duty series and the upcoming The Walking Dead video game.
Call of Duty has been one of the top video game series of all-time, and since 2009 has included a "zombie feature". Black Ops II will be coming out on November 13, 2012 and is expected to be a top-seller. Even more, Activision is expecting the release of The Walking Dead: Survival Instinct in 2013. Both of these games combined spell major profits for Activision .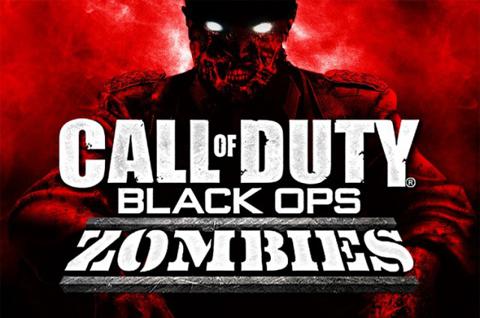 Activision looks pretty good financially, with a $12.32 billion market cap, a 15.8 trailing PE, $3.19 billion in cash ($2.87 per share), zero debt, and a 1.6% dividend.
When it comes to the charts, there is both some opportunity and some risk. In the long-term chart, we can clearly see ATVI's massive run since 2000. In 2008 it took a very big hit, losing over 50 percent of its value. Since then, it's been in a sideways trend and appears to be in the midst of choosing a direction. It may have broken below its long-term uptrend, but $10 and then $8 should be decent support levels.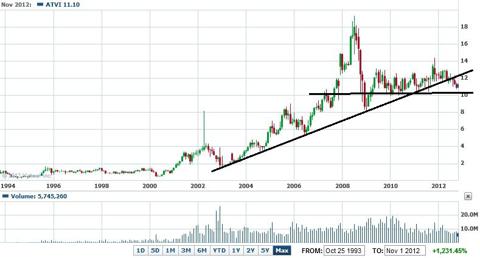 The daily chart looks a bit better. Though we are still below the 50 and 200-day moving averages, it appears that ATVI could have bottomed for now near $10.80 and may begin a new uptrend. The momentum is diverging and signaling more positive price movement ahead. If prices can break above the 200-day moving average and the downward-sloping trendline near $12, ATVI looks very good.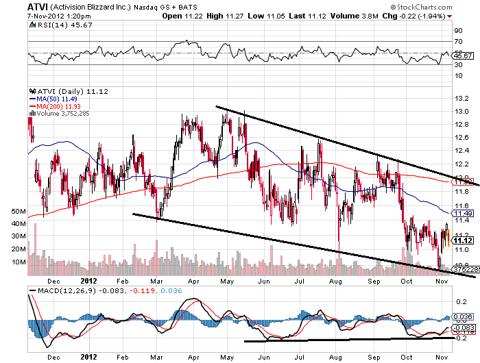 Conclusion
With the massively growing popularity of zombies, and their increasing success over the vampire theme in recent months, investing in zombie-related companies could be highly profitable.
I personally have been a huge fan of zombies and apocalyptic movies almost my entire life. Is it not fun and exciting to imagine worst-case scenarios and how you would find a way to escape or survive? Maybe it's just me, but I think that playing out multiple situations, and mentally planning what you would do, applies to much more than just escaping zombies or avoiding a worldwide pandemic. In reality, the ability to be well-prepared for all kinds of scenarios could help improve your relationships, protect your investments, and even save your life!
At Chart Prophet Capital, we invest in companies and commodities which we expect will highly outperform the majority of the market. However, while we are very confident in our abilities to pick winners and find overlooked investments set to soar - we always protect our portfolio in preparation for worst-case scenarios. It is not enough to simply make money when the market is rising; you must be shielded and ready if and when the market falls. Just like the measures taken to prevent life-threatening illness or damage-causing accidents, we must take precaution when it comes to our money and investments. Perhaps avoiding zombies and worldwide disease is only in movies, but we definitely need to watch out for zombie economies and contagious investments that could wipe out our portfolios and put our financial lives at risk. This is where strategies for many worst-case scenarios are so crucial, yet more than 99% of investors and fund managers are completely unprepared.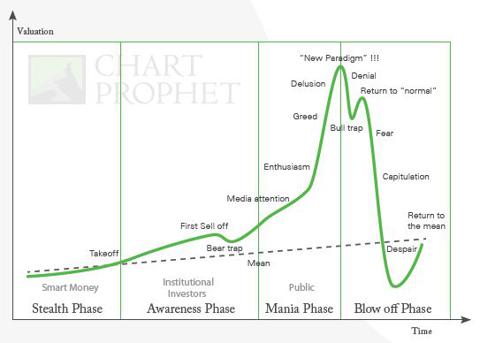 Source: Dr. Jean-Paul Rodrigue
Watch your back, protect your investments, and buy companies that benefit from the zombie craze. I think we're only in the early to middle stage of the Mania Phase in zombies.
Disclosure: I have no positions in any stocks mentioned, but may initiate a long position in AMCX, VIA, ATVI over the next 72 hours. I wrote this article myself, and it expresses my own opinions. I am not receiving compensation for it (other than from Seeking Alpha). I have no business relationship with any company whose stock is mentioned in this article.