Medtronic is the global leader in medical technology — alleviating pain, restoring health and extending life for millions of people around the world. Medtronic was founded in 1949, incorporated as a Minnesota corporation in 1957, and today serves physicians, clinicians and patients in more than 120 countries worldwide.
Medtronic consolidates its businesses into two operating groups:
(1) 
Cardiac and Vascular Group: Cardiac Rhythm Disease Management & Cardio Vascular and Physio−Control businesses
(2) 
Restorative Therapies Group: its Spinal, Neuromodulation, Diabetes & Surgical Technologies businesses.
Last fiscal year's revenue was $15.8 billion out of which 59% was US sales and 41% was international sales. The Cardiac Rhythm Disease is the biggest business with around 33% of revenue.
Graph 1 gives the financial trend over the last 10 years.
Graph 1: Financial trend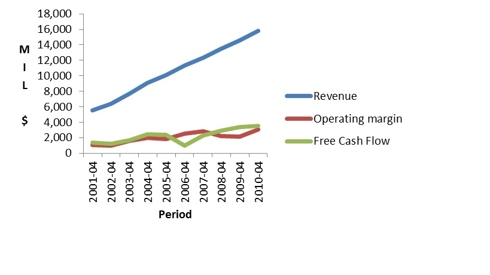 In the last 10 years, average revenue and EPS growth have been around 12%. Operating margins have been between 17 and 34% and return on equity has been between 16 and 27%.
Stock price in the last 52 weeks has been in the range of $30 and $46. Let's take a look at its Earning Power Value to come to an estimate of intrinsic value.
First earnings need to be adjusted to represent the cash investors can extract and still leave the company functioning. Secondly we need to determine a discount rate. Following adjustment to the earnings reported in its latest annual submission:
·

        
EBIT margin of 29% (median of the last 10 years)
·

        
SG&A, R&D and Depreciation adjustment
·

        
Tax rate of 26% (median of last 10 years)
·

        
Discount rate of 12%
This gives an Earning Power Value of $32 a share (assuming no growth). This leaves open the question how much value the future growth in Medtronic's business will create. Management guidance for this year is revenue growth in the range of 2 - 5% and earnings per share growth in between 9-11%
Taking this growth outlook combined with a cost of capital of 9% and a ROIC of 15% gives a present value of the cash flows (with growth) of $42, as the Total EPV value.
Let's take a look in graph 3 at the share price (last day of fiscal year) versus the intrinsic value (total EPV price) in the last 10 years.
Since 2009 Medtronic is trading below its intrinsic value. A price below $42 will make it a good buy. A price around $32 is a compelling buy. It will give the stock against current Earnings Value with the growth as margin of safety.
Disclosure:
Long MDT