G. Willi-Food International Ltd. (NASDAQ:WILC) is scheduled to report third quarter earnings this Wednesday before the market opens here in the U.S. The company previously announced an expectation that revenue growth would be about 10% year over year, a slowdown from recent quarters. Management cited a slowdown in food consumption in Israel as a meaningful impact for revenue during the quarter.
I am hopeful the growth rate has accelerated into the fourth quarter and look forward to hearing management's commentary in the press release and on the conference call. I am optimistic book value in U.S. dollar terms will ramp nicely from $7.45 at the end of the second quarter to something on the order of $7.80 at the end of the third quarter, given the continued appreciation of the Israeli Shekel versus the U.S. dollar. This appreciation will serve to depress operating margins modestly during the quarter but helps as the Israeli assets are converted to U.S. dollars on the balance sheet.
I continue to like this investment opportunity and am happy to see the stock moving on better than average volume ahead of this week's earnings report.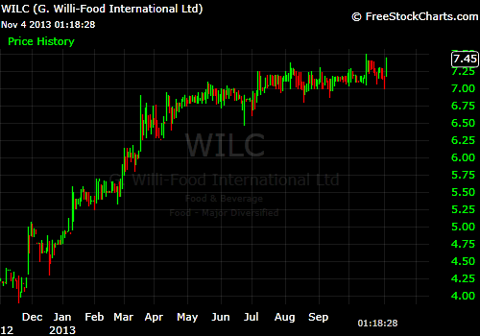 Disclosure: I am long WILC.