Terry Smith, founder and Chief Executive of the UK-based mutual fund company Fundsmith, held the 2020 annual shareholders meeting of its "Fundsmith Equity" fund in February this year – a time when the current covid-19 pandemic was just starting to become apparent. It's worth noting that Fundsmith is under no obligation to have annual meetings (and there are few, if any, other mutual funds that hold them) but it is a great opportunity to see how they are carrying out their Fundsmith strategy and how the last 12 months have been. Fundsmith are a UK based mutual fund (priced in GBP), but have a large exposure to US-listed equities.
For those who are not aware of the company or the fund, there is further information here: https://www.fundsmith.co.uk/about-us 
Terry is an asset manager that I deeply admire and I highly recommend watching the annual meetings and reading shareholder letters.
Link to annual meeting here: FUNDSMITH Annual Shareholders' Meeting 25th February 2020
This article aims to summarise this meeting into a digestible number of lessons I came away with, that I believe are highly important to value-oriented investors.
The meeting starts with a summary of how Fundsmith Equity performed against benchmarks during the previous year. In 2019, Fundsmith achieved a 25.6% return net of fees, compared to the MSCI World Equity Index at 22.7%, bonds (UK Govt 5-10yr) at 3.8% and cash at 0.8%. The largest contributors to % gains during 2019 were Microsoft (MSFT), Estee Lauder (EL), Facebook (FB), Paypal (PYPL) and Philip Morris International (PM). It is the 5th consecutive year that Microsoft has been a top-5 contributor, and the 3rd consecutive year for Paypal, as Terry puts it, "making money with old friends".
The largest detractors for the year were 3M (MMM), Colgate-Palmolive (CL), Clorox (CLX), Brown-Forman (BF.A, BF.B) and Reckit Benckiser (OTCPK:RBGLY)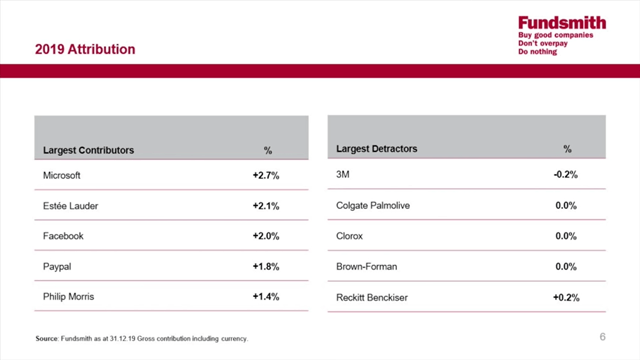 (Source: Fundsmith 2020 annual shareholders meeting slides)
The equity holdings in the Fundsmith portfolio tend to be more expensive than the index (based on FCF yield), but are much higher quality based on the measures and judgment used by the Fundsmith managers.
The 5 underlying lessons I came away with from the meeting are shown below:
Lesson 1: Measure the volatility of your returns:
As per usual, Terry looks at the Sharpe and Sortino ratios of 2019, which look at the return compared to the volatility of the return (Sharpe measuring upside and downside volatility, and Sortino looking only at downside).
The calculation of the Sharpe ratio is shown below: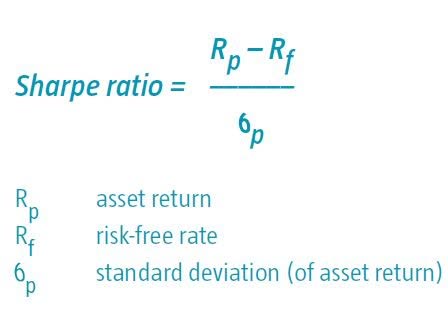 (source: Sharpe ratio - Quant investing).
The Sortino ratio is the same calculation, but the standard deviation only of negative asset returns, as demonstrated below (Sharpe on the left, Sortino on the right):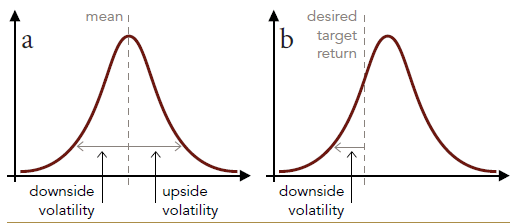 (source: Sortino Ratio: Are you calculating it wrong? - RCM Alternatives)
These ratios are something that can be used on a personal portfolio of stocks, and compared to indices, mutual funds or other baskets of equities. It is one way to check your risk : return ratio over a period of time and ensure you are taking suitable and controlled risks with your capital.
Lesson 2: Sometimes it's good to invest when people are calling you crazy:
Terry mentioned that when Fundsmith first invested in Facebook, during the infamous Cambridge Analytica scandal, they received many comments from people asking something along the lines of "What the hell are you doing?". Terry then goes on to mention that it was a similar situation when they bought into Microsoft, with many people stating that "Microsoft as a company is finished".
While scandals and events like these do occur, it's important to focus on your strategy and not be swayed by the media. Focus on the business, and try not to let your emotions get in the way of making a sound valuation. It's important to note that the only time you get to buy wonderful companies at a wonderful price is when there's a big problem.
Lesson 3: Look deeply into what your businesses are doing:
Terry notes that the returns of the portfolio on a year-to-year basis are not a result of the actions and trades of Fundsmith (since their policy is to do nothing, after buying into good businesses), but rather it is the companies themselves that generate the returns on capital that translate to returns for shareholders. Following from that, this second lesson concerns 3M (MMM), shares of which Fundsmith sold off completely during the year. 
Looking at 3M, Fundsmith identified some bad capital allocations on the part of 3M management including selling the Performance Ceramics company, a decent business, to Avon Rubber (OTCPK:AVNBF) at a "too-low" price of 1.1 X sales, after which the Avon Rubber share price advanced 44%. 3M then went on to buy Acelity, a $6.7bn acquisition, at 11X EBITDA (seemingly not a bad price to pay for a business, even if not growing earnings). At the time, Acelity was aiming to launch an IPO and had filed a prospectus with the SEC for doing so, meaning a lot of the sales figures were public. Julian Robins, head of research at Fundsmith, then read this prospectus and discovered they in fact paid 15X EBITDA for the business. 3M made a not-so-convincing excuse for this, and it shows how important it is for Fundsmith to be able to trust management.
This little anecdote shows that investors should not blindly trust communications from management, but should find evidence to back-up important statements. Do your research!
Lesson 4: Diversification involves more than just looking at the country of listing
Terry mentions that diversification of a portfolio can be done by sales and revenue of the businesses themselves, rather than country of listing of the stock. "Let the companies do it." This is highlighted by the fact that 50% of the sales of businesses owned by Fundsmith are in USD, but 65% of the country-of-listing of the equities are in USD. A particularly interesting one is Philip Morris (PM), which is listed in the USA but makes zero sales in USD.
Indeed, most multinational companies produce sales in multiple currencies and carry out diversification themselves. It is not necessary to buy foreign-listed assets in the name of "diversification" (let alone 'hedging' against currency!), just focus on good businesses!
Looking specifically into investment in two large emerging markets, China and India, Terry mentions that there is no equivalent "food/beverage conglomerate in China or India" – sometimes superior quality businesses are rare and do not even exist in the entire market of a particular country.
Regarding China in particular, Terry states that the return on capital of Chinese tech companies is generally low. This is on top of the fact that shares in Chinese companies are not, in fact, "shares". They do not translate to ownership of the company. They are, in fact, "Variable Interest Entities" – a piece of paper on an exchange that means, in the words of Mr. Smith, "you don't really own it but they'll send you some money if they feel like it" – maybe not so dependable during a massive crisis.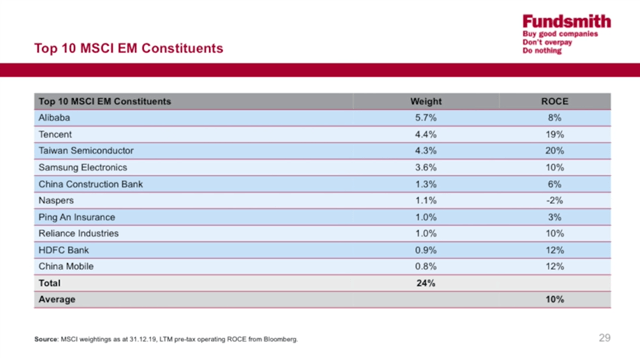 (Source: Fundsmith 2020 annual shareholders meeting slides)
Lesson 5: Worry about the businesses, not the prices:
It's easy to let stock prices and "Mr. Market" influence you, particularly in turbulent times, such as we are currently experiencing with the Covid-19 pandemic. In order to have a sustainable and resilient portfolio for the long-term, you have to choose the right businesses. Downturns, volatility and catastrophic events are inevitable. Focus on businesses that have strong economic "moats", high returns on capital (ROCE), and defensive-type revenues (e.g. small, frequent sales rather than large, infrequent sales).
Julian goes on to say that "If you're looking for resilient businesses, the best time to look for them is when the battlefield is littered with corpses", almost a more graphic paraphrase of "buy when there's blood on the streets".
Those were the 5 lessons I took away from the annual meeting, and I will follow with a few interesting responses from questions made about particular companies, which I have summarized below:
On Alphabet:
Alphabet (GOOG) has an incredible competitive advantage for search (being almost a Monopoly), and has effectively a duopoly for advertising (with Facebook (FB)).
The return on capital employed for Alphabet is a little bit low, however, at 17%.
Alphabet has made an incredible amount of acquisitions in recent years, with most having been dire failures. One important question coming out of this is: Are Alphabet doing this on purpose? Are they intentionally buying and killing the competition?
On Apple:
The Fundsmith managers are not entirely sure about Apple, considering it somewhat of a fashion-business, which requires a "guiding genius".
The "Steve Jobs effect": during the tenure of Mr. Jobs, the company has grown income incredibly fast. Under other CEOs it has been much slower (see the charts below).
Sales and cash flow have been static for a while, while the share price has trebled.
Apple tends to rely on the "next big thing" – but can the current company provide it?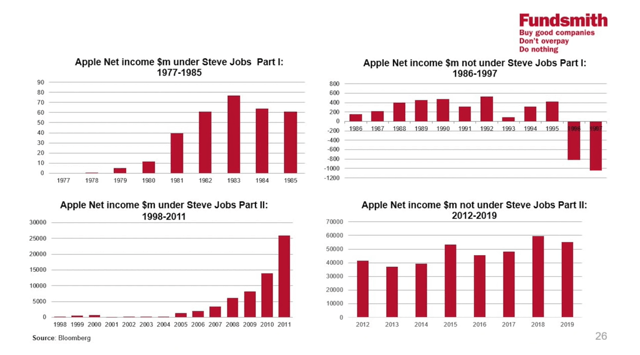 (Source: Fundsmith 2020 annual shareholders meeting slides)
Amazon
Biggest threat to Amazon (AMZN)? Maybe not Ali Baba, but actually Walmart / Costco.
The average item sold on Amazon costs $8.32. The average cost of fulfillment is $10.39. Amazon aren't so effective at reducing fulfillment costs, but Walmart (WMT) and Costco are the masters of this (COST). Could these two companies be the biggest competition to Amazon's reign?
These points obviously do not consider the cloud business, in which Microsoft (MSFT) is the obvious contender.
I hope you found this article informative. I will finish with the three foundational steps of the Fundsmith strategy:
Buy good companies
Don't overpay
Do nothing