This instablog is a companion to today's article "Silver Not Quite Ready to Rally."
I've laid out some of my arguments for gold in previous articles (here and here) but I hadn't tied them to silver previously. Against this macro backdrop of a long-term precious metals bull that is far from mature I think it would be valuable to do a quantitative analysis of where silver is today and what the prospects over the rest of Q1 look like.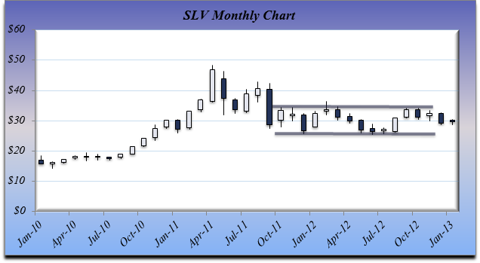 Above is a monthly chart of the iShares silver Trust ETF (AMEX:SLV). From a price perspective silver is bounded by the two lines on the chart. There is very strong support around $26 per share thanks to multiple months where traders bid the price back up before the close. Monthly closes are extremely important, especially ones that happen on a Friday as they represent weekly closes as well.
| | | | |
| --- | --- | --- | --- |
| Month | Low | Close | Day of Week |
| December 2011 | $25.65 | $26.94 | Friday |
| May 2012 | $25.99 | $26.96 | Thursday |
| June 2012 | $25.34 | $26.65 | Friday |
| July 2012 | $25.73 | $27.12 | Tuesday |
| August 2012 | $26.13 | $30.79 | Friday |
Note that 3 of the 5 months were Friday closes. Note also that two of them were quarterly closes (December 2011, June 2012).
In short, the support between $25.34 and $26.65 is, frankly, massive.
So, that defines the bottom of the current trading range while the top of it is defined, quite clearly, by the 6 monthly peaks which intersect the line I've drawn on the chart above between $34 and $34.65 per share. And will most likely be for at least January as I will now show.
SLV Monthly Trading Statistics

 

% Probability

# of Points

Average Range

 

3.97

Avg. Range - Open to High

 

1.99

Avg. Range - Open to Low

 

-1.97

Chance to Break Previous High

53.7%

 

Chance to Break Previous Low

38.9%

 

Inside Month[1]

5.6%

 

Engulfing Month[2]

5.6%

 
January opened above December's close but it quickly sold off; violating December's low of $28.65. Because of this January is an outside month - one in which either the previous bar's high or low price is violated. This means that there is a low chance of SLV violating the December high of $32.77 - which would make it an engulfing month, a 5.6% probability. The violation of December's low makes a significant rally in January a remote possibility.
| | | | | |
| --- | --- | --- | --- | --- |
| Month | OPEN | HIGH | LOW | CLOSE |
| January through 1/9/2013 close | 30.38 | 30.47 | 28.61 | 29.35 |
| December 2012 | 32.52 | 32.77 | 28.65 | 29.37 |
All of these statistics are calculated directly from the price action of the previous 54 months of SLV's price action.
What about the downside? Because SLV has only moved $0.09 above the high normal volatility implies the range for the month could go as low as $26.50 ($30.47 high - $3.97 avg. range = $26.50 downside target). The probability of that happening right now is just 12.2%.
If the low at $28.61 is a bottom for the month then that creates a new strong support level, increasing the chances of a challenge to the $34 area in February, but more likely March. As of the close on January 10th, there was a 65% chance SLV could close above the open for the month and would set up a bullish posture for February. SLV was higher after the E.C.B. announcement the next morning but there's a lot of January left.
Until some other signal is given there is a low probability of a breakout or breakdown from the consolidation in silver this month. Silver is range bound. The importance of this type of analysis is to precisely define your risks should you decide to take a position now for a short-term trade.
---
[1] Inside Month - defined as a month in which neither the previous month's High or Low price was violated
[2] Engulfing Month - defined as a month in which BOTH the previous month's High and Low price was violated
Disclosure: I have no positions in any stocks mentioned, and no plans to initiate any positions within the next 72 hours.
Additional disclosure: I own Physical Gold and Silver as well as a few goats