When markets are up I am always looking for companies which are not
strong to sell short and vice versa. As we all know the main rule of making money in stock market is to buy at low prices and sell at high prices, for bears short overvalued stocks and cover when it's cheap.
Today when the markets are at their all time highs I am looking for weak companies to put on my watchlist for shorting.
NuStar Energy L.P.(NYSE:NS) matches perfectly for my watchlist. This company is engaged in terminalling, storage, and transportation of petroleum products and anhydrous ammonia, and also petroleum refining and marketing.
Let's take a look at an annual income statement data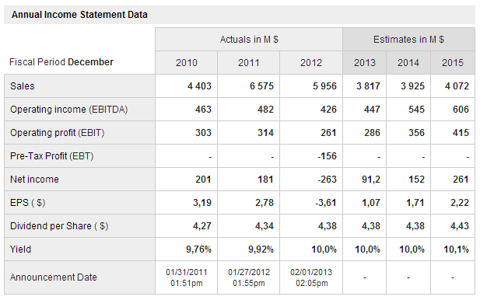 It is a good habit to invest in companies which provide a nice little
growth every year (also taking into consideration market conditions). When we have a look at the sales' numbers it looks like in 2015 they plan to be where they were in 2010. This is not somewhere I would like to be. In 2012, when they had negative net income, instead of thinking how to use the company's cash reserves to improve company's performance, marketing, sales and so on, they gave more dividend than in 2011. Company which is performing so poorly paying so much dividend is a red flag for me.
On the picture below we can see the debt of the company from 2010-2015.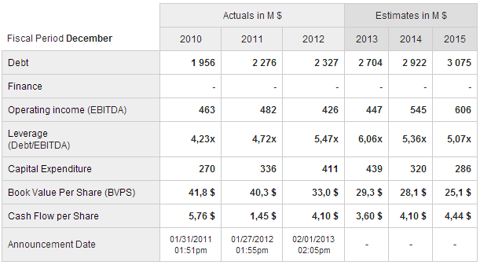 It looks like for the next couple of years they plan to spend more money, pay high dividend and keep their investors "happy".
Now let's take a look at the technical side. Below we have the stock chart comparison with SPY.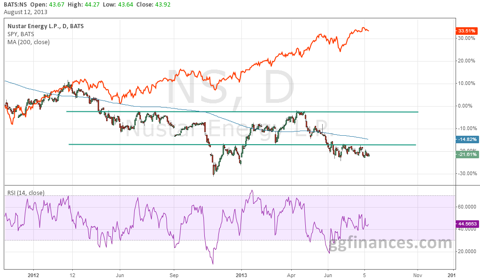 It looks like it has been performing poorly compared with SP500. I draw
resistance lines where I should pay more attention to stock behavior. It hasn't reacted to market growth lately; this is another red flag for me. When markets start to take a break and head south, this company has good chances to be one of the leading losers.
Disclosure: Currently I do not hold any positions in this stock. Investors are always reminded that before making any investment, you should do your own proper due diligence on any name directly or indirectly mentioned in this article. Any material in this article should be considered as general information, and not relied on as a formal investment recommendation.
Disclosure: I have no positions in any stocks mentioned, and no plans to initiate any positions within the next 72 hours. I wrote this article myself, and it expresses my own opinions. I am not receiving compensation for it (other than from Seeking Alpha). I have no business relationship with any company whose stock is mentioned in this article.