Paris-based advertising tech company Criteo SA CRTO is set to report earnings in just a few hours here, and see a greater than 50% chance that they report an extremely outsized beat and guide. Key catalysts include:
Further rollout of new Criteo engine - 78% of clients had been rolled out last quarter.
Mobile & multi-screen solutions plus above should allow for further market share gains
Fastest-growing market last quarter was U.S. (up 94% Y/Y on an ex-TAC basis) and our highly promotional holiday quarter bodes extremely well.
Company guided well above expectations last quarter (89-91m euro vs. 81m revenue consensus at the time); Adj Q4 EBITDA expected to rise to ~28m euro vs 19.8m in Q3
Clients rose by 450 Q/Q, and 42% Y/Y - clients are also getting bigger
Criteo is really scaling into profitability now. While there will definitely be headwinds from forex, rising capex and SG&A, I believe the market will give company a pass on these. I am forecasting $94m on the top line, but I have no margin guidance as I am uncertain on TAC trends the company is seeing, as well as the current cost & scaling of their investments in capex and headcount.
Wouldn't be surprised to see 100%+ ex-TAC revenue growth in U.S.; company has stressed in recent CC's the lead they have over the competition and sounded practically giddy in the last call when discussing the state of their uncapped budgets in the U.S.
I am long CRTO shares, and this is a rare situation where I see a Grand Canyon-sized discrepancy between future expectations and price action. Reuters consensus for FY2015 revenue is $403m euro; this will be adjusted in short order and should steadily rise towards $430.
On the equity, I won't be suprised to see $50-52 by week's end one single bit; the technicals set up well here also for a breakout out of a 8 month channel.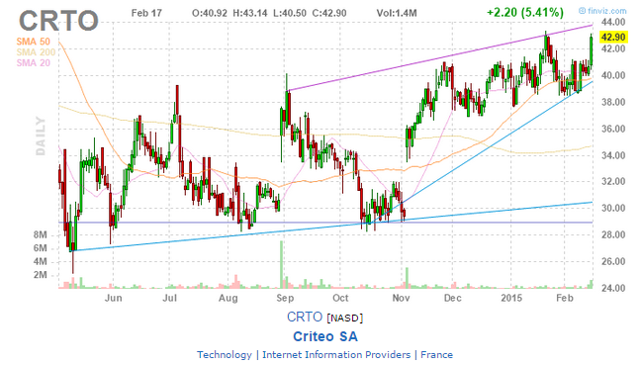 Disclosure: The author is long CRTO.