Swingplane Ventures(SWVI) is an OTCBB company who's stock prices have been surging over 100% the past five days. The problem is the reason its surging. After researching this company, and watching it trade over the past few days, I have noticed many fishy things about this company that smells a lot like a fraud.
Major Reason That Prove SWVI Is a Fraud
The First sketchy thing about Swingplane, this company is being promoted by Awesomepennystocks.com, and that alone should send the fraud flags flying.
Also APS stocks have a tendency to get pumped to the mid .30-40's range before the promoters dump the stock. Just take a look at some of their previous pumps.
APS Previous Pump and Dump Scams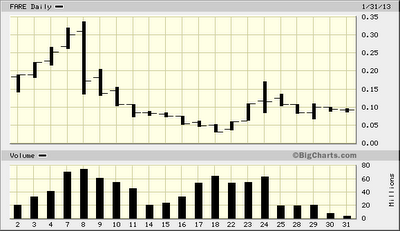 FARE reached a high of about .35 before the promoters dumped it back into oblivion.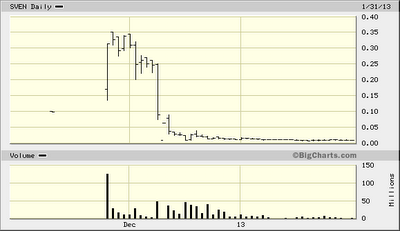 SVEN also reached a high of about .35 before dumping into oblivion.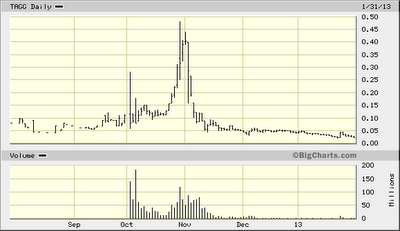 TAGG reached a high of about .45 before it dumped into oblivion.
O wow and would you look at that! SWVI is in almost exactly the same price range as all the other APS pumps before the dumped. Also APS loves to dump on fridays so investors be CAREFUL!
Second, the company did a 35 for 1 stock split before the start of the promotion. Thats correct, they made 35 times the already ridiculous amount they would have made from the promo if they hadn't done the split. (Example: Instead of having say 1,000 shares @ .035 they could sell at the current price of .3790, they have 35,000.)
Now is it just me or is it not a little to much of a coincidence that you increase your share size 35 times, right before your stock price goes soaring 100%+? This has SCAM and FRAUD written all over it and the SEC should be all over these greedy bastards.
Third, lets look at this company before the promotion. Swingplane Ventures(SWVI)is a Nevada corporation that started as a men and women's golf clothing manufacturer in Bloomfield, Colorado. They claimed that they would be producing cutting edge golf apparel that was not only stylish, but comfortable. Remember this, they started producing golf clothes in the Colorado.
So before APS started pumping these guys, they were a company focused on making GOLF clothes to sell in America. But since the pump has started, they are now a COPPER mining company that supposedly will be the "biggest copper stock of 2013."
So can some one please tell me how a company that was created to make golf clothes in Colorado, decides they will start mining copper over seas in chile. What are they going to do with all the golf clothes they made? That is if they ever made anything.
These 3 Reasons Should Let Every Investor Know This is a FRAUD!!!
1. They are being promoted by awesomepennystocks.com
2. They did a 35 for 1 Stock split before the promo to make as much money as they can off all the suckers.
3. They started off making golf clothes in Colorado and now claim to be a copper mining company with one of the biggest copper mines in Chile.
No part of this companies story or history adds up. The only thing that does add up though is that they wanted to get as many shares as possible before they pump, and they did just that.
But besides all this, I know their are STILL some die hard investors who believe this company is real regardless of their obvious signs of fraud. So if that wasn't enough to convince you this company is a scam. Lets dive into their financials.
Balance Sheet
Here is a picture of their balance sheet taken from their latest 10-Q SEC Filing so you will know where these numbers are coming from.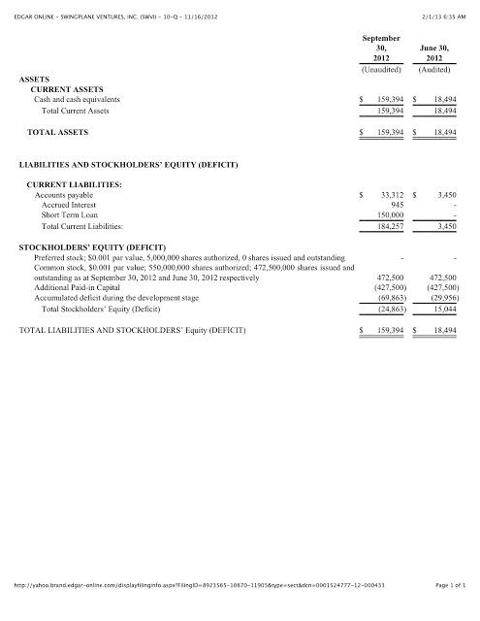 Swing plane has total assets of $159,394. They also have $184,257 in liabilities. So not only does this companies story suck, their balance sheet is just as sucky since they are in debt $24,863.
How is a company with $150,000 in assets, going to be able to get copper out of a mine they say could be worth 25 billion dollars? It just doesn't add up... Like their balance sheet.
Income Statement
Lets check out their income to see how quickly they can pay off this debt.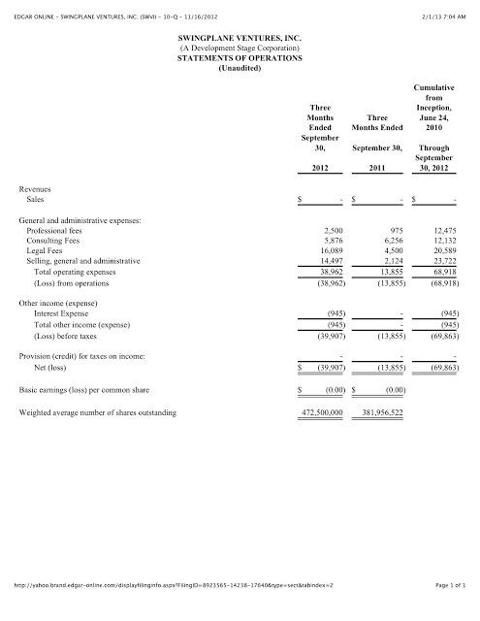 Wow, would you look at that. They make ZERO dollars in revenue every year consistently. And on top of that, it cost them $39,907 to make make ZERO dollars.
Doesn't seem like they will be able to pay their debt off anytime soon, consider they make no money every year, yet spend $39,000 to do it. Instead of paying off their small amount of debt, they will just creep further and further into debt.
Cash Flow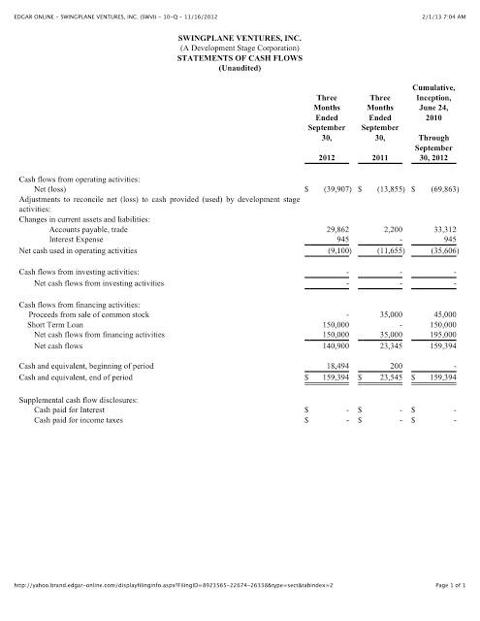 Swingplane has never made a penny selling any real products. They have only been able to every make money by selling shares of common stock. MORE FLAGS OF FRAUD! When a companies only source of income is from selling stock... there is a big problem.
Conclusion:
Swingplane Ventures is nothing more than a fraud! A Phony! Its a fake company created by evil stock promoters to take the hard earned money of many naive investors. Since most of these investors will not take the time for due diligence, I will on their behalf in hopes that no man should fall victim to a classic pump and dump scam.
Above are all the signs layed out that show that this company is a total scam. Their financial have fraud written all over them.
There story has fraud written all over it. And the fact that they did a 35 to 1 stock split before the promo shows you how greedy these degenerates theives really are.
I hope every investor gets the facts so they can make the proper decision. But as a rule of thumb, DONT BUY SCAMS! and always look for the Due Diligence Report!