Nightly Comments

These are not recommendations.
Buy and Sell signals are sent to Option Signal Service subscribers.

Not signed-up for the Free weekly newsletter? Sign-up here

SPECIAL 50% off OSS INDICATORS
Now just $24.95 -- PayPal
View 4 recent issues: Click Here
Offer expires Friday 7/27/12 at midnight.
---
Tonight's Thoughts
CMG(Chipotle) was upgraded from Neutral to Buy by Citigroup last week. Since then it has crashed. It is now down 24%???
IWM pulled-back to reach the Moon's North Node price line which is now acting as support.
SLV moves even closer to a triangle apex. That is what I wrote last night. Still true, and getting squeezed even more.
VIX rose all day. Closed above yesterday's high.
Our cyclical analysis of the VIX showed a move down from Aug. 2011 to a low in Mar 2012, then up through Aug. 2012.
Still expecting the unexpected. Something violent. Colorado shooting is an example, but I am still expecting something much bigger.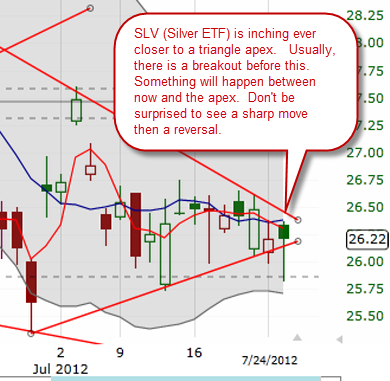 ---
** SUBSCRIBER'S ONLY SECTION **
Stock Watch for 7/25/2012
Symbol
Trade
SLXP
LONG
FDO
LONG
BIDU
SHORT