Situation:
Earlier this week, I was going through a drawer in one of my cabinets at home and I came across a number of old cell phones, including a Nokia, a Motorola and finally a Blackberry device (I used these devices around 7 - 12 years ago). I started thinking that at the time I purchased these devices, they were most likely the best available devices in the market at the time.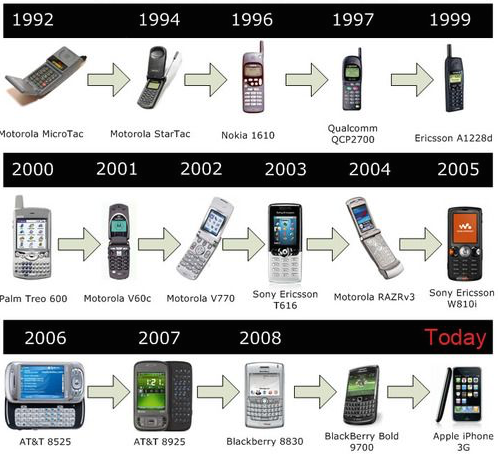 Now obviously, the mobile phone handset and operating system market has witnessed significant change over the past 10-15 years and continues to evolve. Those same companies mentioned above are no longer major players in the mobile handset market.
For example, in 2008, "BlackBerry" was almost synonymous with "smartphones." It was well on its way to becoming a generic trademark like Kleenex or Q-Tips. For people like myself, the Blackberry was a must-have gadget. These days, no one cares about Blackberry and I have no idea what they are doing (and I don't care either).
Given all of the above in the dynamic and rapidly changing mobile handset marketplace, I think it is worth asking that how long will it take before a leader like Apple meets a similar fate?
Today, I have an iPhone 7 and my wife uses a Samsung Galaxy. I love my iPhone 7: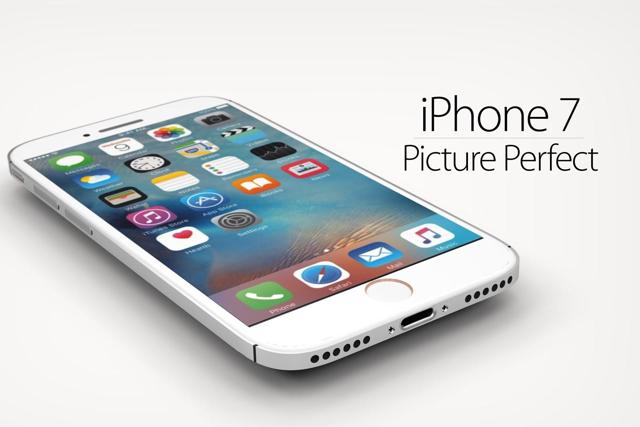 As a value investor, I have been taught to be careful of companies that are subject technological obsolescence. So I am wondering whether my iPhone will be around in the next 10 years? What is Apple's Competitive Advantage? I think long term investors in Apple should consider this issue and think about it.
Apple (NASDAQ:AAPL) is a Great Business with an Attractive Valuation:
Apple is one of the world's largest makers of personal computers, and peripheral and consumer products, such as the iPod digital music player, the iPad tablet, the iPhone smartphone, and the Apple Watch, for sale primarily to the business, creative, education, government, and consumer markets. It also sells operating systems, utilities, languages, developer tools, and database software.
As of 2016, Apple operated a total of around 488 retail outlets in 20 countries, with lease terms ranging from five to 20 years.
Strong financial performance: Revenues have increased from $37 billion in 2008 to around $215 billion today. FCF has gone from $8 billion in 2008 to around $52 billion today. ROEs have been in the 40% range in the past. Company has a solid, cash rich, balance sheet.
The current valuation with forward P/E of around 11x is also quite attractive for this quality of business.
The following are some key figures from Yahoo Finance: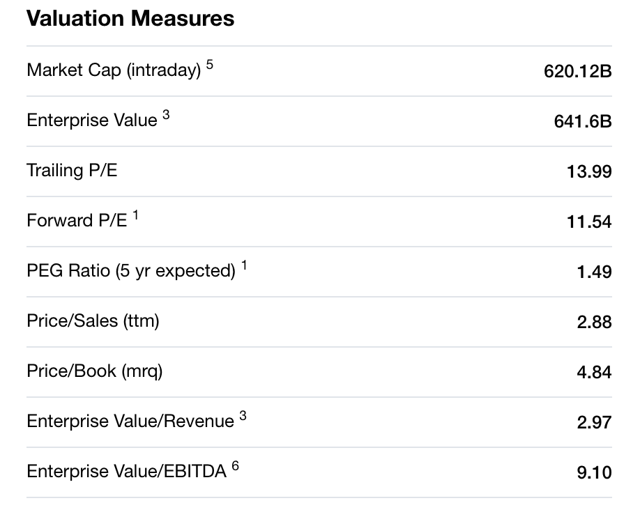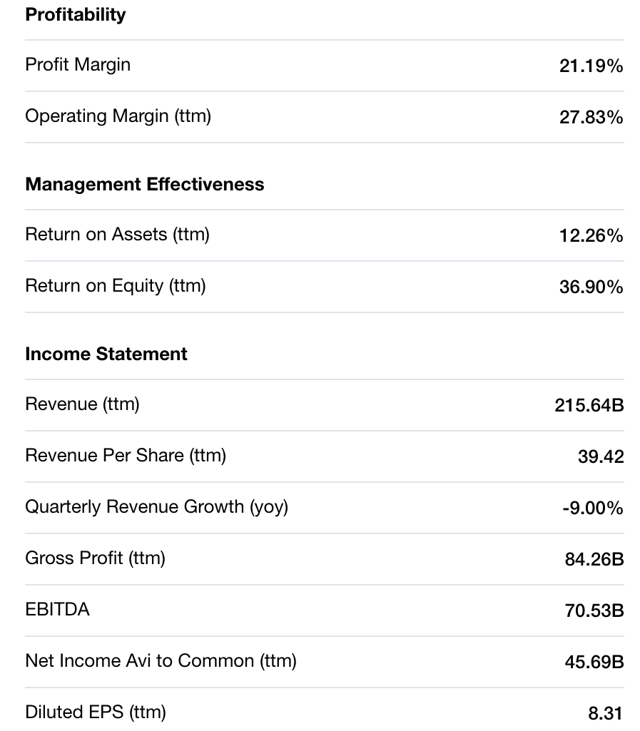 Source: Yahoo Finance Website.
So we have a great business here with an attractive valuation.
Back to the Apple iPhone:
As you can see in the most recent earnings report below, the iPhone represents ~56% of Apple's revenues (most recent quarter), so that is a significant number. If iPhone sales are negatively impacted going forward, it will obviously have a major impact on Apple's valuation (current market cap. of ~$620 billion). Also, notice the 21% decline in volume of the iPhones in Q3 2016 (vs. Q2 2016).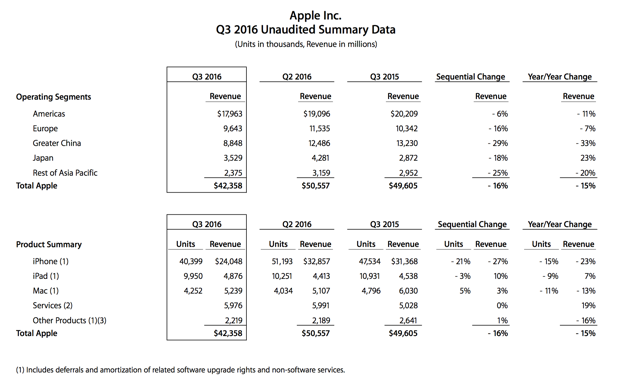 Source: Apple Q3 2016 Earnings Report
Now we can all agree that the iPhone is a better device than its predecessors (e.g. Blackberry), but I do not think that by itself is a sustainable competitive advantage.
Potential Sustainable Competitive Advantages for iPhone / Apple that come to mind:
Once a customer buys a product like the iPhone, they buy the iPad, the Mac Laptop, and download iTunes, and have an integrated set of products. So effective integration of hardware, software, services, and third-party applications into differentiated devices allow Apple to capture a premium on hardware sales.
I do not think any other company has done (in the past) what Apple has done in terms of integrating its products. Before Apple, mobile devices were made by one company and laptop computers were made by another company. So the products had very little in common.
Strong brand name and loyal customer base.
Switching costs around the iOS platform that make current iOS users more reluctant to stray outside the Apple ecosystem for future purchases. For e.g. at the moment, I personally will stick to future iPhone products because of iTunes, etc.
Apple will likely retain its existing premium customer base and could still attract some switchers from Android over time.
Excellent innovative products: The company is highly innovative and with the introductions of Apple Pay, Apple Watch, and Apple TV, each of which could drive incremental revenue but more importantly help to retain iPhone users over time. (See bonus link below).
Company provides an amazing retail experience for its customers. (See bonus link below).
Strong balance sheet and ability to spend big $$$ on R&D.
Some Risks:
Several large technology rivals (Google, Samsung, etc.), many of which are constantly innovating also and have great products (e.g. Samsung), and several are willing to sell devices at bare-bones prices in order to compete.
Innovation at Apple seems to be stalling. I cannot see any major difference between iPhone 6 and iPhone 7 to justify paying a premium difference in price. It is just an incremental product.
My view is that Tim Cook is not Steve Jobs and does not seem to have the same vision or level of innovation. Steve Jobs said once: "We're here to put a dent in the universe. Otherwise why else even be here?". What dent has Tim Cook put in the universe? What is the long term vision and target destination of this company? Tim Cook needs to be bolder, have more courage and do crazier things to change the world (like Steve Jobs did).
Conclusion:
Apple is a great company and at the present time, I do feel that Apple and Apple's iPhone has a competitive advantage. However, I am not completely sure how durable this competitive advantage is. Please note that I am no technology expert here, but I am not sure if the iPhone is likely to be around in the next 10 years given the competitive threat and some of the risks mentioned above, and also based on the history of technological obsolescence that has taken place in the sector. I think every investor in Apple should consider this issue when thinking about investing in the shares.
Bonus Video:
Steve Jobs unknowingly predicts the downfall of Apple
Disclosure: I/we have no positions in any stocks mentioned, and no plans to initiate any positions within the next 72 hours.
I wrote this article myself, and it expresses my own opinions. I am not receiving compensation for it (other than from Seeking Alpha). I have no business relationship with any company whose stock is mentioned in this article.