On Gold and PM Miners as of Friday's market close 3/15/2013
(NYSEARCA:GDXJ): a 12% gain in 11 days.
On March 4 (GDXJ) closed at 15.06. Friday 3/15 it closed at 16.85. This is a $1.79 increase and a 12% gain. Gold and some mining stocks have drifted higher on accumulation for the last three weeks.
The meltdown predicted by the gold detractors is not materializing. Is the real risk one of a MELT-UP?
ACCUMULATION Friday March 15
Hecla Mining (NYSE:HL): Huge 3 million shares volume in last 10 minutes on 4 cent uptick
Goldcorp (NYSE:GG) Also 3 million in last 10 min on 6 cent down tick. GG still closed up 1 cent.
This not Ma and Pop wading in. It's accumulation, as the shares closed up for the day. Some one is building large positions fast.
Hello all. On Wednesday 3/13 my first article was published on Seeking Alpha. I received some kind and favorable responses to the article.
https://seekingalpha.com/article/1271951-black-box-pricing-of-gold-vs-death-of-gold-notion
As you recall I only spoke of the fact that it is an untenable position to make a "Gold is dead" or "Gold should be $1200" proclamation. I did not make any predictive calls about the price of gold.
Now I am focusing on what the market is actually doing and looking at any significant gold and gold mining stock developments - primarily (NYSEARCA:GLD), (NYSEARCA:GDX), (GDXJ), (GG) and (HL).
I follow gold and gold stocks through my brokerage account and also through Yahoo Finance. I also keep a spreadsheet that I update weekly with the week's Friday closing price and performance percentages and moving average values. I am going to share some developments that are of interest from my weekly sheet.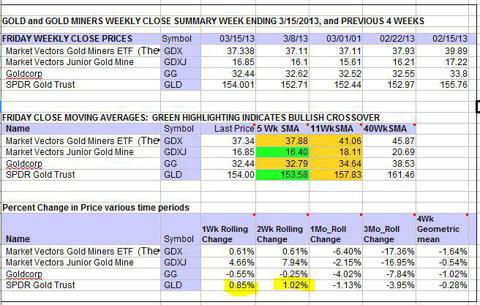 In the first table: Note that the lows occurred in the week that ended March 1, three Fridays ago.
Also note that price action has been positive for the last two weeks (week over week change).
Second Table: I follow percentage changes, 1-week, 2 week (week over week), 1 and 3 month (quarterly) rolling change, and a 4 week geometric mean which is an average of the rate of change over a time period.
What is really noticeable here is (GDXJ) gained (as per weekly close) 4.66% this week, and over the last two weeks gained 7.94%. This is a big turn around. Notice also that (GLD) was up .85% this week and up 1.02% over the last two week period. The big miners, GDX were also positive for the last two weeks. So far this indicates that price apparently is basing and a potential turnaround; (GDXJ) already turned).
Next in the third table I have the moving averages - Simple Moving Averages. I follow the 5 wk (equivalent to 25 days), 11 week (55 days) and 40 week (about 200 days) moving averages. The green highlighting for (GDXJ) and (GDX) indicates that the last price is now above the 5 week MA. This is a short term positive and could be construed as a short term buy signal.
You can confirm this yourself on a Yahoo Interactive stock chart. Pull up a quote for (GLD), click on 3 months, and you can set it to high-low-close bar chart if you wish, select from "Technical Indicators" in the chart menu bar, a set of 3 Simple Moving Averages with 9 day, 18 day, and 36 day. These give a "short term" trading perspective. Draw the chart. You will see that (GLD) is above the first two MA s. but below the 36 day.
However if you use a slightly longer MA like a 25 day, the price of (GLD) will still be slightly below it.
It hasn't had a decisive break away yet. Some of the mining stocks though are already leading the way higher ahead of gold or (GLD).
What to expect? As noted above, gold and mining stock prices have stabilized and are showing signs of relative strength. Look at GDXJ above. Price may settle down a little possibly Monday AM. I was considering buying more Goldcorp (GG) Friday at the close, but thought I would wait till Monday. This does look like an entry point price level. May not last long. Longer that gold does not go down, the more favorable it is technically.
Risk?? If you buy and are concerned with risk (you should be), I watch the price action of GLD. GLD which represents gold, is the underlying asset for a mining company:
I watch to see if gold is dropping as per GLD.
If GLD dropped below 150 that would be a reason for concern.
I would set a sell-stop price for anything I buy at about 5 to 7% below my purchase price. I am risking 5% to make possibly 50%.
The last couple of weeks the gold detractors have been wrong. They still think that because gold has gone down that it must,-- it MUST!! go down and continue to do so. When gold goes up, many people won't recognize it until its too late or the price will cause them to be afraid to buy. Is what we see in GDXJ the beginning of this?
Best wishes for the coming week.
John Wilson