Week ended Friday 3/22/13
John Wilson
"We must all assume our share of the responsibility." -
Cyprus government spokesman Christos Stylianides, quoted prior to the parliamentary debate.
Michele Kambas and Lidia Kelly. Reuters. 3/22/2103 (http://finance.yahoo.com/news/cyprus-risks-euro-exit-eu-064335097.html)
We now know what they will say to us when they come for our money: - when the governments have spent frivolously, and the people have been content to eat at the trough of socialism, and the bonds held by their banking system have lost their value and become worthless, and the banks "have to be bailed out."
Note also mentioned in the article quoted, that an option the parliament will consider is to ". . . nationalize pension funds . . .."
"A prudent man forseeth the evil, and hideth himself: but the simple pass on , and are punished."
-- Prov 22:3
Expanded meaning: "prudent" = saver/investor; "the evil" = confiscation; "hideth" = out of reach of governments; "the simple" = those who trust governments - are punished.
What did investors (savers and depositors) learn this week from Cyprus:
Don't trust your government (we should know that already)
Don't trust your bank (government chartered and controlled entities)
Asset quality and safety may now mean "beyond of the reach of taxing authorities."
FIRST THING: I am writing about what I see happening NOW in the week just ended - a short- term view. If it appears that the trend has turned upward, I will try to confirm it but not make long-term projections (except that gold is going to $3000. ha, ha). I will try to discuss the likelihood of resistance levels, trading ranges and possible investment strategies.
Last week 3/15 I led off with the statement:
The meltdown predicted by the gold detractors is not materializing. Is the real risk one of a MELT-UP?
That statement was somewhat tentative; it was in the present tense as it seemed there was still some uncertainty in the short-term.
This week 3/22, I am modifying the tense of the statement:
"The meltdown predicted by the gold detractors has not materialized. On the contrary, GLD and mining stocks have initiated an uptrend (in the short-term)."
EVENTS THIS WEEK
Monday March 18
Cyprus bank bail-out news: Our government confiscated gold in 1933. Governments are now going beyond this. They now consider taxing or levying against (confiscating) bank depositor's money. The EU technocrats and banksters are the spiritual brethren of US Banksters and politicians. Our leaders may be watching the Cyprus scandal, to see what will work for them.
Gold Breaks above $1600 as Cyprus bank depositor's funds face confiscatory depositor's tax. Faith in banking systems shaken.
(http://www.fxstreet.com/news/forex-news/article.aspx?storyid=eac84567-9a7c-492d-ac08-ac5693be1028)
| | |
| --- | --- |
| WEEK BEFORE LAST- ended 3/15 | WEEK JUST ENDED 3/22 |
| Spot gold 3/15: $1595.50 | Spot gold: 3/22 $1607.4 |
| GLD high: 154.72; close: 154.00 | GLD high: 156.43; GLD close: 155.55 |
| GLD was slightly below 25 day SMA | GLD is now above the 25 & 30 day SMA. |
GOLD TREND STATEMENT from (NYSEARCA:GLD) trading action:
"UP" - short term confirmed
Everything was up this week. I added Yamana Gold to the table. It was the winner this week - a 7.64% gain. I almost didn't believe how much it went up and had to calculate it by hand to make sure.
The green highlighting indicates bullish crossover. Last week only GLD and GDXJ were Green (didn't show Yamana last week). This week all have crossed over 5 wk MA. LOOK AT PERCENTAGE INCREASES. All are positive out beyond 1 month. The 4 Week Geometric Mean measures the average increase each week over the four week period.
RATE OF CHANGE IS POSITIVE FOR THE LAST FOUR WEEKS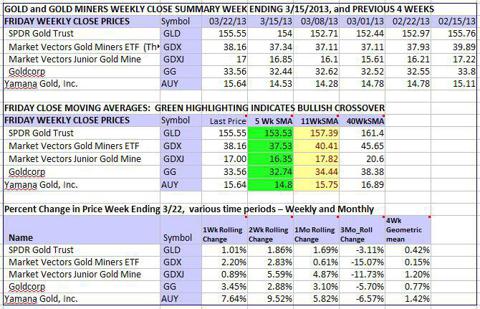 Compare the big percentage changes this week to last weeks changes shown below:

Short-term trend is up having cleared short-term 18 & 36 day SMA s, and then physical moved above $1600. GLD high this week was 156.43. Rally was turned back below previous Feb 26 GLD high of 156.80.
The 40 day SMA at 156.57 and the Feb 26 high of 156.80 are the near-term resistance.
Near-term support for GLD: about $154.50
(I use GLD to track the trading action of gold as it is continuous and has higher participation by average investors, and is easier to get data for it; same for using SLV to track silver)
That's all for now. The short term trend is definitely up (sorry I keep repeating that). The trend has turned. Prices are still below 40 and 50 day MAs which represent resistance. Could be small pullback before going up farther with support at 154.5 on GLD.
Good trading and profits
John
I hold GG, SLW, HL, SIL, AXU, GOLDX, GGN and a few others.