Week ended Friday 4/12/2013
Goldman Sachs recommends "Shorting Gold" and coincidentally gold drops
CNBC Goldman Sachs Says It's Time to Short Gold. 04/10/13 9:30 AM EST. http://www.cnbc.com/id/100630626
Gold was up 1% Tuesday and neared the $1600 level. Disinformation machine cranks out the "It's Time to short Gold" economic hit piece by Goldman Sachs "economists.
Then waves of naked short selling engulfed the futures markets Wednesday and Friday. Gold was down about $89 Friday. Just a coincidence, or was GS "Short" call the narrative that was followed by coordinated selling action by banking interests?
I would like to feature a comment posted by David Ziffer to the article, Gold, Silver And Bears Oh My: What Is Behind The Huge Sell-Off? By Chris Davis.
"I think most of you folks here need to wake up. There were no "fundamentals" behind Friday's price move other than the manufacture of PM derivatives out of thin air. No actual physical gold came on the market. Meanwhile inventories of actual gold and silver are disappearing from bullion vendors' shelves. Worldwide, central banks are buying gold in unprecedented quantities and those same banks are promising to print more fiat currency than ever to maintain their export volumes. My guess is that all the banks involved in manufacturing the now nearly fictitious spot price are stacking. At the end of all this, the only folks with any remaining purchasing power will be the stackers. Those will be the central banks, the very big players engineering this thing, and those few individuals who were ignoring all the news and doing likewise "

-David Ziffer
This is the clearest statement I have read putting the selling in perspective.
Unfortunately, gold and silver investors still have to deal with the cards that the market is dealing to them.
Last week - Quick review:
Technical damage was inflicted upon gold this week. (ending 4/7)
GLD has to stay above 150. Closing below 148 would drop it out of the 20 month correction range.
If it starts closing below $149 then this long term support will be considered broken and you would hear calls for $140 for GLD
This Week - What gold did:
On Friday it dropped sharply below the support levels and out of what many had hoped was a "consolidation" formation that had been forming for 20 months since September 2011. There is now the possibility to consider that this massive triangle was not a consolidation formation and that now a downtrend is in force.
| | |
| --- | --- |
| WEEK BEFORE LAST ended 4/5 | WEEK JUST ENDED 4/12 |
| Spot gold 4/9, PRICE $1589.3 | Spot gold: 4/12, $1485.5 |
| GLD high: 153.85; GLD close: 143.95 | GLD close: 143.95 |
| GLD fell below all moving averages. Bearish chart pattern | Gold and GLD much further below all moving averages. |
Monday, April 8, Spot gold down $3.4
Tuesday, 9, up $14.2 to $1586.2 near $1600 level
Wednesday, 10, GS "Short" story came out. Gold drops -27.9
Thursday, 11, up $6
Friday, 12th gold broke through two support levels, $1540 and 1500. Down $88.80
Here are two long range charts I have put together.
Ten year monthly chart with 9 month SMA and 20 month EMA. In 2009 GLD broke below these moving averages and rebounded. This would be the better case scenario.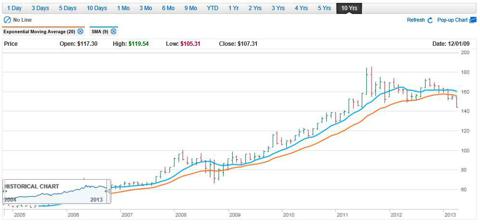 Below: Ten year chart with weekly moving averages, ( 12, 40, 100 week SMA)
This chart doesn't look as good as there is a cross-over with the moving averages that did not occur in 2008.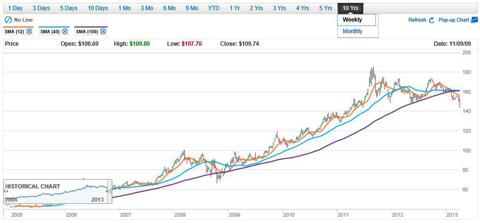 Finally, here is a chart offered by Kimble Charting Solutions:
Technically, according to Kimble Charting Solutions, Gold broke through its 10 year uptrend channel: Ten Year channel chart,
Chris Kimble on 04/13/2013. Kimble Charting Solutions, web site.
Sorry to leave one with this picture.
As I have said before, you may win an argument with a Keynesian, about gold and money, but yet lose the argument with the market.
What to expect next?
Hopefully, Gold holds around $1400, and GLD holds around $140. If not, then the next support levels for gold occur in increments of about $200: $1400, $1200, $1000.
There may be valid concern about a deflationary scenario. Also the DOW and S&P may be topping now. If they correct, PMs & miners may also decline with stocks.
Defensive actions.
I did buy some DZZ Friday at mid-day. I will probably add to it. May sell some of my higher basis items. Also may buy some put options on GG or SLW which I hold. Risk is to be "whipsawed "if gold goes up. But technically the trend is down now.
I hope for each investor to have wisdom in evaluating his or her long PM positions. If there if a renewed bear market in PMs I would focus later on picking up physical silver and coins due to the present gold to silver ratio that makes silver a better relative value.
~ John
Disclosure: I am long GG, SLW.