I am always keeping an eye on what gold and silver are doing. I have mostly been out of the mining stocks since April and May. Yeah, I got caught in the big $140 drop in April and immediately sold a lot of miners and bought some DZZ. Still, it was not pretty or profitable. I was not fast enough to catch the bottom in gold on June 27.
Now there may be a second chance coming if one wants it. Gold went up almost $80 on Tuesday and Wednesday the 17th and 18th. It gave back $60 by Friday. On the chart of (GLD) below we see it has gone below its 50 day MA and may be heading back down to the lower Bollinger Band line (50 day, 2 dev). This would be around $123 or $124 for GLD (horizontal line) which would also be a 62% retracement of its recent move from June 27 to August 27.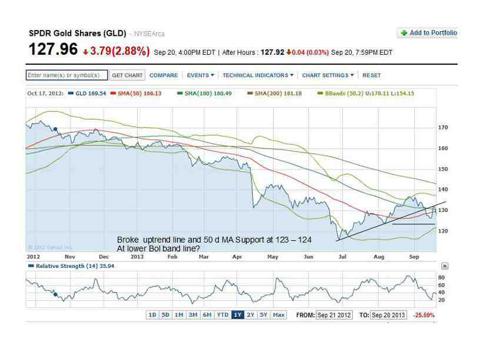 Relative strength is also lagging around 40 after having peaked and declined sharply. I would wait to see if $125 for GLD holds.
MINERS
For those who speculate with NUGT and DUST, here is a chart of GDX. Short term it is negative. It is below the 50 day MA of $27.20 and now needs to find support. Yet, I would NOT short here using DUST. I would wait for support and then decide if I then want to go long.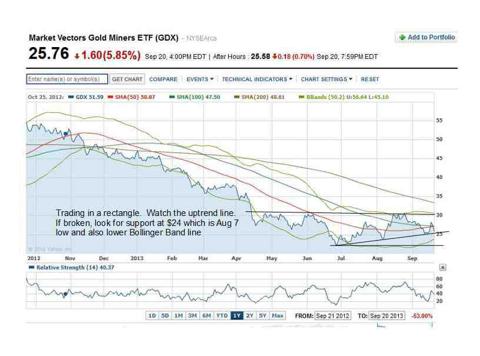 As I hold mREITS: (AGNC), (IVR), and (TWO) I pay close attention to the mREIT (REM) which is an Etf that holds the major mREITs like NLY and AGNC. I watch REM to track the mREITS, like I use GLD to watch gold. I tried to catch these mREITS after making tentative bottoms because of the big yields, which may shrink if they cut the dividend as AGNC just did. Even though AGNC cut its dividend from $1.05 to $0.80, and sold down by 57 cents Friday 9/20 it is still above its 50 day MA.
REM the Etf of mREITs has shown a bullish pattern too and had been above the 50 day MA. On Tue 9/24 it went ex-div, and cut its dividend 20% from $0.527 to $0.421. It was ex-div .41 on the open and is holding above $12. It is 5 cents under the 50 day MA on 9/25. It is holding above $12.
Here is a chart of REM.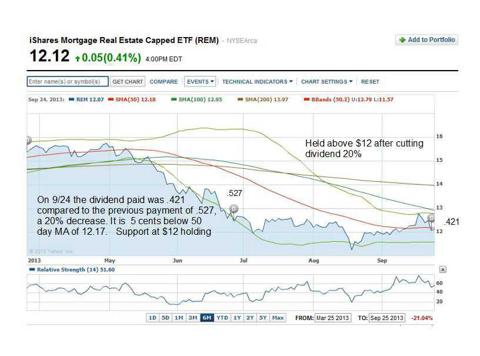 Relative strength is positive, just under 60.
REM reflects mREITS as a group. As a group they appear to have bottomed on August 19 and staged their first rally. They have held up in spite of dividend cuts. It is would be significant for REM to get back above th 50 day MA. If it fails, then it would revisit the lower Bollinger band area of $11.57.
If REM's dividend held at .421, its yield would be almost 14%.
It am holding mREITS AGNC, IVR and TWO as tentative short term positions, hoping they will strengthen and reward with a short term to intermediate recovery and also with 12% and higher yields. They may also turn into intermediate (or longer) holdings.
(AGNC) went ex-dividend today, 9/26. The opening price was reduced by 0.80 at the opening. Then it traded down another 0.34. It is still above its 50 day MA which is still positive. Yahoo shows the price declining by $1.14 today where Charles Schwab shows the correct $0.34 decline. The 0.80 will come back as a dividend payment.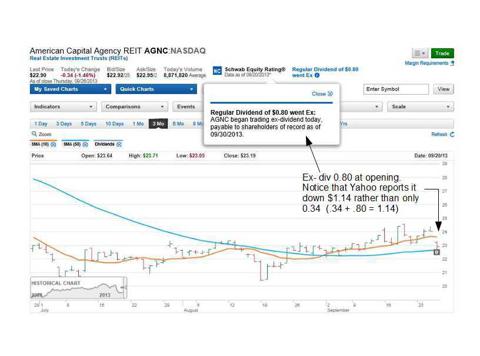 I am ready to sell if the market, interest rates or other factors turn against mREITs.
BDCs -Business Development Companies
Finally, this chart is for IT who is a follower of (PSEC)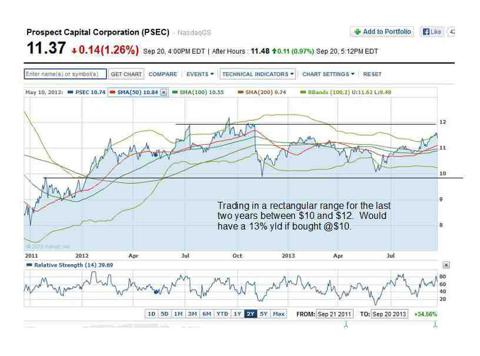 Strategy for PSEC. Buy around $10, or wait for major market downturn. to buy below $10. Hold for 13% or better yield. Sell when PSEC hits resistance at $12. Wait again for decline to $10. Re-buy.
While on the topic of BDCs, here is a chart of (MAIN), one of the very best BDCs. As you can see it topped in March at $34. (chart says April, but it was March). Since then, it hasn't been able to hold above $31 and it has just weakened by falling below its 50 day MA. It peaked, made two Right shoulders under $31, and now is showing more signs of weakness even as the general stock market has made new highs. This does not bode well for BDCs in general as MAIN is one of the best. Maybe it will trade sideways, but if the general market weakens, it will go with the market.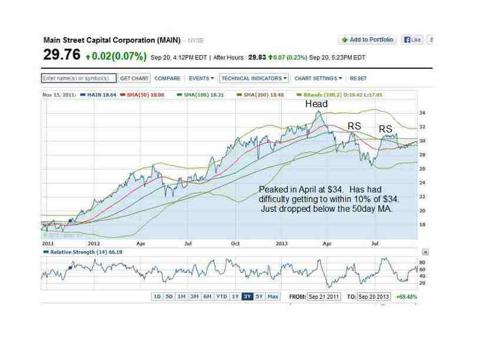 Here is one more BDC, (RSO) Resource Capital Corp.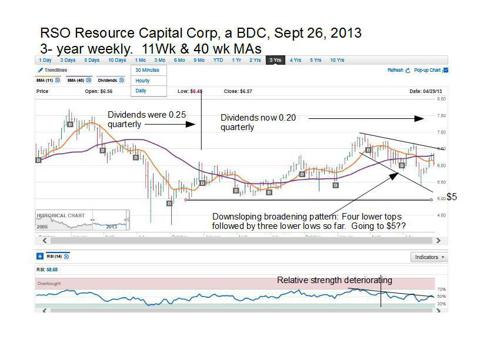 RSO is showing a deteriorating view. It is in a decending broadening pattern with four highs, each lower than the one before with three lows, each lower than the one before. In Oct 2011 RSO got down to $4.50 when its dividend was 0.25 quarterly. It is now 0.20 quarterly.
Relative strength is (see below the chart) is making lower highs.
Of the BDCs mentioned above, two of them (MAIN) and (RSO) are showing a negative picture. (PSEC) looks neutral, but MAIN and RSO may be indicating that BDCs are may be going lower.
That's all for now.
Check my most recent comments on stocks that I and others have taken positions in on IT's Portfolio Challenge
seekingalpha.com/instablog/5038891-inter...;v=1379331900
Best wishes and good investing to you
John
[JW]