Google trends is becoming a reputable source within the analyst community to forecast consumer interest in a subject defined by a search phrase. Because consumer interest most often translates into real demand, Google trends is used to establish the degree of confidence about analyst's forecasts.
Google trends lets users track historical interest in a particular search phrase, starting with 2004. Google trends returns numerical result that has weekly periodicity and scale between 0 and 100.
A typical way to come up with a good search phrase that reflects consumer's interest in a particular product is to come up with a Google search that people would use to find this product or information about this on Google. The closer a search phrase relates to the information required to make an actual product purchase, the better this phrase will track real product demand by consumers.
Analysis:
I will demonstrate how to use Google trends to accurately forecast the number of iPhones and iPads actually sold by Apple (NASDAQ:AAPL). First I download trend result for a built-in Google category Apple iPhone Product which historical chart is shown below.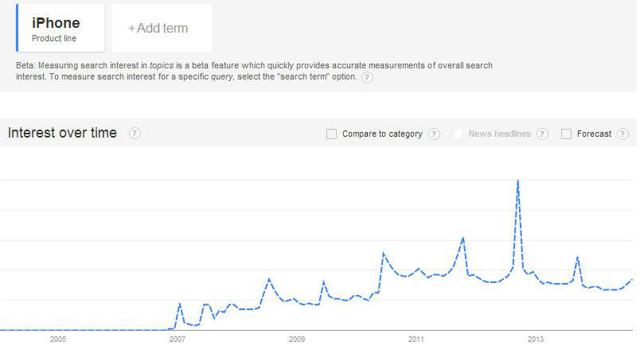 Since the scale of the two time series that I am trying to compare (units sold for AAPL and total Google searches) is very different, I will compare the rate and direction of change between these two time series. To do that I contrast quarterly numbers for units sold and total searches for iPhone product between Q4 2009 through Q3 2014 using Excel. Results of this comparison are shown below:
iPhone + iPad Units Sold vs. Google Trends comparison for a period Q4 2009 through Q1 2012.

iPhone + iPad Units Sold vs. Google Trends comparison for a period Q2 2012 through Q3 2014.

Analyzing the rate and direction of change for both measures clearly shows that direction of the quarter over quarter change in total Google searches for AAPL iPhone product line leads and almost perfectly predicts the direction of the AAPL iPhone units sold between quarters. This observation is statistically significant, but does it lead to price appreciation of the AAPL stock when more people are buying Apple products, or perhaps it is already priced in the stock?
To see if the Google trends search interest information not only correctly forecasts the directional change in quarterly product units sales, but also can be used to improve investment return result in the AAPL stock. To do that I will use IntuQuant's (www.intuquant.com) Strategy Explorer App that is found in Bloomberg App Portal. Strategy Explorer App lets me import and use Google trends downloaded search phrase result file for further analysis.
My strategy is to compare investment return of a single long AAPL stock position with a long AAPL position where the size of the position in AAPL stock I hold is weighted weekly by the total amount of Google trend searches performed during that week. So my base portfolio is long one share of AAPL stock, while my hypothesis portfolio is weighted by the Google trends search count. Search count position weighting is achieved by dividing a weekly search count by an average search count over the entire analysis period. This means that on average my hypothesis portfolio is long one share of AAPL stock, but when the weekly count is less than the overall average, portfolio position weight is less than one AAPL stock,when the weekly count is more than the overall average, portfolio position weight is greater than one AAPL stock.
The result I got is the following:
Portfolio with one share of AAPL long only for a period Q4 2009 - Q3 2014 returned 367%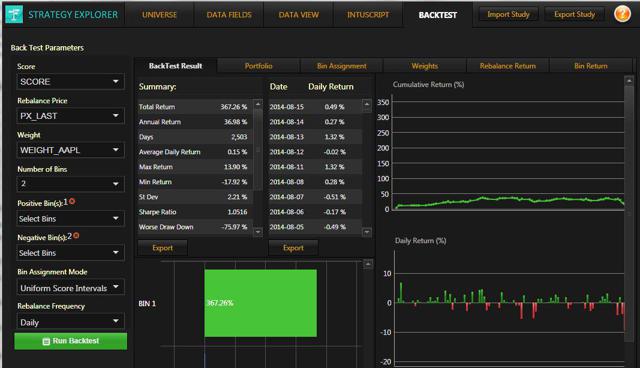 Portfolio with a GOOGLE trend search count weighting of AAPL for a period Q4 2009 - Q3 2014 returned 410%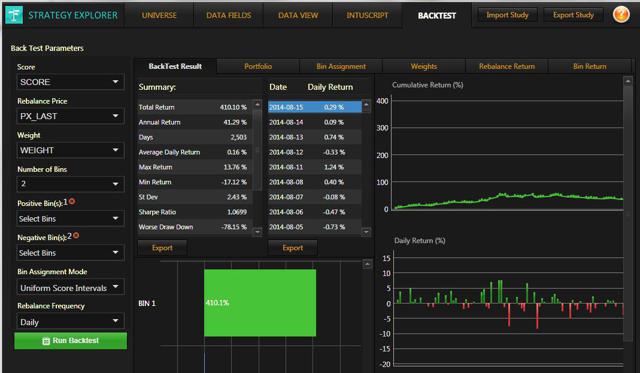 Conclusion:
Google trends is an important and open source of investment research information that when used properly yields to a very good forecasting predictability as was demonstrated using a consumer oriented company like Apple Inc .
Disclosure: The author has no positions in any stocks mentioned, and no plans to initiate any positions within the next 72 hours. The author wrote this article themselves, and it expresses their own opinions. The author is not receiving compensation for it. The author has no business relationship with any company whose stock is mentioned in this article.