Electric Car Stocks Trading Alert; EVCARCO (OTCBB: EVCA) Trading Up 13.33% in Morning Trading
Oil Trading at 104.36 -1.08 -1.02%
March 8, 2011 (Investorideas.com renewable energy/green newswire) Investorideas.com a leader in cleantech investor research, releases a trading alert for green automotive company EVCARCO (OTCBB: EVCA) (www.evcarco.com). The stock is trading at$0.0340, up 0.0040 (13.33%) in early morning trading.
The company recently announced that it will be exhibiting the Company's current green vehicle offerings at the Ft. Worth Auto Show, being held March 17th-20th at the Ft. Worth Convention Center and the Dallas Auto Show, being held on April 7th-10th at the Dallas Convention Center. EVCARCO's exhibits will be located in the Green Exhibitor Section dedicated to eco-friendly products.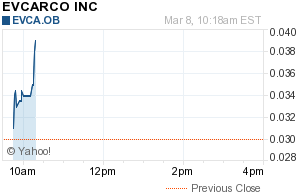 Company Snapshot
EVCARCO (OTC.BB: EVCA) - Green, Electric Cars and Natural Gas Vehicles
EVCARCO (OTC.BB:EVCA) (evcarco.com) is the first automotive retail group dedicated to deploying a coast-to-coast network of environmentally friendly franchised dealerships and vehicles. EVCARCO is bringing to market the most advanced clean technologies available in plug-in electric, alternative fuel, and pre-owned hybrid vehicles
Natural Gas News; EVCARCO (OTCBB: EVCA) to Sell Class 3-5 Commercial Compressed Natural Gas Powered Trucks at Its Green Auto Dealerships
Dow 12,166.21 +76.18 +0.63% 
Nasdaq 2,761.47 +15.84 +0.58% 
S&P 500 1,318.88 +8.75 +0.67% 
10 Yr Bond(%) 3.52% +0.0230 
Gold 1,429.90 -1.50 -0.10%
Research electric car stocks and green auto stocks
, lithium stocks - with the renewable energy stocks directory Research over 1300 green stocks - Investors also have the option to access the directory as part of the Investor Ideas Investors also have the option to access the directory as part of the Investor Ideas Membership premium content that currently features an additional 10 stock directories, including the water stocks directory and all cleantech stock directories. http://www.investorideas.com/membership/
Investors - sign up for free stock alerts and investor news alerts
About Our Green Investor content:
Investorideas.com was on the of the first investor sites covering investing in water and renewable energy stocks and has become a global go-to destination for investors researching the cleantech sector, with stock directories, company news, commentary from experts, research reports and industry resources and links. Investors can follow solar stocks commentary on our site with solar expert, J. Peter Lynch.
Disclaimer: Our sites do not make recommendations. Nothing on our sites should be construed as an offer or solicitation to buy or sell products or securities. We attempt to research thoroughly, but we offer no guarantees as to the accuracy of information presented. All Information relating to featured companies is sourced from public documents and/ or the company and is not the opinion of our web sites. Disclosure: Investorideas is compensated by featured green companies EVCARCO (OTCBB: EVCA) is a showcase stock at Investorideas.com and compensated the site 500,000 144 shares in lieu of cash compensation.
To become a showcase company, contact us below.
For more information contact:
Email: dvanzant@investorideas.com or Cali at cvanzant@investorideas.com