Banking Stock Alert; Fidelity Bancorp (NASDAQ:FSBI)Leads NASDAQ Top Gainers Following Merger News
New York, NY- July 20, 2012 (Investorideas.com Newswire) Investor Ideas, www.InvestorIdeas.com, a global investor research portal for independent investors, issues a trading alert for investors following banking stocks. Fidelity Bancorp Inc. (NasdaqGM: FSBI) is trading at $21.10, spiking $ 8.32 or 65.10% as of 11:51AM EDT, making it the NASDAQ top percentage gainer in morning trading.
WesBanco, Inc. (NASDAQ:WSBC) and Fidelity Bancorp, Inc. FSBI) jointly announced that they have executed a definitive Agreement and Plan of Merger providing for the merger of Fidelity with and into WesBanco.
The transaction, approved by the directors of both companies, is valued at $70.8 million, based on WesBanco's average common stock price noted above and Fidelity's diluted shares outstanding.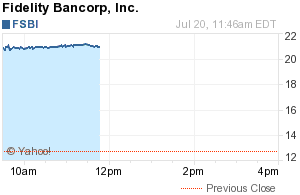 About Fidelity:
Fidelity Bancorp, Inc. is a bank holding company incorporated under the laws of the State of Pennsylvania and regulated by the Board of Governors of the Federal Reserve System. Fidelity operates a wholly-owned banking subsidiary, Fidelity Bank, PaSB, which provides depository, lending, and other financial services to individuals and businesses in the Pittsburgh, Pennsylvania marketplace. Fidelity Bank, PaSB is a state-chartered savings bank regulated by the State of Pennsylvania and insured by the Federal Deposit Insurance Corporation (FDIC). Fidelity Bank, PaSB operates 13 banking offices.
With a balanced combination of "high-touch" customer service, local management, strong operating controls, and controlled geographic expansion, Fidelity Bank, PaSB has grown into one of Pittsburgh's premier independent financial services organizations.
About Investorideas.com
InvestorIdeas.com is a leader in investor stock research with a focus on energy and water. Sectors we cover include; water and renewable energy stocks, biotech stocks, mining and gold stocks, energy stocks, natural gas stocks, tech (includes cloud and social networking), defense stocks, nanotech, China stocks and agriculture.
Follow Investorideas.com on Twitter twitter.com/#!/Investorideas
Follow Investorideas.com on Facebook
http://www.facebook.com/Investorideas
Get Free investor news and stock alerts
Join Investor Ideas Get 13 of the best stock directories online;
Research tech stocks, oil and gas stocks, gold stocks, water stocks, renewable energy stocks and more
Join:
Disclaimer: Our sites do not make recommendations. Nothing on our sites should be construed as an offer or solicitation to buy or sell products or securities. We attempt to research thoroughly, but we offer no guarantees as to the accuracy of information presented. All Information relating to featured companies is sourced from public documents and/ or the company and is not the opinion of our web sites. This site is currently compensated by featured companies, news submissions and online advertising.
800-665-0411 - Source - www.Investorideas.com