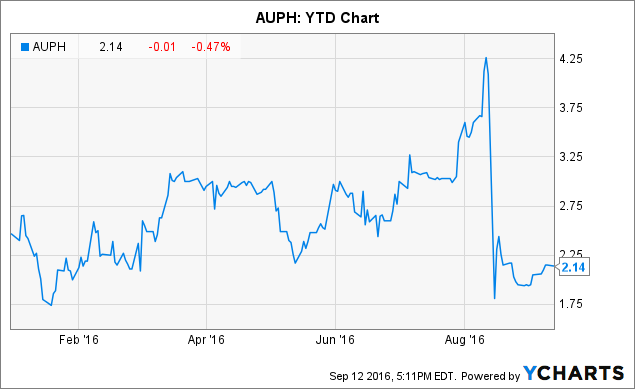 Aurinia Pharmaceutical (NASDAQ: AUPH) COO Mike Martin provided a corporate presentation to investors this morning at the Rodman & Renshaw Annual Global Conference in New York.
This morning's presentation which was also available by webinar (with corporate slide show) can be found on Aurinia Pharmaceutical's web site or at http://wsw.com/webcast/rrshq26/auph/. I highly recommend that anyone following Aurinia should listen to this webinar which is approximately 30 minutes long.
It was a very positive presentation and answered a lot of question concerning the recent Phase 2B results for voclosporin and addressed the issue of the deaths in the Phase 2B study. He confirmed that the independent investigators determined that the deaths were unrelated to voclosporin and explained why the number of deaths were consistent with other Lupus Nephritis studies.
Upcoming catalysts include the upcoming release of the 48 week trial results from all 10 patients in the small AURION clinical trial, as well as the Q4 meeting with the FDA to discuss the Phase 2B trial results and the steps moving forward to a Phase 3 trial.
Martin also reconfirmed that based upon AUPH's market research they believed the peak market sales for voclosporin was in the $1.38 Billion range ($1Billion in the USA, $300M in Europe and approximately $80M in Japan).
I had a follow up question for Michael Martin after the presentation concerning Aurinia's application to the FDA for Breakthrough Therapy Designation which I asked by way of email correspondence this afternoon. Martin confirmed in an email that the application had in fact been made and that Aurinia was hoping to receive a response from the FDA for Breakthrough Therapy Designation in the next couple of months. In earlier discussions with Martin, he was reasonably confident that such designation would be obtained.
The FDA guidance on Expedited Programs for serious conditions (at page 10) can be found at:
http://www.fda.gov/downloads/drugs/guidancecomplianceregulatoryinformation/guidances/ucm358301.pdf
Based upon the criteria for Breakthrough Therapy Designation I expect that Michael Martin's view that approval will be granted is correct but it is certainly not guaranteed.
As I have mentioned in my earlier articles I believe that obtaining Breakthrough Therapy Designation will be one of the positive catalyst for Aurinia.
I remain quite bullish on Aurnia Pharmaceuticals.
Disclosure: I am/we are long AUPH.