Aralez (NASDAQ: ARLZ) recently announced its Q3 2017 earnings release is scheduled before the market opens on November 9, 2017 with a conference call and webcast immediately following at 8.30 a.m. EST.  For the reasons discussed below, I'm cautiously optimistic that the news will be positive.
For the reasons previously articulated in my earlier articles on ARLZ, 2017 has not been kind to Aralez and its shareholders although recently there was a run-up in the share price which was relatively short-lived.
On July 6, 2017 I published an update article about why I had become cautiously optimistic about Aralez.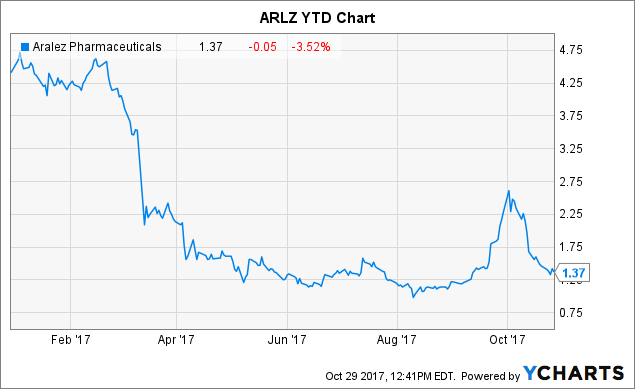 Earlier this year during its Q2 2017 earnings release conference, Aralez's provided 2017 guidance as set out below.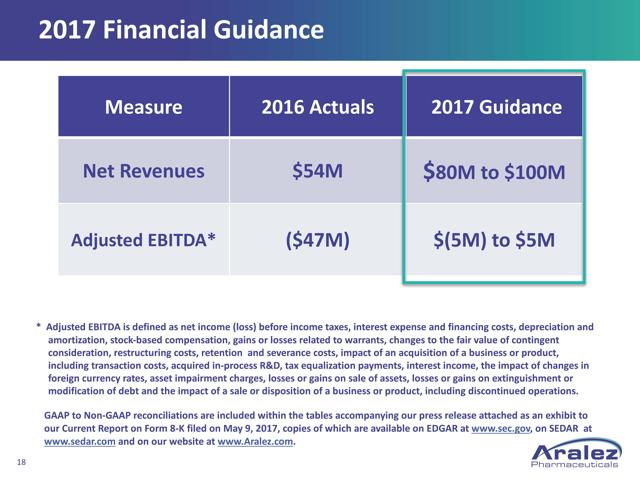 During Q3 Aralez's re-launch of Zontivity has shown significant progress.  The chart below shows the TRX MBS figures from the time of Zontivity's initial launch by Merck. You can see the progress made by ARLZ since it officially re-launched Zontivity in June, 2017.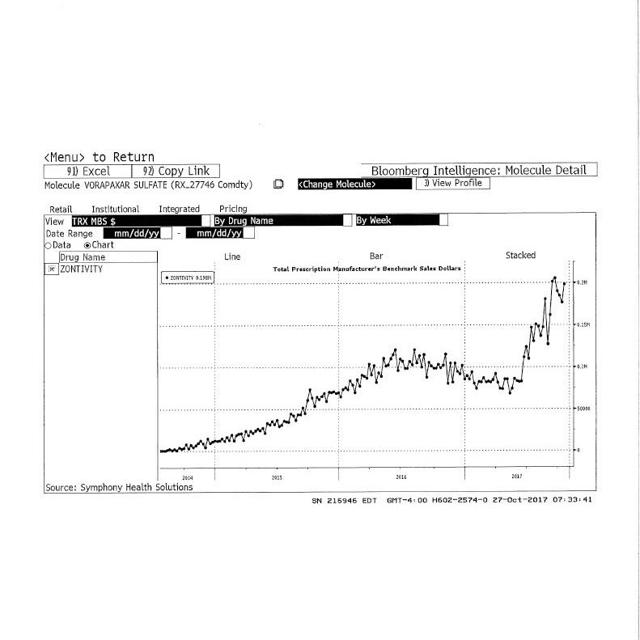 Estimated Peak Zontivity Sales
While the Company hasn't provided guidance yet as to what it estimates Zontivity's peak sales might be, David Martin, Ph.D. of Bloom Burton recently provided an estimate of $182 million in peak annual Zontivity sales.  I had initially assumed that peak annual sales would be in the $50 to $100 million range which I thought would be a substantial boost to Aralez given its very low market cap.  Whether my estimate or David Martin's estimate is correct, what is clear is that Aralez's purchase of the drug for $25 million last year was a bargain.
Toprol Sales
Until recently I really didn't focus on Aralez's Toprol sales as I assumed they would either be declining slightly or otherwise be flat.  Aralez has stated that it is not actively promoting the drug which is currently being marketed and sold by Astra Zeneca until December 31, 2017. However, there does appear to be some reason to be potentially bullish for this asset.
Aralez purchased Toprol and its authorized generic from Astra Zeneca last year for $175 million (and other consideration), borrowing the $175 million acquisition funds from Deerfield at 12.5% annual interest. Earlier this year there was some disappointing news when Aralez announced that it had to materially lower its selling price of Toprol to the VA to keep its sales contract with the VA. However, the VA represents a relatively small part of Aralez's total Toprol sales (both branded and generic).
While I have not been able to break out what portion of the reported weekly Toprol sales are attributable to Aralez, it does appear from the TRX Manufacturers Bench Dollars (MBS) chart below, as of October 20, 2017, (source: Symphony Health Solutions) that Toprol MBS sales dollars have materially increased in 2017, likely by more than 20% since the beginning of the year. 
Based upon the TRX MBS chart below I now believe that Toprol sales may be a pleasant surprise H2 2017 for Aralez, pushing its 2017 revenues into the $100 million range and into positive EBITDA territory. As a reminder, Aralez is still subject to a transition agreement with Astra Zeneca in connection with sales of Toprol until December 31, 2017 which means that only net sales of Toprol (after Astra Zeneca's selling expenses and cost of goods is deducted).  Beginning January 1, 2018, Aralez will be able to include sales of Toprol on a gross level into its income.
If my assumption is correct and Toprol sales are indeed increasing substantially and based upon its earlier guidance, Aralez will likely be EBIDTA positive either in Q3 or Q4. That would make it easier for Aralez to refinance its expensive Deerfield debt ($200 million at 12.5% interest p.a).  If Deerfield's expensive debt can be refinanced in the next number of months, that could materially change the outlook for Aralez.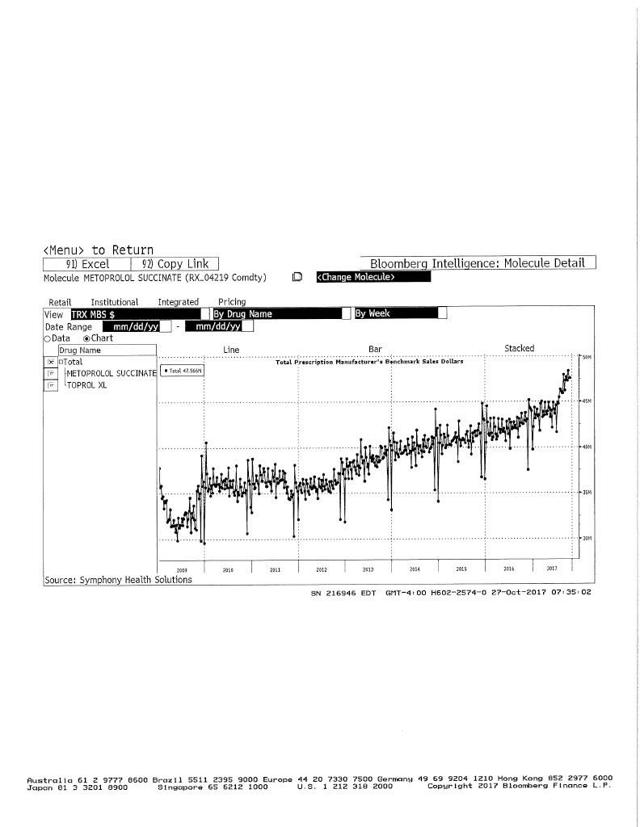 Conclusion:
Based upon the reasons articulated in my July 6 article update, and given the progress being made in sales of Zontivity as well as the likely improved sales of Toprol, I am cautiously optimistic that Aralez's earnings call on November 9, 2017 will be positive for Aralez shareholders. 
Disclosure: I am/we are long ARLZ.