Record weekly Zontivity sales calculated by TRX Count, NRX Count, TRX Quantity and TRX MBS for Period Ending Friday March 2, 2018
Last Saturday March 3, 2018 I published a blog here about Zontivity weekly sales continuing to grow. Zontivity sales are a key driver for Aralez Pharmaceuticals (NASDAQ: ARLZ) meeting its 2018 guidance targets of $140M to $160M in revenues with $35M to $55M in adjusted EBITDA.
In my March 3, 2018 blog I posted Zontivity sales for the week ending February 23, 2018 in the U.S. 
This morning I received weekly sales figures for Zontivity compiled by Symphony Health for the week ending March 2, 2018 which continue to show gains. The sales trend is best reflected in the charts posted below. 
Sales of Zontivity are continuint their positive trend and included record sales numbers in Zontivity TRX Count, NRX Count, TRX Quantity and TRX MBS numbers.
For those unfamiliar with the term "MBS", it stands for Manufacturers' Benchmark Sales (MBS) which is a financial analytic representing the value of pharmaceutical product demand. MBS represents a standardized dollar metric based on manufacturers' published list prices to wholesalers. Hence the MBS metric is actually one of the most helpful to understand and follow each week both for TRX and NRX. Symphony Health publishes MBS figures each week for Zontivity sales both on a total scripts /pills "TRX" and new scripts / pills "NRX" basis.
Please also note that in terms of actual dollars received by Aralez from their weekly sale of Zontivity, the amounts set out in the TRX MBS and NRX MBS charts below should be discounted by about 30% to 40%.
I'm encouraged by Zonitivity's weekly sales trend and will continue to monitor these sales on a weekly basis. It is particularly impressive given that Aralez is using only a small 75 person salesforce for the U.S. market.
There appears to be substantial room to increase Zontivity sales further by either increasing Aralez' salesforce directly and/ or entering into some type of co-promotion deal with another larger pharmaceutical company to market Zontivity to other Primary Care Physicians, Cardiologists or other specialists currently not being seen by Aralez' salesforce.
Q4 2017 Earnings Call Conference:
Aralez has announced that it has scheduled Tuesday March 13, 2018 at 8.30 a.m. ET. for its Q4 2017 Earnings Call conference and webcast. You can register for the webcast at https://edge.media-server.com/m6/p/882o2mi2
I expect management will provide further details and comments on meeting its previously discussed 2018 guidance and will almost certainly discuss Zontivity's very positive weekly sales trend since re-launching Zontivity last June, 2017. A few months ago, management indicated that it expects that Zontivity's peak sales is estimated to be $100 million in the U.S.
Zontivity TRX Count (Chart Below) - Total number of scripts for week ending March 2, 2018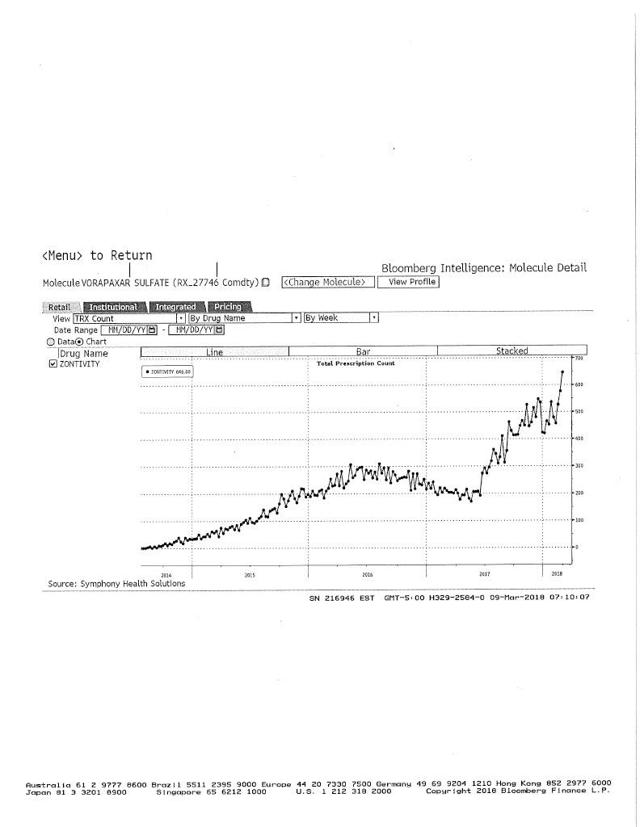 NRX Count (Chart Below): Total number of new scripts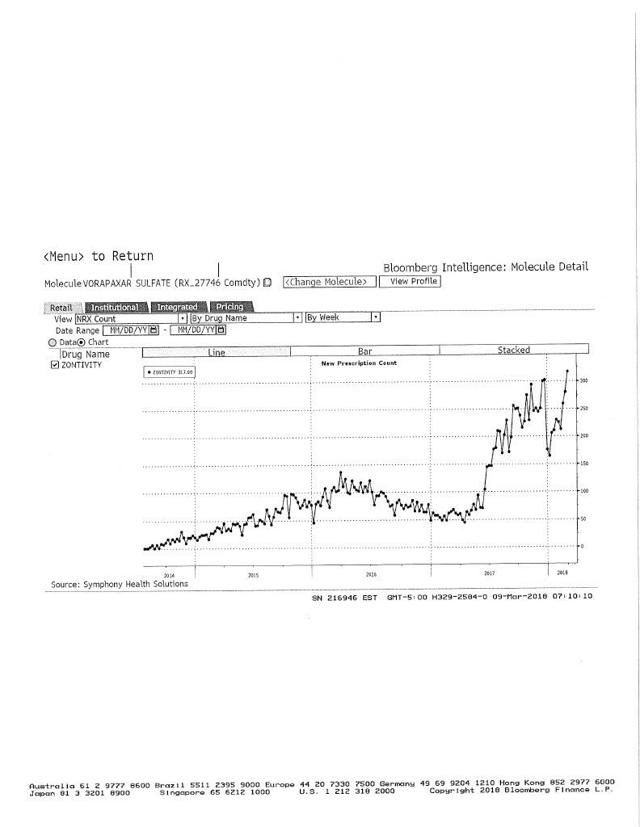 TRX Quantity (Chart Below): Total number of pills prescribed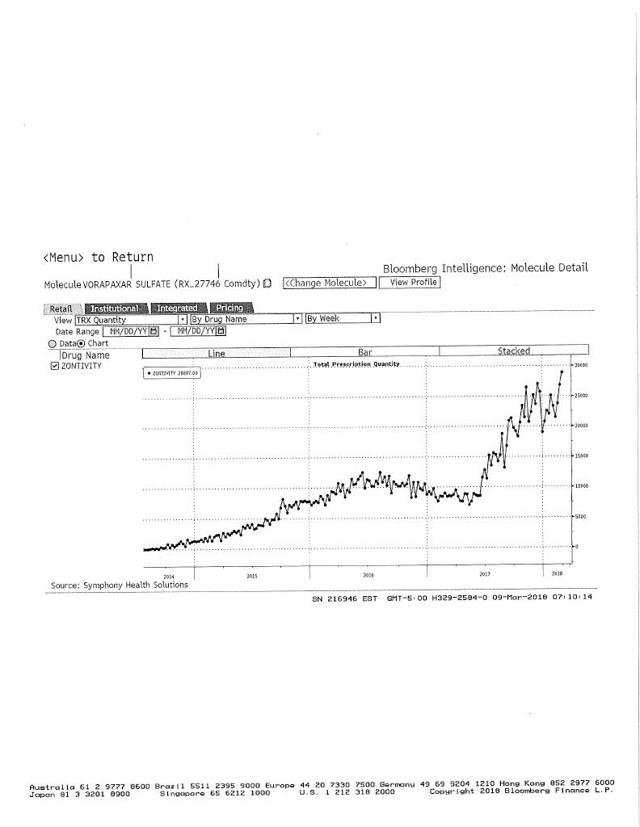 NRX Quantity (Chart Below): Total number of pills prescribed in New Scripts NRX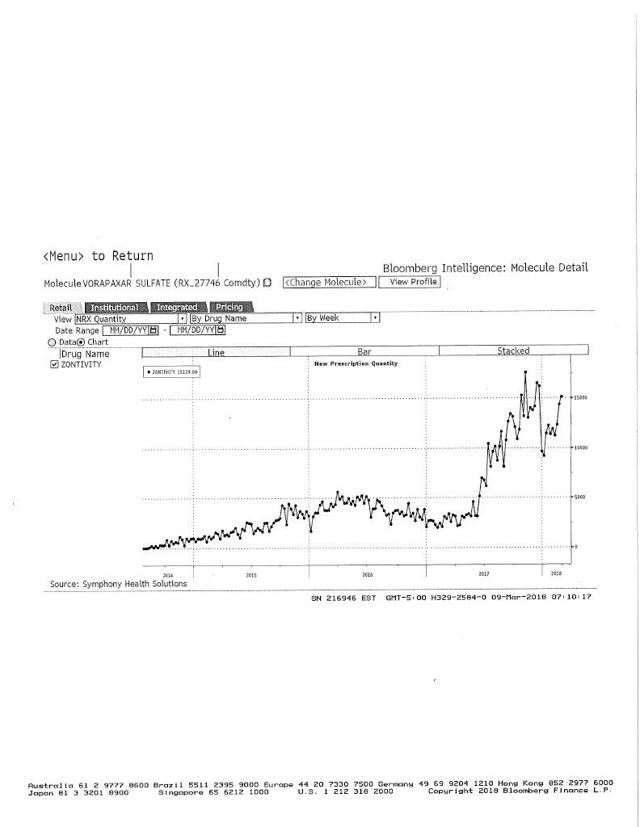 NRX MBS (Chart Below): Total Dollars Generated from New Scripts for week ending March 2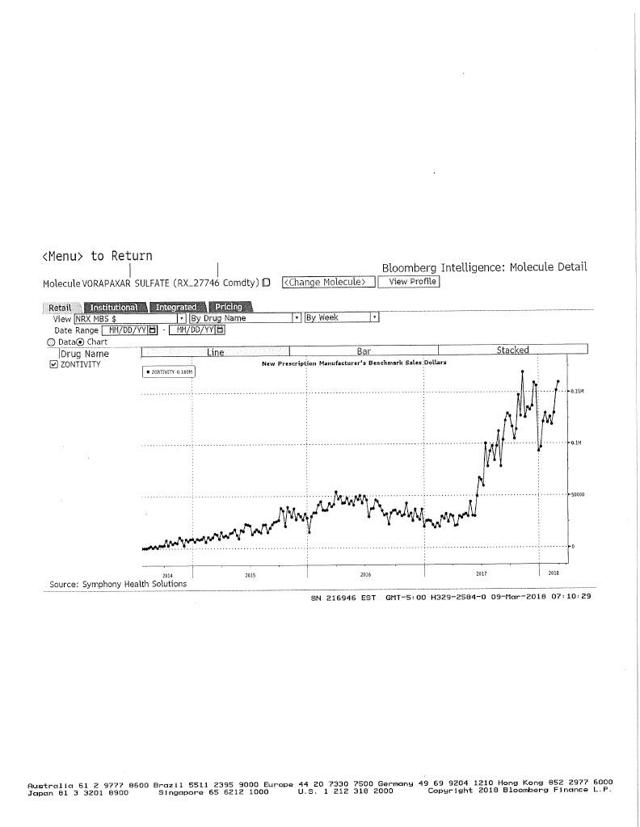 TRX MBS (Chart Below): Total Dollars generated from all scripts for week ending March 2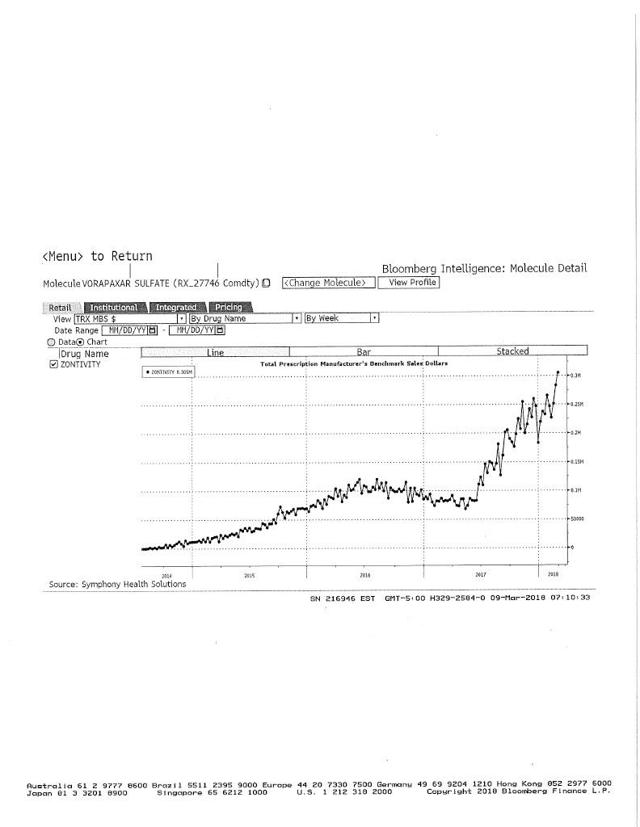 Disclosure: I am/we are long ARLZ.