I have only been to China once. About 6 years ago I went to Shanghai to visit my daughter who was doing an internship at the time.
Since my trip some 6 years ago, the size and speed of the advancement in China in various areas of technology, and biotechnology/biopharmaceuticals in particular, has been simply extraordinary, and perhaps not fully appreciated by many investors in the west. 
While many investors in the west are hesitant to invest in public Chinese companies due to certain past well publicized instances of fraud and lax standards, mistrust of the Chinese government, lack of transparency in various areas of corporate governance, and other issues of concern, it is equally important that we in the west be aware of what is occurring in China, the improvement in standards and the quality of their science, the speed at which change is occurring and the potential impact it will have not only on the potential valuations of Chinese based biopharmaceutical companies, but also its impact in the next number of years on biopharmaceutical companies based in the U.S., Europe, Japan and other major markets. 
Huge Potential Market
According to a March 31, 2019 presentation made by KraneShares MSCI All China Health Care Index ETF ("KraneShares")(Nasdaq: KURE), China is one of the fastest growing major healthcare markets in the world with a 5 year compound growth of 11%, compared to 4% in the U.S. and -4% in Japan. It currently is the second largest healthcare market globally with total expenditures of $558 billion in 2016, projected to reach $1.1 trillion in 2020. There is also room for considerable growth in China with per capita health care spending of only $398 compared to an average of $6,500 per capita for the world's top 8 healthcare markets.
As per the slides below taken from KraneShares March 31 2019 presentation, the per capita expenditure for healthcare and pharmaceuticals is still dominated by the U.S.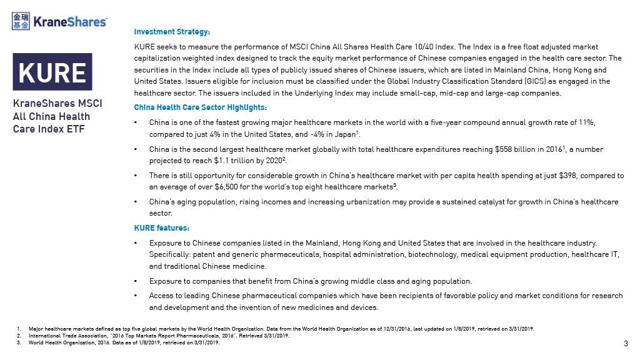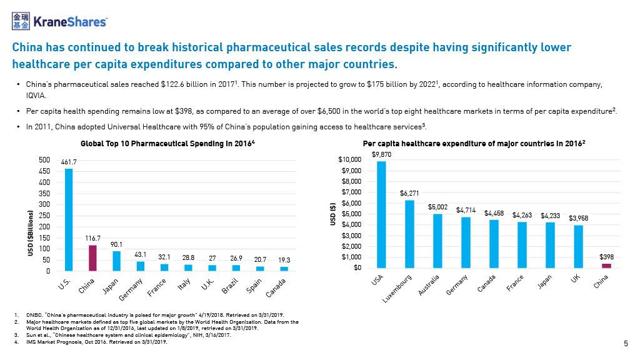 However, as China's population becomes more urbanized and wages increase, healthcare spending is becoming a greater priority for the Chinese government and for the Chinese population generally. Furthermore, China's growing aging population is fueling the demand for increased healthcare services.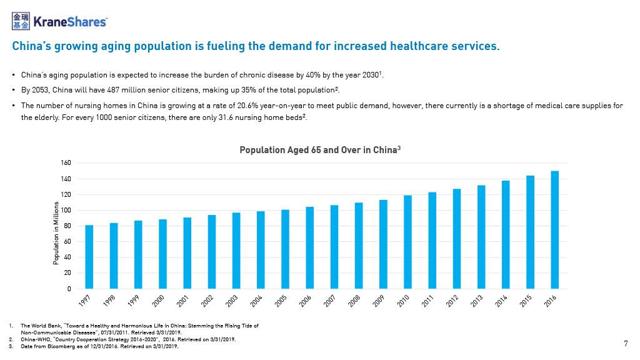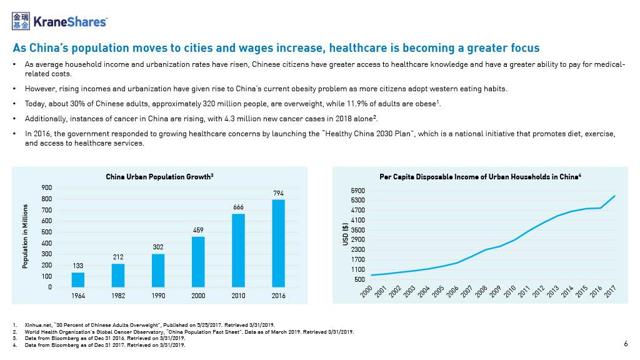 At the same time as the healthcare market in China is rapidly growing, there are favorable market conditions and government policies in China which are encouraging innovation in leading edge biotech development and new drug approvals. As well the actual cost of R& D in China is significantly lower in China, perhaps as much as 1/100 the cost (compared to the U.S.) according to some sources referenced in the slide below. Hence, each dollar spent in China in R&D potentially goes further.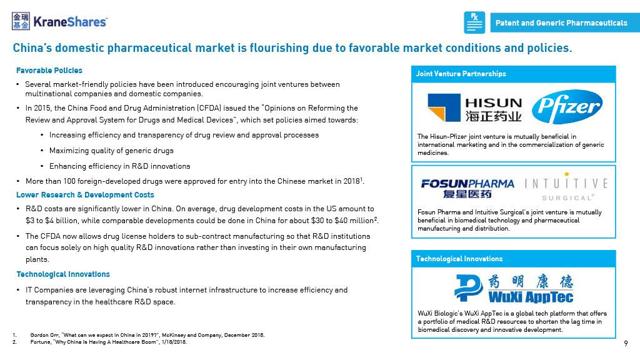 According to KraneShares, there are four major catalysts accelerating China's biotechnology and life science industry:
1. Government funding is generous due to biotech being highlighted in the Chinese government's latest 5 year plans;
2. Venture capital and private equity funding for life science investments in China is growing quickly which raised $42.8 billion in 2018;
3. Regulatory changes in China favoring innovation with a move to global standards; and
4. returning talent to China from Chinese nationals who have obtained advanced degrees in life science and training abroad.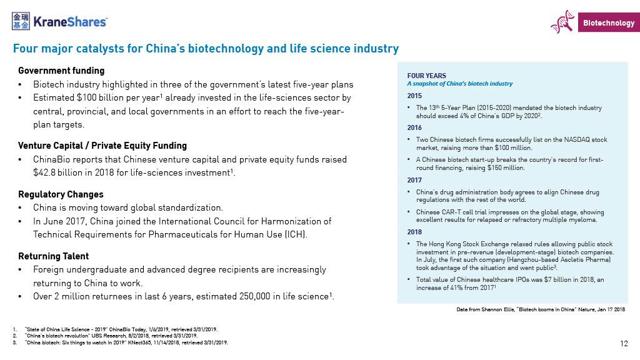 Chinese Government Implementing Comprehensive Long Term Strategy of Innovation and Disruptive Technology Development 
In its comprehensive November 2017 Report to Congress of the U.S. -China Economic and Security Review Commission (the "Report"), the Commission states (at p.24),
The Chinese government is implementing a comprehensive, long term industrial strategy to ensure its global dominance in computing, robotics, artificial intelligence (NYSE:AI), nanotechnology and biotechnology. This strategy is laid out in the 13th Five-Year Plan, and the Made in China and Internet Plus initiatives and continues China's state-directed approach over the last six decades to build internationally competitive domestic firms.  Beijing's ultimate goal is for domestic companies to replace foreign companies as designers and manufacturers of key technologies and products first at home, then abroad.  It utilizes state funding, regulations, China-specific standards, localization targets, government procurement, foreign investment restrictions, recruitment of foreign talent, close integration of civilian and military technology development, and in some cases, industrial espionage.

China is also leveraging the openness of the United States and other market-based economies to gain access to advanced research and data, recruit globally talented workforce, acquire and invest in leading edge firms, and freely sell their products and services abroad.  The scale and volume of government resources directed toward these sectors undermines the ability of foreign firms to fairly compete in China's markets ..."
While the November 2017 Report indicates (p.531) that currently the U.S. biotechnology research and innovation remains ahead of China based upon a number of factors including: strong foundational R&D funding, regulatory frameworks that incentive biotechnology development and commercialization, a highly skilled workforce, close ties between government, universities and private sector and a robust venture capital system, it is clear that China is closing the gap with the U.S.
According to the March 2017 study by the U.S. National Academies of Sciences, Engineering and Medicine, the rapid increase in number, complexity, and range of biotechnology products and breakthroughs in China will likely outpace those in the U.S. [See footnote 241 in the Report, National Academies of Sciences, Engineering and Medicine, Preparing for the Future Products of Biotechnology, March 9, 2017, 174] 
Pharmaceutical Regulatory Reform in China
In an article published in February, 2019 in Oxford's National Science Review, regarding China's regulatory reform for medical products and its impact written by Ruilin Song, Guowei Sang, Meiyu Geng, and Hualiang Jiang, the authors discuss how one of the most important regulatory reforms in China occured in 2017, when the Chinese FDA (the China Food and Drug Administration or CFDA) become a member of the International Council for Harmonization ("ICH") which has brought international standards into the drug regulatory process in China, and effectively harmonizing approval standards in China, the U.S. and Europe. 
There has been tremendous progress in the development of innovative drugs reflected in the increasing number of new drug applications (NDAs), new drugs being launched to the market, and greater numbers of Chinese medical products meeting the international standards.
The recent reforms in the review and drug approval system have resulted in an increased number of investigational new drug applications, and the approval process of foreign drugs has also accelerated. In 2018, more than 30 imported therapeutic agents were approved. The timeline of drug approval has been significantly shortened.
China's Major Industrial Policies and Regulations Affecting the Biotechnology Sector
The recent policies in China which impact the Biotechnology sector include:
Made in China 2025;
Internet Plus;
13th Five-Year Strategic Emerging Industries Development Plan;
13th Five-Year Bio-industry Plan
13th Five-Year Medical Industry Development Plan;
Healthy China 2030.
Regulations
Anti-Monopoly Law
Cybersecurity Law
National Reimbursed Drug List
Administrative Provisions for Drug Regulations.
The Impact of Recent Changes in the Chinese regulatory environment
In a February, 2019 interview with Dr. Lingshi Tan published in PharmaExec.com, Dr. Tan discusses how the Chinese regulatory environment has changed in recent years and favorably impacted the biotechnology sector.  Dr. Tan is a director at the Drug Information Association, and chairman and CEO of dMed Company Limited, a Shanghai-based contract research organization. Prior to founding dMed, Dr. Tan was Pfizer's vice president of worldwide development operations and chairman and general manager of Pfizer (China) Research & Development Co., Ltd.  
Below is my summary of his interview.
Dr. Tan sees that China has radically altered the regulatory landscape for drug development both domestically and globally. China formally launched this current phase of regulatory reform on August 18, 2015, when State Council (China's cabinet) articulated five fresh priorities guiding drug regulation: improve quality of the drug review and approval process, eliminate the review backlog, improve quality of generics, encourage innovation, and increase transparency of the review and approval process.
The changes in regulations has very swiftly brought China into close alignment with global regulatory practice.  It has cut the time needed to get approval for a clinical trial (which previously could take more than two years) to 60 working days, also referred to as the 60 day clinical trial application or "CTA".  In June 2017, CFDA became a full regulatory member of ICH and is rapidly issuing guidelines aligned with global practice. In order to support implementation of these changes, the National Medical Products Administration (NMPA) increased the number of reviewers from 200 to more than 600, and is on track to eventually expand this to 2,000.
One effect of the 60-day clinical trial application approval target, is that China can play an integral role in global clinical trials, accelerating the global launch of innovative drugs, not just in the US and EU. It also allows sponsors timely access to China's large pool of treatment-naïve patients, which is of growing importance in crowded therapy areas such as immuno-oncology.
As ICH guidelines become China's standard, China is increasingly willing to accept global clinical data in support of local product registrations, with priority for products that serve Chinese patients' unmet medical needs. In fact, in August of last year, the NMPA specifically asked biopharma firms to register 48 foreign drugs that had not yet been introduced in China, and demonstrated its willingness to speed approvals using global data.
The number of CTA approvals is increasing, and the priority review process has already granted 418 applications to date.
The US FDA opened its first office in Beijing in 2008 and has long played an important role in China's regulatory evolution. Even earlier, however, US pharmaceutical companies, industry associations, and government agencies, including the FDA, all contributed to an extensive ongoing dialogue with China.
The US FDA represents the "gold standard" for world-class expertise and systematic scientific product review and drug approval that China's NMPA seeks to emulate. Recent reforms demonstrate that China's NMPA has already adopted many elements of the US FDA system and practice. Many Chinese CDE (Center for Drug Evaluation) reviewers go for training with the FDA and many of NMPA's recent senior hires are scientists with years of experience at the U.S. FDA.
Increasingly, there has been a sharing of review opinions between FDA and CDE and the establishing of regular communication and information exchanges. 
During the next 5 years increased collaboration between China and the US FDA is inevitable. Dr. Tan believes that as China eventually overtakes the US to become the world's largest drug market and as innovative Chinese biopharma companies move on to the global stage, the Chinese NMPA hopes to be one of the world's leading regulatory agencies, working in close partnership with counterparts in the US, Europe, and Japan.
Over the next five years, Dr. Tan anticipates that while each nation will maintain its regulatory independence in approving products for its own market, China and the US can both benefit from further strengthening the communication mechanisms through which both agencies regularly share and exchange evaluation opinions and conclusions in support of their independent product approvals. As communication and the exchange of staff build further trust, we may begin to see operational cooperation, including strengthening collaboration on real-world evidence to support product approvals.  Eventually the world could have multinational advisory panels created to support simultaneous approvals of new drugs across multiple markets.
Brad Loncar's Thoughts on BioPharma in China 
Last week I listened to Brad Loncar's keynote address at the Bloom Burton Healthcare Investor conference in Toronto.  A few days prior to listening to Brad Loncar, I had read his article that he had published on April 26, 2019 called "Reflections on a Recent Trip to Asia" which he wrote following a recent trip that he had travelling to Beiijing, Shanghai and Hong Kong.
Brad Loncar is the CEO of the Loncar Investments and the creator of the Loncar Cancer Immunotherapy ETF (Nasdaq: CNCR) and the recently created Loncar China BioPharma Index and China BioPharma Industry ETF (Nasdaq: CHNA). The China BioPharma ETF was created last year and is still quite a small fund.  Brad was kind enough to send me a copy of his slides which he presented during his keynote address on May 1, 2019.
I am going to essentially summarize the points made by Brad Loncar in both his May 1st keynote presentation and April 26th article, as well as add some additional notes.
China's population of nearly 1.5 billion is 5 times larger than the U.S.'s population of 327 million. China has only 10 companies in biopharma with a market cap of more than $1 billion compared to the U.S's 140 biopharma companies. There are only 4 Chinese biopharma companies that have a market cap of greater than $10 billion. Compared to the largest U.S. biopharma companies such as Pfizer, Merck, Abbott and Lilly, the market cap of the largest Chinese biopharma companies is comparatively tiny (with lots of opportunity to grow rapidly).

During the past year, 6 of the largest biopharma IPO's in the world, took place among Chinese biopharma companies listing on the Hong Kong stock exchange.
Until recently China's pharmaceutical industry focused only on generic drugs but over the past number of years the focus has changed to the development and commercialization of innovative drugs addressing unmet need.

Furthermore because China had previously focused only on generic drugs, they are only just beginning to get involved in biologics and certainly compared to the U.S.  While 8 of the 10 top selling drugs in the U.S. are biologics generating global sales of $104 billion, China has 0 biologics among its top 50 selling drugs. Loncar believes that this is going to change very rapidly. As an example, he cites the example of PD-1 checkpoint inhibitors of which 4 were approved last year with 2 being developed by Chinese biotech companies.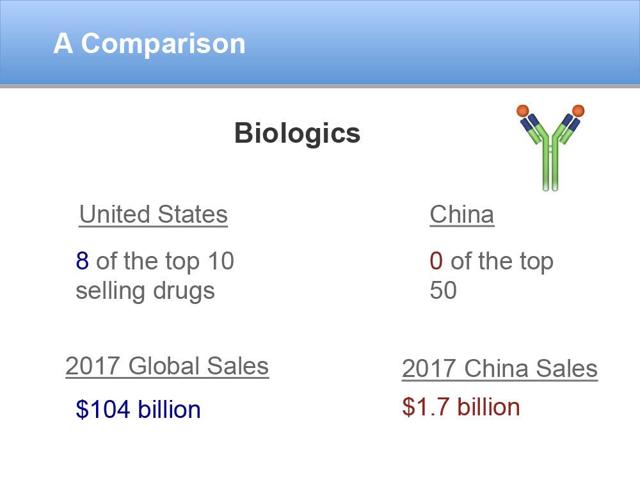 *slide above taken from Brad Loncar's May 1, 2019 presentation
Loncar's view is that there is something special happening in China today in biotech. The sector is just getting started. He believes that biotech in China is where the U.S. biotech sector was in the 1980s and 1990s.  He argues that Chinese biotech companies have plans to be global leaders producing the most innovative drugs based upon science of the highest quality being developed at globally competitive standards. The drugs being developed are not just innovative but have the potential to first in class or best in class.
With ample access to capital, government support, important regulatory reforms, entrepreneurs returning home (often being trained in the U.S. biotech environment) and starting companies doing world class science, having access to the most advanced science in AI and genomics, and now starting to have access to equity markets in Hong Kong (with the Shanghai stock market to follow soon), there are a lot of opportunities for Chinese companies with great science in biotech.  These are opportunities for investors to consider.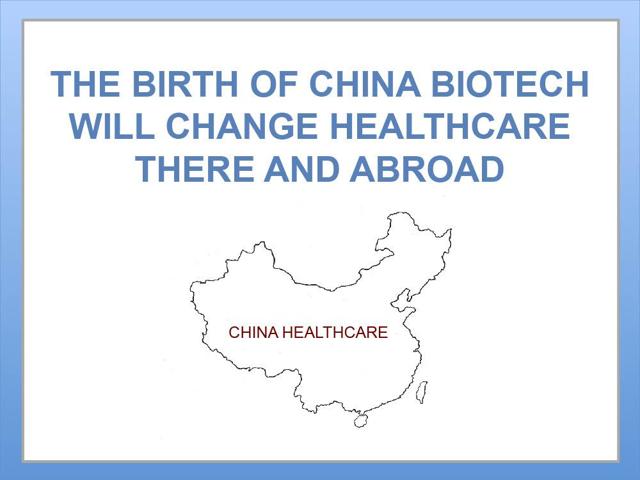 * Brad Loncar's slide deck May 1, 2019 (presented at the Bloom Burton conference)
In his keynote address Loncar stated that he made 6 trips to China during the past year.  During his last trip he appreciated how different the business model for biotech companies was in China compared to the west.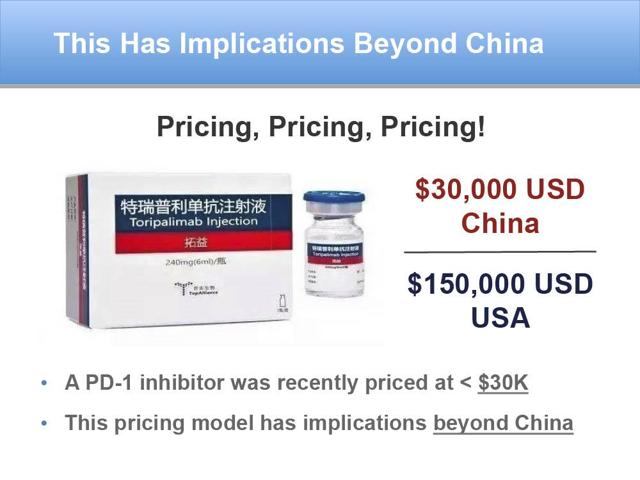 Loncar summarized 5 things he saw on his most recent trip to Asia.
1. Pricing: Competition is fierce and driving down drug prices in China.  As an example, Loncar referenced a domestic Chinese company called Shanghai Junshi Biosciences which recently had its PD-1 checkpoint inhibitor approved by the Chinese FDA and then priced it at less than the equivalent of $30,000 US. This compares to the average price in the U.S. for a PD-1 checkpoint inhibitor (such as Bristol Myers's Opdivo or Merck's Keytruda) of about $150,000 US. There was already a lot of news late last year when Merck obtained approval in China for its PD-1 drug Keytruda (for the treatment of melanoma) and then priced it in China at the equivalent of approximately $75,000 US. (about 1/2 the price it charges for Keytruda in the U.S.)
Part of the dynamic driving down the pricing of innovative drugs in China is the critical importance for biotech companies getting their drug included on the National Reimbursement Drug List (NRDL), otherwise the cost of the drug will not be reimbursed by the Chinese government.  As Brad Loncar indicated in his article, there can be competition and pressure for a Chinese drug company to submit a winning bid to get their drug on to the NRDL which generally means submitting a lower price. There can be a race among Chinese companies to get their drugs developed, submitted and priced low enough to be the winning bidder for inclusion on the National Reimbursement Drug List.  Costs to produce drugs are also lower in China than in the west which allows Chinese companies to maintain reasonable margins even while pricing their innovative drugs at much lower prices than drugs produced in the west.
Loncar suggests that although pricing of drugs in China (or anywhere outside the U.S.) doesn't generally affect drug prices in the U.S., that may be changing in the future as the concept of reference pricing is being discussed by government in the U.S. and elsewhere in the world and may be gaining traction.
Chinese companies are also developing innovative drugs in the U.S. and elsewhere in the west, and may bring a much more competitive drug pricing strategy with them.  Loncar mentioned BioCentury's recent coverage of a speech given by Rick Pazdur, director of the U.S. FDA's Oncology Center of Excellence, who called on Chinese drug companies to bring low cost PD-1 checkpoint inhibitors to the U.S. (in response to Pazdur's frustration relating to the high cost of PD-1s in the U.S. and the unwillingness of multinational drug companies to lower their pricing on PD-1 checkpoint inhibitors.)
2. Hong Kong Stock Exchange Biotech Experiment: The Biotech Rule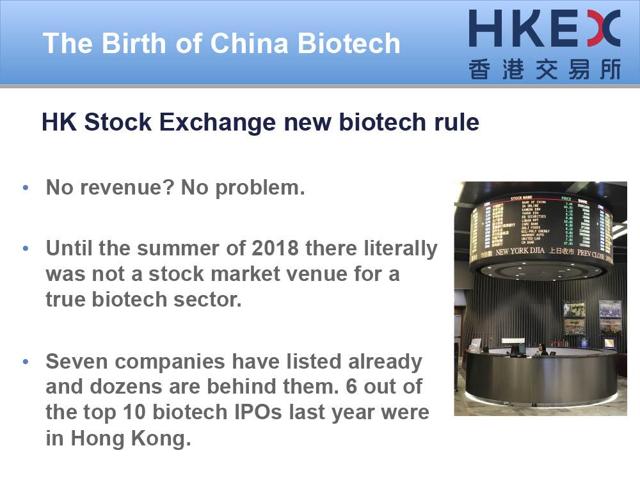 Until last year, the Hong Kong stock exchange did not permit companies to list which did not generate revenues, which excluded 90% of biotech companies. Last April, 2018 the Hong Kong Exchange (with the support of the Chinese government) announced a new IPO pathway for "pre-revenue" Chinese biopharmaceutical industries (the "biotech rule"). Seven biotech companies  have now completed IPOs under the new biotech rule, of which 6 were among the largest 10 biotech IPOs in the world! Loncar claims that there are dozens of Chinese biopharma companies waiting in line to get listed on the Hong Kong exchange under the new biotech rule.
The first 3 biotech IPOs on the Hong Kong exchange lost money for investors (since being listed last year) while the last four generated more attractive returns.
Loncar expects biotech listings in Hong Kong to pick up steam, and expects that we will hear more when the Hong Kong Exchange holds its "HKEX Biotech Week 2019" in Hong Kong on May 28 and 29, 2019.
Interestingly, on the same day that Loncar gave his key note presentation on May 1, 2019, an article was published in ChinaBio Today written by Richard Braverman, PhD, providing a summary and short analysis of the 7 biotech companies listed on the Hong Kong Exchange under these new biotech rules.
See Braverman's chart below taken from his article.
First Year HKEX Biotech Stock Performance

Company / Stock

Issue Date

Issue Price

Closing Price May 1, 2019*

Price Change on Issue Date

Cumulative Price Change

Ascletis (1672)

8/1/2018

HK$14.00

HK$6.68

0.0%

-52.0%

BeiGene (6160)

8/8/2018

HK$107.94

HK$76.15

-0.9%

-29.5%

Hua Medicine (2552)

9/14/2018

HK$8.28

HK$7.05

0.0%

-14.9%

Innovent (1801)

10/31/2018

HK$13.98

HK$25.05

18.6%

79.4%

Junshi Biosciences (1877)

12/24/2018

HK$19.38

HK$32.00

22.6%

65.1%

CStone (2616)

2/26/2019

HK$12.00

HK$13.74

7.2%

14.8%

CanSino Biologics (6185)

3/28/2019

HK$22.00

HK$38.80

57.7%

76.4%

Average Change:

15.0%

19.9%

* Closing price after first year of HKEX activity
Braverman argues that the relatively poor post-Hong Kong exchange IPO stock performance of the first three pre-revenue biotechs, launched in August and September, 2018, "cast a shadow over this new IPO pathway." However, investors had a very positive return participating in the IPOs in the remaining four biotech companies which launched on the Hong Kong Exchange during the period October 31, 2018 and March 28, 2019 under these new biotech rules.
According to Braverman there is a consensus among observers that the new Hong Kong biotech IPO pathway was initially subject to a considerable amount of hype, leading the first 3 companies to IPO with inflated valuations, which ultimately resulted in the the share price for the first 3 biotech company stocks falling post-Hong Kong exchange IPO.
Learning their lesson after the first three biotech IPO transactions, underwriters forced the next set of Chinese biotech companies to launch IPOs with lower valuations to increase the probability of investors seeing a profit.
As seen from the above chart, the fourth, fifth, sixth and seventh companies have seen healthy share price increases since launching their IPOs during the past number of months.
As an example of the change in strategy, the fourth company on the list, Innovent Biologics priced its IPO on the Hong Kong Exchange on October 31, 2018. Innovent has a $1 billion partnership with Lilly, a large portfolio of biotech candidates, including near-market novel and biosimilar cancer drugs, along with backing from Temasek.  According to Braverman, Innovent's valuation was estimated to be $3.8 billion at a "fair" value during the pre-IPO road show but was reduced to $2.1 billion for the IPO.  58% of the shares were bought by 10 cornerstone investors and Temasek bought another $20 million of the IPO.
Then, with a valuation of $2.1 billion at the top of the HK$12.50–$14.00 IPO range, and a lot of orders in the book, Innovent knocked off another two cents to price the offering at HK$13.98 to raise $400 million.
Innovent moved up 18.6% on the first day, and has seen a 79.4% share price increase. The company pulled in $400 million at a $2 billion valuation.
After Innovent, there were three more positive IPOs: Junshi is up 65.1%; CStone is up 14.8%; and vaccine maker CanSino is 76.4% higher (after a best-in-class 57.7% climb in its first trading session).
Shanghai's Technology Innovation Board: In addition to the new pre-revenue rules for Chinese biotech companies wishing to IPO on the Hong Kong Exchange, in the second half of 2019, Shanghai's new Technology Innovation Board will allow still-unprofitable hi-tech companies - including biopharmas - to IPO on the exchange. Each company must have a valuation of at least $600 million to qualify and comply with other stipulations as well including being able to demonstrate that they are targeting a significant market with approval for at least a Phase II clinical trial of one innovative new drug.
For China biopharmaceuticals, the new Shanghai Technology Innovation Board means they will have a choice of where to list in China.  On May 5th, Braverman published a note on ChinaBio Daily Update that Chinese biotech company, Junshi Biosciences, aims to become the first company with a dual listing on both the Shanghai new Technology Innovation Board and the Hong Kong Exchange, after the company completed a $394 million Hong Kong IPO back in December, 2018. Junshi Biosciences plans to raise about $400 million in the Shanghai IPO. In January, Junshi was approved in China to launch its PD-1 immunotherapy drug, Tuoyi, for melanoma.
3.  Literally a Frenzy to in-license Western Drugs to China
Brad Loncar's third point is his observation that there is fierce competition among Chinese drug companies today to in-license innovative drugs from the west (particular those assets addressing an unmet need in China). Loncar quoted CStone Pharma CEO Frank Jian as saying that is not uncommon to have 20 Chinese companies bidding on the same good assets.  Part of the interest is due to changes in China's shift to developing and approving innovative new drugs. The recent regulatory changes in China now make it possible for foreign clinical trial data to be used for the basis for approval in China, especially for those drugs addressing an unmet need.  There is a real benefit to being the first to market a novel drug addressing an indication.
4. Frenzy for Experienced Senior Executive Talent Driving Up Costs for Chinese Biotech companies
While there is no shortage in China of talented, educated scientist and technical people, Loncar's view is that competition is fierce for senior executives with western experience developing drugs and getting drugs approved.  As an example, Loncar cited a recent March 27 Bloomberg interview with Innovent Biologics' CEO Michael Yu who said that shortages of such senior executive talent has lately led to salaries for those positions being higher in China than in the west, and as a result Innovent was starting to shift some work back to the U.S. and other areas as a direct result.
5.  Chinese Companies Getting More Drugs into the Clinic in the U.S.
According to Loncar, there has been a recent trend with Chinese companies getting innovative drugs into U.S. clinical trials. Recent examples include Innovent Biologics dosing its first patient in the U.S. for its anti-CD47 antibody, and I-Mab Biopharma anouncing its first patient being dosed in the U.S. for its anti-GM-CSF antibody, and Junshi filing the first IND for its anti-BTLA antibody in the U.S.
Loncar believes that we are experiencing a once in a generation opportunity to invest in Chinese biopharma companies, some of which will be the next Genentech, Amgen or Celgene. He believes that within 3 to 4 years, some of these Chinese biopharmaceutical companies will become household names and will impact the entire biopharmaceutical industry.
Summary
Despite concerns by western investors to invest in Chinese companies, there may be a unique opportunity to invest in Chinese biopharmaceutical companies which are at an early stage of growth. The opportunity is being fueled by world class science and scientists, a supportive Chinese government with articulated ambitious policy goals, favorable regulatory changes, access to new stock market exchange such as the Hong Kong exchange under its new biotech rules and the upcoming Shanghai Technology Innovation Board, lower R&D costs, the return to China of its well educated and trained nationals - trained in the west, ambitious goals, and a fast growing healthcare market with an aging population.
There is considerable evidence to support Brad Loncar's view that we are experiencing a once in a generation opportunity to invest in Chinese biopharmaceutical companies.
The competitive pricing pressure on Chinese biopharmaceuticals in China are driving down the cost and pricing of innovative drugs in China, such as PD-1 checkpoint inhibitors. Those lower Chinese drug prices for innovative drugs may find their way to the U.S. and other western countries, which could have a significant impact on the competitive landscape in the west, and perhaps drive down pricing and margins for western based biopharmaceutical companies in the years to come.
I would greatly appreciate receiving feedback and comments from readers. 
Disclosure: I/we have no positions in any stocks mentioned, and no plans to initiate any positions within the next 72 hours.
I wrote this article myself, and it expresses my own opinions. I am not receiving compensation for it (other than from Seeking Alpha). I have no business relationship with any company whose stock is mentioned in this article.