BeiGene, Ltd. (the "Company"), headquartered in both Cambridge, Mass. and Beijing, China, is a Chinese based commercial-stage, biotechnology company focused on developing and commercializing innovative molecularly-targeted and immuno-oncology drugs for the treatment of cancer.  The Company was incorporated under the laws of the Cayman Islands in October 2010, and completed its IPO on NASDAQ in February 2016. On August 8, 2018, it completed its IPO on the biotech chapter of the Hong Kong Stock Exchange Limited ("HKEx") with a global follow-on public offering in which it raised approximately US $869,709,000 in net proceeds.
Effective August 8, 2018, the Company was dual-listed in both the U.S (NASDAQ symbol: BGNE) and the biotech Hong Kong Stock Exchange (symbol: 6160 HK) with a current market cap of just below US $8 Billion. On June 28, the Company announced that it has uplisted from the biotech chapter of the Hong Kong Stock Exchange to the general listing of that exchange.
BeiGene's shares traded on NASDAQ are technically ADRs which represents 13 shares of the Company. Each ADR traded on NASDAQ is equal to 13 BeiGene shares traded on the Hong Kong Stock exchange. 
Despite very impressive growth and share price appreciation during the initial 3 years after its February 2016 NASDAQ IPO, BeiGene's share price has suffered during the past year due to the increasing trade tensions between the U.S. and China. In my view, part of its share price decline during the past year has been the result of BeiGene being considered a "Chinese" biotech company and the negative sentiment that has been associated with "Chinese" companies during the past year. The Company itself has done quite well during the past year in terms of increasing its sales and developing its innovative pipeline.
At the current time, I consider BeiGene to be a mid to long term investment (2 to 5 years) with substantial long-term upside potential.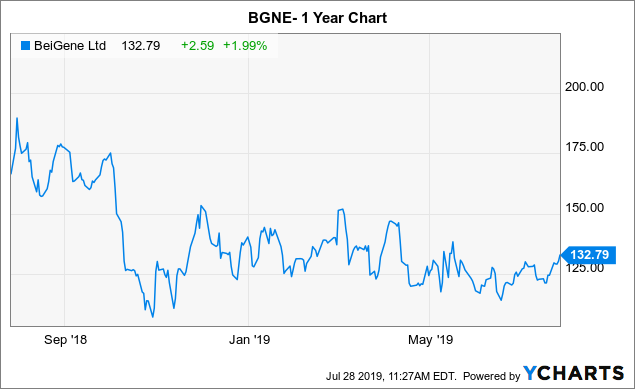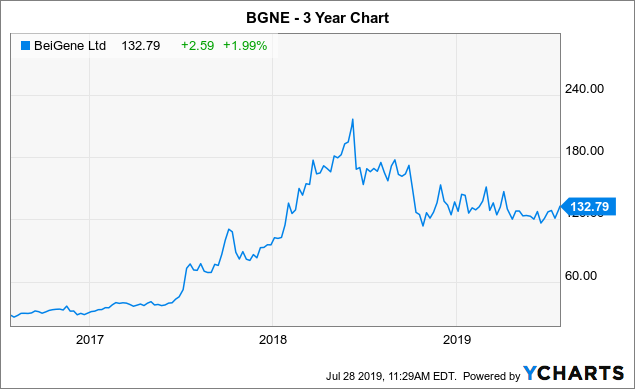 While not without risks, there are significant opportunities for investing in leading biotechnology companies in China, and in particular for investing in a leading "Chinese" oncology company such as BeiGene, which has the potential to become an oncology powerhouse not just in China, but worldwide.
The Biotech Opportunity in China
On May 7th I published an in-depth blogpost discussing the potential opportunity of investing in biotechnology in China.  As referenced in my blogpost there are a number of major catalysts accelerating China's biotechnology and life science industry:
1. Generous Chinese government funding due to biotech being highlighted in the Chinese government's latest 5-year plans;
2. Rapidly growing Venture capital and private equity funding for life science investments in China, which raised $42.8 billion in 2018;
3. Pharmaceutical regulatory changes in China favoring innovation which have moved to FDA level global standards; 
4. Returning talent to China from Chinese nationals who have obtained advanced degrees in life science and training abroad and/or have been employed in senior positions in major western biotech companies.
5. Chinese biotech companies becoming disruptive in the world's oncology markets for a number of reasons including:
a. faster timelines to drug approval because of regulatory changes in China's drug approval processes which now have world-class standards (in line with the U.S.'s FDA standards);
b. the ability to accelerate drug developments by having large numbers of available patients for clinical trials;
c. substantially lower clinical trial costs, assuming all or a substantial number of patients are being tested in China;
d. lower drug prices, for example, innovative oncology drugs, once approved, competing against currently very expensive innovative cancer drugs in the U.S. such as PD-1 Checkpoint inhibitors like Bristol-Myers' Opdivo and Merck's Keytruda.
Pharmaceutical Regulatory Reform in China
One of the most important regulatory reforms in China occurred in 2017, when the Chinese equivalent of the U.S. FDA (the "China Food and Drug Administration" or "CFDA") become a member of the International Council for Harmonization ("ICH") bringing international standards into the drug regulatory process in China, and effectively harmonizing approval standards in China with the U.S. and Europe.
In the past few years there has been tremendous progress in China in the development of innovative drugs reflected in the increasing number of new drug applications (NDAs), new drugs being launched to the market, and greater numbers of Chinese medical products meeting the international standards.
The recent Chinese reforms in the review and drug approval system have resulted in an increased number of investigational new drug applications, and the approval process of foreign drugs in China has also accelerated. In 2018, more than 30 imported therapeutic agents were approved. The timeline of drug approval in China has been significantly shortened. 
China has become an important clinical science center, and BeiGene now has an 800 plus member clinical team, almost entirely focused on developing a number of best-in-class oncology treatments.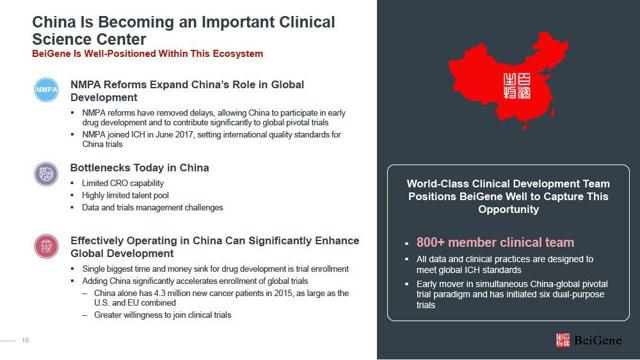 *source: BeiGene's  June 12, 2019 investor slide presentation
BeiGene's Co-Founders - John Oyler and Xiaodong Wang
BeiGene was co-founded in 2010 by John Oyler, currently Chairman, CEO and a Board member of BeiGene.  Oyler was previously President and CEO of BioDuro, LLC, a drug discovery outsourcing company, acquired in 2010 by Pharmaceutical Product Development Inc.  From 2002 to 2004, Oyler served as CEO of Galenea Corp., focused on the discovery of novel therapies for central nervous system diseases initially developed at Massachusetts Institute of Technology ("MIT"). From 1997 to 2002, Oyler was a Founder and President of Telephia, Inc., sold to The Nielsen Company in 2007. From 1997 to 1998,  Oyler served as Co-CEO of Genta Incorporated (NASDAQ: GNTA), an oncology‑focused biopharmaceutical company. Oyler began his career as a management consultant at McKinsey & Company after receiving his B.S. from MIT and an MBA from Stanford University.
Co-founder, Xiaodong Wang, Ph.D., has served as Chairman of BeiGene's  Scientific Advisory Board since 2011, and is a member of BeiGene's Board of Directors. He was a founding Director of the National Institute of Biological Sciences in Beijing since 2003 and became its Director and Investigator in 2010. He was a Howard Hughes Medical Institute Investigator from 1997 to 2010 and held the position of the George L. MacGregor Distinguished Chair Professor in Biomedical Sciences at the University of Texas Southwestern Medical Center from 2001 to 2010. In 2004, Dr. Wang founded Joyant Pharmaceuticals, Inc., a venture capital-backed biotechnology company focused on the development of small molecule therapeutics for cancer. He received his Ph.D. in Biochemistry from the University of Texas Southwestern Medical Center and B.S. in Biology from Beijing Normal University. He has been a member of the U.S. National Academy of Science since 2004 and a foreign associate of the Chinese Academy of Sciences since 2013.
Management Team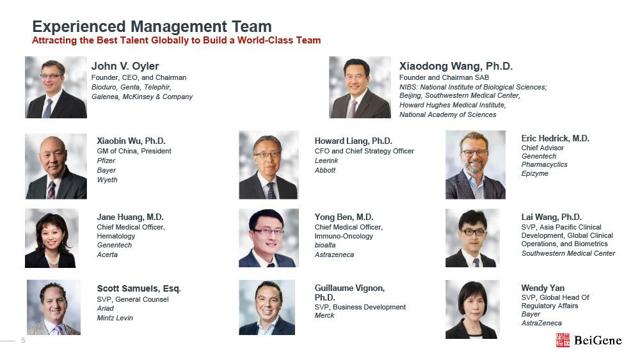 *above slide from BGNE- investor presentation June 10, 2019
BeiGene's Rapid Growth
As disclosed in its recent May 2019 Form 10-Q, BeiGene has approximately 2,400 employees in China, the U.S, Australia and Europe, with both a late and early-stage broad novel oncology pipeline and the largest Chinese oncology-focused (800-person) global clinical development team running over 50 ongoing or planned clinical trials as of January 24, 2019.
In addition, since September 2017 BeiGene has been marketing ABRAXANE® (nanoparticle albumin-bound paclitaxel), REVLIMID® (lenalidomide), and VIDAZA® (azacitidine) in China under a distribution license from Celgene Corporation (CELG) through BeiGene's commercial sales group with over 600 persons targeting 800 to 1000 hospitals in China.
Sales of in-licensed branded oncology drugs licensed from Celgene are showing impressive growth in China. See slide below following the release of Q1 2019 financial information.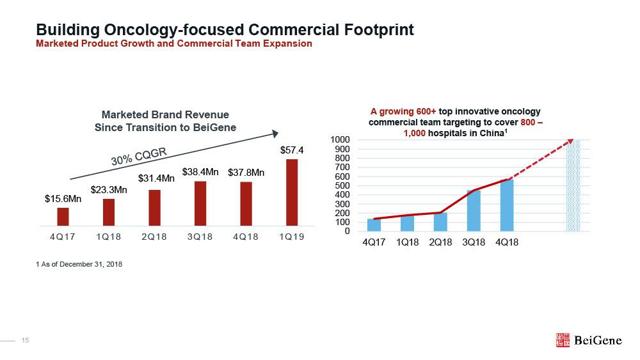 *BGNE June 10 2019 investor presentation
Q1 2019 Report of BeiGene's Financial Results
BeiGene has approximately U.S. $1.6 billion cash (or equivalents) as of March 31, 2019.
Total revenues for Q1 2019 were reported to be more than US $77 million (substantially exceeding consensus estimates of about $42 million), including net product revenue of $57.4 million related to sales in China of ABRAXANE®, REVLIMID® and VIDAZA® (all in-licensed from Celgene). VIDAZA® was only recently launched in China in February 2018. In comparison, BeiGene had $23.3 million in product revenue for the quarter ended March 31, 2018.
In addition, BeiGene recorded collaboration revenue of $20.4 million for the three months ended March 31, 2019, comprised of $18.2 million for the reimbursement of research and development costs for the clinical trials and $2.2 million related to the recognition of deferred revenue for upfront fees allocated to undelivered research and development services to Celgene.
BeiGene's Condensed Consolidated Statements of Operations (U.S. GAAP) for 3 month period ending March 31, 2019
(Amounts in thousands of U.S. dollars, except for shares, American Depository Shares (ADSs) per share and per ADS data) taken from May 9, 2019 Press Release setting out Q1 2019 financial results
Three Months EndedMarch 31, 2019/ March 31, 2018
2019
2018
(unaudited)
Revenue:
Product revenue, net
$
57,421
$
23,250
Collaboration revenue
20,412
9,294
Total revenues
77,833
32,544
Expenses:
Cost of sales - products
(15,261
)
(4,550
)
Research and development
(178,351
)
(109,700
)
Selling, general and administrative
(57,645
)
(28,915
)
Amortization of intangible assets
(331
)
(188
)
Total expenses
(251,588
)
(143,353
)
Loss from operations
(173,755
)
(110,809
)
Interest income, net
4,477
1,552
Other income, net
1,728
729
Loss before income taxes
(167,550
)
(108,528
)
Income tax (expense) benefit
(519
)
3,412
Net loss
(168,069
)
(105,116
)
Less: Net loss attributable to noncontrolling interest
(429
)
(520
)
Net loss attributable to BeiGene, Ltd.
$
(167,640
)
$
(104,596
)
Net loss per share attributable to BeiGene, Ltd., basic and diluted
$
(0.22
)
$
(0.16
)
Weighted-average shares outstanding, basic and diluted
774,750,255
670,510,605
Net loss per ADS attributable to BeiGene, Ltd., basic and diluted
$
(2.81
)
$
(2.03
)
Weighted-average ADSs outstanding, basic and diluted
59,596,173
51,577,
Balance Sheet as of March 31, 2019 (compared to December 31, 2018)*
*Taken from May 9, 2019 release of Q1 2019 Financial Information
As of
March 31,
December 31,
2019
2018
(unaudited)
(audited)
Assets:
Cash, cash equivalents, restricted cash, and short-term investments
$
1,637,550
$
1,809,222
Accounts receivable
58,976
41,056
Unbilled receivables
6,114
8,612
Working capital
1,557,921
1,697,390
Property and equipment, net
197,806
157,061
Total assets
2,172,232
2,249,684
Liabilities and equity:
Accounts payable
105,320
113,283
Accrued expenses and other payables
90,737
100,414
Bank loan [1]
86,420
49,512
Shareholder loan [2]
155,174
148,888
Total liabilities
549,553
496,037
Non-controlling interest
13,910
14,445
Total equity
$
1,622,679
$
1,753,647
Ten Largest Shareholders - based upon Bloomberg report
1. *Baker Bros. Advisors LLP -  20% (11,959,824 BGNE shares)
2. FMR LLC - 9.95% (5,951,611 shares)
3. Hillhouse Capital Advisors - 7.42% (4,437,953 shares)
4. Wellington Management Group - 4.63% (2,770,313 shares)
5. Temasek Holdings Pte Ltd. - 3.81% (2,276,193 shares)
6. BlackRock Inc. 3.22% - (1,923,650 shares)
7. The Capital Group Cos. - 2.39% (1,431,567 shares)
8. The Vanguard Group -2% (1,197,296 shares)
9. The Canada Pension Plan - 1.88% (1,121,497 shares)
10. Hillhouse Capital Management - 1.73% (1,034,306 shares)
*According to its Form 13F filings, as of March 31, 2019, BeiGene was Baker Bros. Advisors LLP's third largest holding (out of 97 positions). 
BeiGene's Internally Developed Lead Drug Candidates
BeiGene's has three lead internally-developed drug candidates (in late-stage development) including:
(1) zanubrutinib (BGB-3111), a potentially best-in-class investigational small molecule inhibitor of Bruton's tyrosine kinase, or 'BTK', being developed by BeiGene to treat B-cell malignancies.
Currently, Imbruvica (ibrutinib), jointly owned by Abbvie and Johnson & Johnson's Jennsen, is the BTK inhibitor market leader now used to treat cancers such as chronic lymphocytic leukemia (CLL).  BTK inhibitor drugs such as Imbruvica has transformed CLL into a disease where most patients now die of other causes. However, tolerability issues often result in patients stopping treatment with Imbruvica (ibrutinib).
Based upon early data (in which more than 1300 patients have been treated), BeiGene's zanubrutinib, appears to have a larger therapeutic window and fewer side effects than ibrutinib, making zanubrutinib a potential blockbuster asset.
Zanubrutinib is considered a second-generation BTK inhibitor with higher selectivity and less off-target toxicity compared to first-generation drug ibrutinib.
Abbvie/Jennsen's BTK drug Ibrutinib has a number of serious safety and tolerability issues which are often treatment-limiting. Discontinuation rates with a median follow up of 14.5 months were 24% for treatment-naiive patients and 43% for relapsed refractory patients. Albeit the data is based upon a much smaller patient group but patients on BeiGene's zanubrutinib saw only 2 of 69 patients in the CLL/SLL trial discontinue for toxicity or disease progression at a median follow up of 10.3 months.
BeiGene is currently executing a head-to-head clinical trial with its zanubrutinib against Imbruvica (ibrutinib) discussed in more detail below.
BeiGene recently made three oral presentations and one poster presentation on zanubrutinib at the 15th International Conference on Malignant Lymphoma which took place June 18 to 22, 2019 in Switzerland. See press release dated June 14, 2019.
BeiGene presented data from the China pivotal Phase II trial in both chronic lymphocytic leukemia, CLL, or small lymphocytic lymphoma, SLL. 
See slide below taken from June 22, 2019 mid-year webcast setting outpatient and disease characteristics of the 91 patients enrolled in the Phase II trial for zanubrutinib in the treatment of CLL/ SLL. The China Phase II pivotal trial enrolled patients from 11 medical centers with 82 patients with CLL and 9 patients with SLL.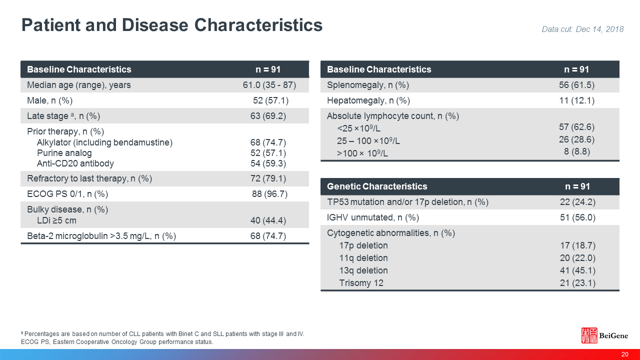 See June 20th press release from BeiGene attached for a summary of the Phase II clinical presentation of zanubrutinib for the treatment of CLL/SLL which included,
...
As of the December 14, 2018 data cutoff, 75 patients (82.4%) remained on study treatment. The median follow-up time for patients enrolled in the trial was 15.1 months (0.8-21.2). Results included:
The ORR by IRC was 84.6% (77/91); the complete response (CR) rate was 3.3% (3/91); the partial response (PR) rate was 59.3% (54/91) and the PR with lymphocytosis (PR-L) was 22.0% (20/91). ORRs per IRC were generally consistent across different subgroups;
The 12-month progression-free survival (PFS) was estimated at 87.2% and the median PFS had not been reached with median PFS follow-up at 12.9 months (0.8-20.4);
Zanubrutinib tolerability was generally consistent with previous reports of zanubrutinib treatment in patients with various B-cell malignancies. The majority of treatment-emergent adverse events (TEAEs) were grade 1 or 2 in severity, with the most frequently reported TEAEs being neutrophil count decrease (68.1%), upper respiratory tract infection (45.1%), purpura (34.1%), and platelet count decreased (33.0%);
Grade ≧3 TEAEs were reported in 75.8% of patients, with the most frequently reported being neutrophil count decrease (44.0%), lung infection (9.9%), upper respiratory tract infection (9.9%), platelet count decrease (8.8%), and anemia (8.8%); and
Three patients had TEAEs leading to death (one case each of lung infection/cardiac failure/respiratory, cardiopulmonary failure, and multiple organ dysfunction syndrome in the setting of disease progression); these were determined unlikely or unrelated to zanubrutinib treatment.   ..."
Readers can also access the June 20th webcast (BeiGene's clinical summary mid-2019 wrap up) which is available for 90 days which reviews BeiGene's clinical data on both zanubrutinib and tislelizumab.
See slides below taken from BeiGene's June 10, 2019 corporate presentation.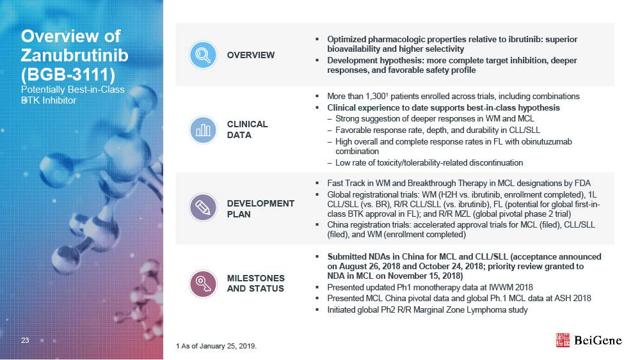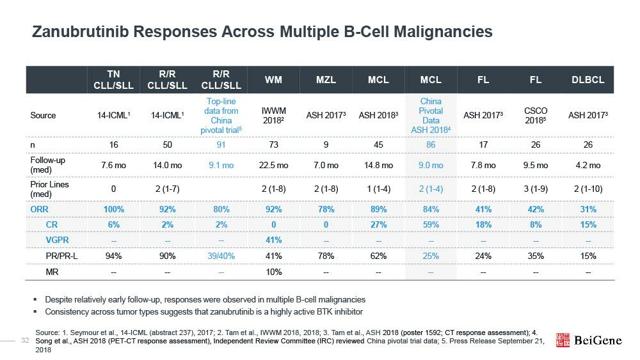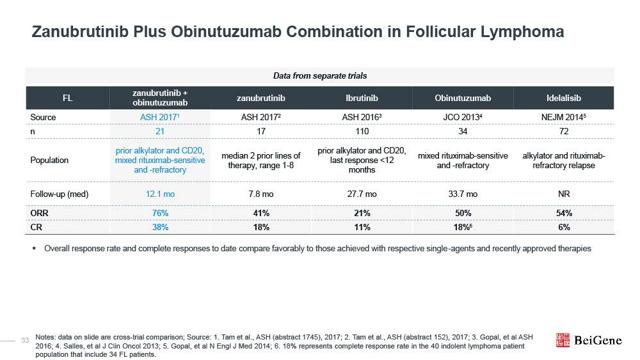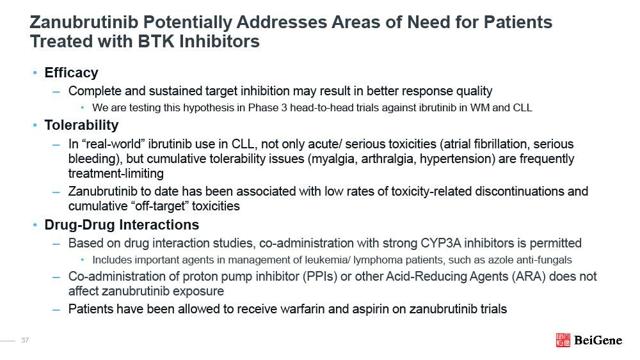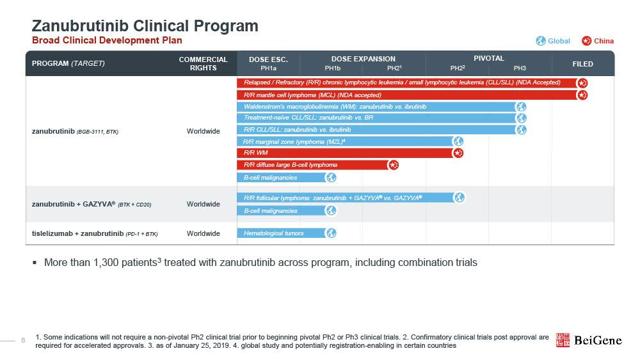 On June 14th, BeiGene issued a press release announcing the interim results from three clinical trials being conducted with zanubrutinib including interim results from the phase 3 study of zanubrutinib (the ASPEN trial) which is a global randomized Phase 3 open‑label trial in patients with Waldenström's Macroglobulinemia, also referred to as 'WM', with a nonrandomized exploratory group of patients with the MYD88WT genotype of WM.
In addition, BeiGene announced updated results from the ongoing Phase 1/2 trial of patients with WM; and a pooled safety data analysis of zanubrutinib from six ongoing monotherapy studies in patients with B-cell malignancies.
The exploratory analysis (interim results) were very promising, included five patients with treatment-naïve disease and 21 patients with relapsed/refractory WM:
The ORR (overall response rate) was 80.8%, while it was 87.5% in the phase 1 trial (where only 8 patients were treated).
The MRR (major response rate – partial response or better) was 53.8% compared to 62.5% in the phase 1 study.
The VPGR (very good partial response) was 23.1%, while it was 25% in the phase 1 trial (2 of 8 patients).
Median progression-free survival ('PFS') and overall survival ('OS') have not yet been reached.
Zanubrutinib tolerability was generally consistent with previous reports. Discontinuation due to adverse events occurred in 7.7% of patients (n=2) and the primary reason was progressive disease.
The interim clinical trial results for BeiGene's zanubrutinib in the treatment of WM, with an ORR of 80.8% was somewhat better (albeit small sample size) compared to Abbvie/ Jennsen's ibrutinib, which achieved an ORR of 71.4%.  More significantly zanubrutinib achieved a major response rate, 'MRR', of 53.8% compared to ibrutinib's MRR of 28.6%.
These results suggest that BeiGene's zanubrutinib may ultimately be superior to ibrutinib in the treatment of WM patients in this randomized, head-to-head  Phase 3 global study.
BeiGene also reported updated pooled safety data of zanubrutinib in 682 patients. Zanubrutinib's safety data compare well to both Abbvie/ Jenssen's ibrutinib (marked under the brand name Imbruvica) and AstraZeneca's acalabrutinib (marketed under the brand name Calquence).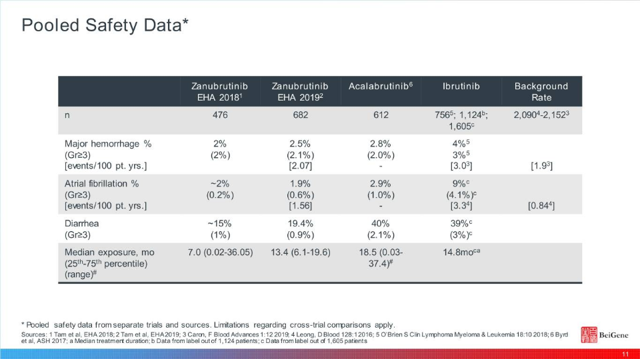 BeiGene quotes Frost and Sullivan in stating that the global market for BTK inhibitors is currently about $4.2 billion with two approved products, Abbvie/Jensenn's Imbruvica and Astra Zeneca's Calquence, and is projected to reach U.S. $17.8 billion annually globally by 2030, including $1.6 billion in China, by 2030.
(2) Tislelizumab (BGBA317) is BeiGene's PD-1 checkpoint inhibitor, tislelizumab; potentially a more effective PD-1 checkpoint inhibitor in certain forms of cancers, such as Hodgkin's Lymphoma, than current blockbuster PD-1 checkpoint inhibitors such as Merck's Keytruda and Bristol-Myers Squibb's (symbol: BMY) Opdivo, with potentially lower side effects.
BeiGene is developing tislelizumab as a monotherapy and in combination with other therapies for the treatment of a broad array of both solid and hematologic cancers in both China and globally.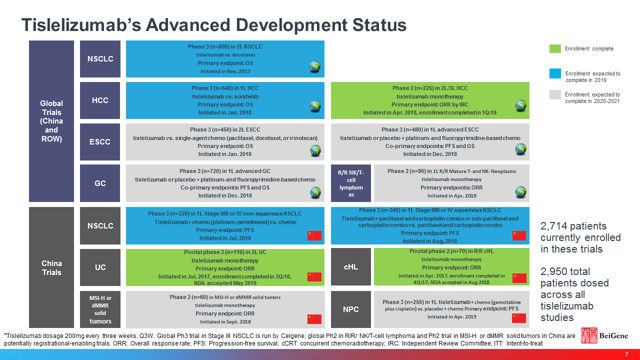 *above slide taken from June 20, 2019 webcast presentation
BeiGene previously out-licensed ex-Asia rights for solid tumors to tislelizumab to Celgene but as a result of the Bristol-Myers (BMY)/ Celgene (CELG) upcoming merger deal, Celgene returned the rights to BeiGene (as it contractually required to use Bristol-Myers' blockbuster PD-1 checkpoint inhibitor Opdivo under their current merger arrangement). On June 17th, BeiGene and Celgene announced the termination of that licensing agreement for tislelizumab, which included an agreement by Celgene to pay BeiGene the sum of $150 million.
An NDA for tislelizumab as a potential treatment for patients with relapsed / refractory (R/R) classic Hodgkin's lymphoma, CHL, was accepted by the China National Medical Products Administration (also known as the NMPA, formerly known as the CFDA) in August 2018 and granted priority review status in November 2018. 
Tislelizumab achieved a very high ORR and CR in a Phase 2 trial in classical Hodgkin's Lymphoma ('CHL'), showing an ORR and CR of 85.7% and 66.4% respectively. While a head-to-head trial against Merck's Keytruda was not conducted, Keytruda's trial results for this indication have been shown to be 66.7% -68.3% and 21.7% -29%.
On July 8, 2019, BeiGene announced that the China NMPA has granted priority review status to the supplemental new drug application, sNDA, for tislelizumab, for patients with previously treated locally advanced or metastatic urothelial carcinoma (UC). The sNDA for tislelizumab as a potential treatment for patients with previously treated locally advanced or metastatic urothelial carcinoma was originally accepted by the NMPA in May 2019, supported by a data package, which included the results from a pivotal Phase 2 study of tislelizumab in 113 Chinese and South Korean patients with previously treated PD-L1+ locally-advanced or metastatic UC (chinadrugtrials.org registration number: CTR20170071).
This is the second priority review granted by the NMPA for tislelizumab, and BeiGene's first for a solid tumor indication. This is also the first filing in China for a PD-1/PDL1 antibody for bladder cancer. 
BeiGene has regained full global rights to tislelizumab and is conducting 13 ongoing pivotal or potentially registration-enabling trials and set out in the slide below.  As a result, Beigene has accumulated substantial amounts of international clinical and non-clinical data regarding tislelizumab.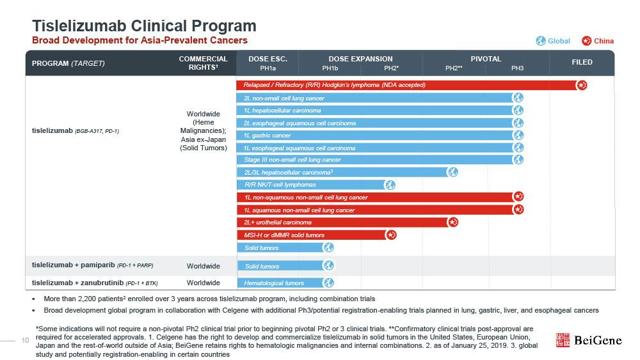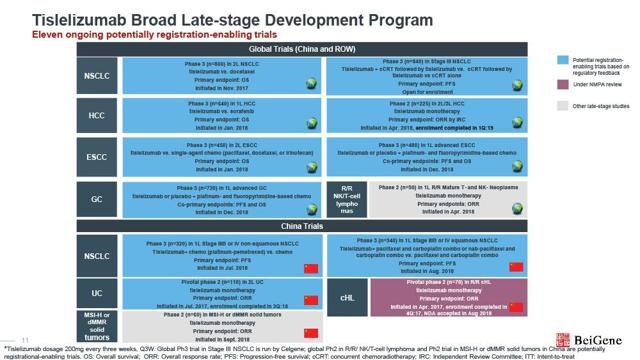 With BeiGene now regaining worldwide rights to Tislelizumab, it has the option of either partner it ex-Asia with another multi-national pharmaceutical company or pursuing it internationally on its own.
(3) Pamiparib (BGB-290), is BeiGene's investigational small-molecule inhibitor of the poly ADP-ribose polymerase 1 (PARP1) and PARP2 enzymes which show early signs of effectiveness in treating glioblastoma (with potential brain penetration), as well as ovarian and advanced solid tumors. All are very large markets in China alone.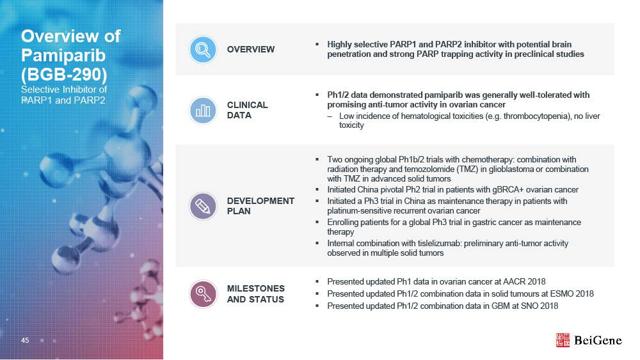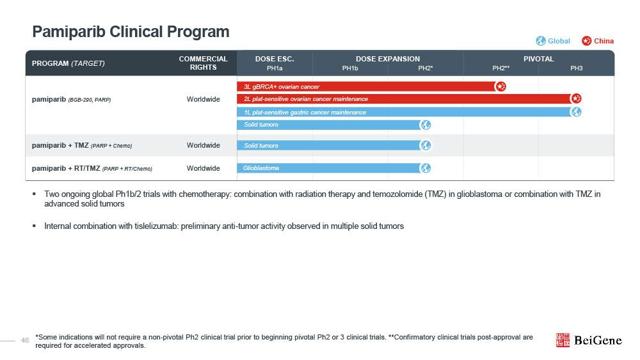 All three of BeiGene's important drug candidates, Zanubrutinib (BTK), Tislelizumab (PD-1 Checkpoint inhibitor, and Pamiparib (PARP), are currently in Phase 2 or 3 pivotal trials globally and/or in China.
BeiGene filed for regulatory approvals in China in 2018 (for which it expects to obtain approvals in 2019, if all goes well) for zanubrutinib in relapsed/refractory (R/R) mantle cell lymphoma (MCL) and in R/R chronic lymphocytic leukemia (CLL) or R/R small lymphocytic lymphoma (SLL); and for tislelizumab in R/R classical Hodgkin's Lymphoma ('CHL'). BeiGene also has additional drug candidates in earlier stage clinical development.
BeiGene's Collaborations with Celgene, Mirati, Zymeworks, MEI, Ambryx, Inc., SpringWorks Therapeutics, Inc. and BioAlta, LLC
BeiGene has established important collaborations agreements with Celgene (symbol: CELG), Mirati Therapeutics (symbol: MRTX), Zymeworks Inc. (symbol: ZYME), MEI Pharma, Ambrx Inc., SpringWorks Therapeutics, Inc. and BioAlta, LLC. More particularly:
1. Celgene:  In July 2017 BeiGene in-licensed three marketed drug from Celgene, namely ABRAXANE® (nanoparticle albumin-bound paclitaxel), REVLIMID® (lenalidomide), and VIDAZA® (azacitidine) in China.  As part of that agreement, BeiGene and Celgene entered into a global strategic collaboration in which Celgene obtained exclusive rights to develop and commercialize tislelizumab (BeiGene's proprietary PD-1 Checkpoint inhibitor) in solid tumor cancers in the United States, Europe, Japan and the rest of world outside of Asia.
On June 17th, 2019, BeiGene and Celgene announced the termination of the agreement relating to BeiGene's tislelizumab (in anticipation of the upcoming merger between Celgene and Bristol-Myers). Celgene has agreed to pay BeiGene the sum of $150 million as part of the termination arrangement, and BeiGene will now regain the rights to tislelizumab in the U.S., Europe, Japan and the rest of the world outside of Asia. 
According to the June 17th press release, tislelizumab has been dosed in over 2,950 patients globally. With two new drug applications under review in China, BeiGene expects tislelizumab to receive its first regulatory approval later this year.
2. Mirati Therapeutics (symbol: MRTX):  As detailed in the joint January 8, 2018 press release, BeiGene entered into an exclusive license agreement with Mirati for Mirati's drug candidate sitravatinib in Asia (excluding Japan), Australia, and New Zealand. Mirati will retain exclusive rights for the development, manufacturing and commercialization of sitravatinib for the rest of world. Sitravatinib is an investigational tyrosine kinase inhibitor that has demonstrated potent inhibition of receptor tyrosine kinases (RTKs), including TAM family receptors (TYRO3, Axl, MER), split family receptors (VEGFR2, KIT) and RET. It is being evaluated by Mirati as a single agent in a Phase 1b expansion trial in patients whose tumors harbor specific genetic alterations in non-small cell lung cancer (NSCLC) and other tumors types. Sitravatinib has shown encouraging interim results in an ongoing Phase 2 trial in combination with nivolumab in NSCLC patients who have progressed after prior treatment with a checkpoint inhibitor. 
3. Zymeworks Inc.: According to BeiGene's November 27, 2018 press release, BeiGene entered into a license and collaboration agreement with Vancouver, Canada based Zymeworks Inc. (ZYME) in respect of Zymeworks' investigational ZW25 and ZW49 HER2-targeted bispecific antibodies. Phase 1 clinical trial results for ZW25 have been very promising, and ZW49 (which recently initiated phase 1 clinical trials) has even greater potential. ZW25 is currently in both Phase 1 and Phase 2 clinical studies; on May 29th announced that Zymeworks had obtained Fast Track approval for ZW25 from the FDA.
In addition, Zymeworks granted BeiGene a license to Zymeworks' proprietary Azymetric™ and EFECT™ platforms to develop and commercialize globally up to three other bispecific antibodies using the platforms. License and Collaboration for ZW25 and ZW49 Under the terms of the license and collaboration agreements for ZW25 and ZW49, Zymeworks has granted BeiGene exclusive rights to develop and commercialize Zymeworks' clinical-stage bispecific antibody candidate ZW25 and its preclinical-stage bispecific antibody-drug conjugate ("ADC") ZW49 in Asia (excluding Japan), Australia, and New Zealand. BeiGene will be responsible for all clinical development and regulatory submissions in the licensed territories. The companies also plan to collaborate on global development of ZW25 and ZW49 in HER2-expressing solid tumors, including gastric and breast cancer, with BeiGene enrolling patients and contributing clinical trial data from the licensed territories. Zymeworks retains full rights to both ZW25 and ZW49 outside of the specified countries and will continue to lead global development of these drug candidates.  For more information about Zymeworks and ZW25 and ZW49 I refer you to my December 11, 2018 article on Zymeworks and the Company's June 3, 2019 investor presentation.
4. MEI Pharma:  As announced in their joint October 11, 2018 joint press release, BeiGene and San Diego based MEI Pharma (NASDAQ: MEIP) have entered into a clinical collaboration to evaluate the safety and efficacy of MEI's ME-401, an investigational PI3K delta inhibitor, in combination with BeiGene's zanubrutinib, an investigational BTK inhibitor, for the treatment of patients with B-cell malignancies. Under the terms of the clinical collaboration agreement, MEI has amended its ongoing Phase 1b trial to include evaluation of ME-401 in combination with zanubrutinib in patients with B-cell malignancies.
Study costs will be shared equally by the parties, and MEI will supply ME-401 and BeiGene will supply zanubrutinib. MEI will retain full commercial rights for ME-401 and BeiGene will retain full commercial rights for zanubrutinib.
5. Ambrx Inc.: BeiGene announced on March 6, 2019 that it has entered into global research and development agreement with San Diego, California based Ambrx Inc.   Ambrx has developed its proprietary Expanded Genetic Code technology platforms designed to enable site-specific modification of proteins to create potentially first- and/or best-in-class innovative protein drugs and make better antibody conjugates, therapeutic peptides and bi-specifics. The collaboration leverages Ambrx's clinically validated drug discovery technology platforms with BeiGene's expertise and resources to pursue the development and commercialization of next-generation biologics drugs. Ambrx has other partnership agreements with Astellas Pharma, Bristol-Myers Squibb, Eli Lilly and Zhejiang Medicine.
As quoted from the March 6th press release, BeiGene's CEO commented that,
We are excited to have access to the Ambrx platform technology, which can be used to introduce non-natural amino acids selectively and specifically into a protein at any site, to develop novel biologic compounds. We believe that by incorporating this site-specific conjugation technology, we can further broaden BeiGene's portfolio of next-generation biologics..." 
Under the terms of the agreement, Ambrx will receive an upfront payment of US$10 million to fund the initial discovery and research activities and additional upfront payments of up to US$19 million if BeiGene elects to initiate additional programs. Ambrx is eligible to receive potential development, regulatory, and sales-based milestone payments up to an aggregate of $446 million for all programs, in addition to tiered royalties on future global sales. BeiGene will have worldwide rights to develop and commercialize any drug products resulting from the collaboration.
 6. SpringWorks Therapeutics:  In August 2018, U.S. based SpringWorks Therapeutics Inc. and BeiGene entered into a global clinical collaboration agreement to evaluate the safety, tolerability, and preliminary efficacy of combining BeiGene's investigational RAF-dimer inhibitor, lifirafenib (BGB-283) with SpringWorks' investigational MEK inhibitor, mirdametinib, in a range of genetically-defined solid tumors. Patients with advanced solid tumors that harbor mutations in RAS, RAF, and other MAPK pathway genes are currently being enrolled in a Phase 1b clinical trial. On May 6th, 2019 SpringWorks announced the first patient's enrolment in the Phase 1b trial.
SpringWorks is a private clinical-stage biopharmaceutical company 'start up' launched in the U.S. in 2017 that focuses on identifying and advancing promising efficient pathways for drug development for patients with severe rare diseases and cancer. According to its website, SpringWorks raised $228 million in Series A and B rounds of financing from leading life-science backers including Bain Capital, Orbimed, Pfizer, Perceptive Advisors and GSK.
More recently, on June 18th, 2019 BeiGene announced that it and SpringWorks have entered into a jointly owned company, called MapKure, LLC,  to develop BGB-3245, an investigational, selective next-generation RAF Kinase Inhibitor which was discovered by BeiGene scientists and is currently in preclinical development.
Under the terms of the agreements, SpringWorks made an equity investment into MapKure while BeiGene contributed an exclusive royalty and milestone bearing license to develop and commercialize BGB-3245 outside of Asia, but including rights to Japan, in exchange for a majority ownership position in MapKure.
Neal Rosen, M.D., Ph.D., Director of the Center for Mechanism-Based Therapeutics and the incumbent of the Enid A. Haupt Chair in Medical Oncology at New York's Memorial Sloan-Kettering Cancer Center, is the founding member of the MapKure Scientific Advisory Board.
According to the June 18th press release, quoting Dr. Rosen,
Preclinical data demonstrate that BGB-3245 could potentially address a significant unmet medical need for patients with non-V600 B-RAF mutations or RAF fusions that are presently unaddressed with approved B-RAF-directed therapies. In addition, BGB-3245's preclinical activity in cancer models driven by V600 B-RAF mutations demonstrate that it could provide an additional therapeutic option for these patients with the potential to reduce dimer-driven resistances,..."

These mutations and fusions have been identified in a number of solid tumors to be drivers of cancer growth, including in non-small cell lung cancer, colorectal cancer, thyroid cancer and brain tumors.
BeiGene's commercial team is selling its existing in-licensed drugs (from Celgene) in China and preparing for launches of its internally-developed drug candidates in both China and the United States. It also owns manufacturing capabilities in China that are operational or under construction for the clinical and commercial supply of its small molecule and biologic drug candidates.
7.  BioAlta, LLC:  On April 9, 2019, BioAtla ®, LLC and BeiGene announced  entering into a global co-development and collaboration agreement for BioAtla's investigational CAB CTLA-4 antibody (BA3071), 
... designed to be conditionally activated in the tumor microenvironment in order to reduce systemic toxicity and potentially enable safer combinations with checkpoint inhibitors such as BeiGene's investigational anti-PD-1 antibody, tislelizumab, a humanized IgG4 anti–PD-1 monoclonal antibody specifically designed to minimize binding to FcγR on macrophages.

Under the terms of the collaboration, BioAtla will co-develop the CAB-CTLA-4 antibody to defined early clinical objectives and BeiGene will then lead the parties' joint efforts to develop the product candidate and be responsible for global regulatory filings and commercialization. Subject to the terms of the agreement, BeiGene will hold a co-exclusive license with BioAtla to develop and manufacture the product candidate globally and an exclusive license to commercialize the product candidate globally. BeiGene will be responsible for all costs of development, manufacturing and commercialization in Asia (ex-Japan), Australia and New Zealand, and the parties will share development and manufacturing costs and commercial profits and losses upon specified terms in the rest of the world. BioAtla will receive an upfront payment of $20 million and a milestone payment upon reaching the defined early clinical objectives. BioAtla is also eligible to receive up to $249 million in subsequent development and regulatory milestones globally and commercial milestones in the BeiGene territory, together with tiered royalties on sales in the BeiGene territory. Additional terms of the agreement were not disclosed."

"BioAtla has developed an exciting proprietary protein discovery and expression platform to generate CABs, which in turn have been applied to BA3071, a novel, investigational CTLA-4 inhibitor that is designed to be conditionally activated in the tumor microenvironment," commented Dr. Lai Wang, Senior Vice President, Asia Pacific Clinical Development, Global Research, Clinical Operations and Biometrics, for BeiGene. "The unique nature of BA3071 provides an exciting opportunity to combine this CTLA-4 antibody with our anti-PD-1 antibody, tislelizumab. We look forward to working with BioAtla through proof-of-concept, followed by global development of this potentially unique cancer therapy as a single agent or in combination with other therapies."
BA3071 is a novel, investigational conditionally active CTLA-4 inhibitor. The first investigational new drug (IND) filing is currently planned for mid-2019. Subject to regulatory clearance of the IND, a Phase 1/2 multi-center, open-label study designed to evaluate the safety, tolerability, pharmacokinetics, immunogenicity and antitumor activity of BA3071 alone and in combination with BeiGene's tislelizumab, an investigational anti-PD-1 inhibitor, is anticipated to start in the second half of 2019.
BeiGene's Milestones and Upcoming Catalysts
Beigene's multiple milestones and catalysts in 2019, partially summarized below by BeiGene in their June 12, 2019 corporate presentation, include:
a. the potential approval of Zanumbrutlinib (BTK Inhibitor) in China for two indications, various clinical trial readouts and an NDA filing in the U.S. Zanumbrutlinib is potentially a second-generation, best in class BTK;
b. the potential approval of Tisleslizumab (PD-1 antibody) in China,  and various clinical trial readouts;
c. various clinical trial readouts for Pamiparib (PARP inhibitor);
d. advancing at least one more preclinical compounds into the clinic;
e. filing at least one sNDA for  Revlimid and Abraxane (in-licensed from Celgene) in China;
f. continued quarterly growth in sales of in-licensed products in China;
g. completion of construction of a manufacturing facility in Guangzhou, China.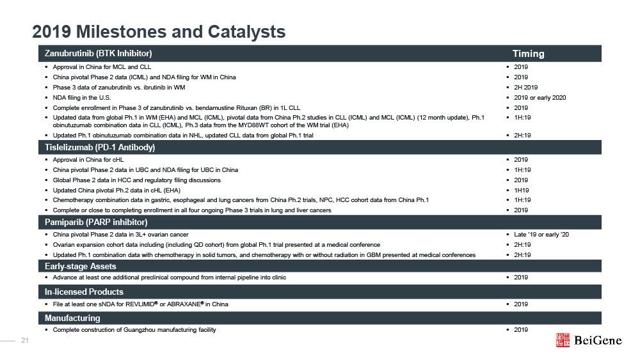 Analyst Coverage of BeiGene
A Bloomberg search indicates an average analyst 12-month share price target of $177 ranging from a low share price target of $146 from Credit Suisse to the highest 12-month share price targets of $207 from Morgan Stanley, $212 from Ladenburg Thalman and $213 from SVB Leerink. See Bloomberg chart below obtained Sunday, July 28, 2019, setting out analyst coverage of BeiGene including buy/sell recommendation, date of recommendation and share price target.
.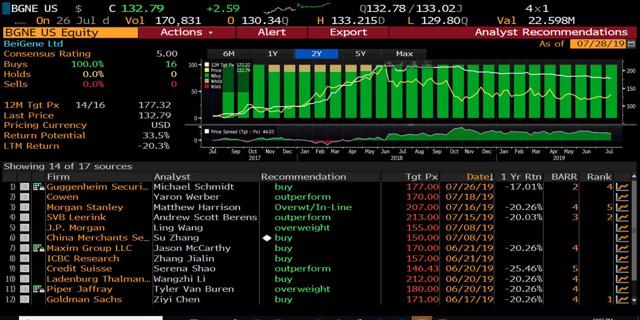 Risks Investing in BeiGene 
While BeiGene appears to be building out a potential Chinese oncology powerhouse over the next number of years, readers should be aware that an investment in BeiGene has numerous risks. While the Company does generate growing revenues in China from in-licensed products from Celgene, and appears to have great potential in its oncology drug pipeline, its three primary clinical drug candidates have not received regulatory approval, and are still in clinical trials for various indications. 
Investment risks include, but are not limited to, the possibility of clinical trial failures or disappointments, local and international competition of its existing in-licensed drugs as well as pipeline of products, IP infringements and challenges, loss of key personnel, share dilution, difficulty in raising new funds in the future, regulatory challenges, potential reimbursement issues and sales execution risks, risks inherent in investing in a Company which generates its current revenues and conducts a substantial amount of its work in China (which may have a less predictable government than western countries such as the U.S.,  Canada, Japan and major European countries), and general market risks including but not limited to trade tensions between China and the U.S.
Oncology is a very competitive area for biotech companies both in China and the rest of the world. 
For further details of the potential risks involved, see the risk factors set out in the Company's most recent 10-Q filed with the U.S. SEC in May, 2019, available through the Company's website and on EDGAR.
Before making an investment in BeiGene, you should do your own due diligence and speak to your investment advisors to determine whether BeiGene is a suitable investment for you and to determine the sizing of your investment.
Disclosure: I am/we are long BGNE, CELG, ZYME.
I wrote this article myself, and it expresses my own opinions. I am not receiving compensation for it (other than from Seeking Alpha). I have no business relationship with any company whose stock is mentioned in this article.