Introduction
Many of you are probably caught by surprise now as we normally are thought of as being a resource newsletter and while that is true, it's also far from the truth. We make investments in order to make money, it's as simple as that, and when we see an opportunity we like we act on it. At the end of the day it's all about risk vs. reward and today we are introducing a tech company that offers great reward in our mind.
Two weeks ago we travelled to the beautiful city of Hangzhou in China (this >9 million people city will host the next G20 Summit on Sept 4-5, 2016) to see for ourselves what Hello Pal was all about. Not only did we get the chance to meet the friendly and welcoming staff of Hello Pal, we also had the opportunity to meet with one of Hello Pal's largest shareholders. We went to the offices of New Margin and sat down with its Managing Partner Mr. Hans Xu.
Mr. Xu is one of the largest shareholders of Hello Pal and his/New Margin's participation is a large part of our investment decision.
It's mind-boggling how large the upside can be if Hello Pal turns out to be a success. We are not saying this will be the next Snapchat or Twitter, but Hello Pal most definitely has all the components to reach its own level of success. And for the next 12 months or so, we see very little risk due to the company's access to funding.
Hello Pal (CSE: HP / OTCQF: HLLPF / Frankfurt: 27H)
To invest money in an app are in many cases a "fly or die" scenario, either it won't go anywhere or it will fly to the moon. So while these investments are quite risky, we would suggest that Hello Pal isn't as risky due to the participation and backing of its largest shareholder New Margin.
Investment Highlights
Hello Pal was recently launched and already achieving high numbers of registered users with no marketing and thousands of new users registering daily
Recent oversubscribed financing and no debt with low burn rate.
Launching aggressive PR and user acquisition campaign. Expansion of technical and marketing team
Major Chinese shareholders with substantial financial backing and deep business and entertainment networks
Messaging has emerged as the new frontier of social on mobile and apps built on messaging platforms have high user retention and engagement
Rapidly growing language learning market particularly in mobile E-learning
People
Many people can come up with a great idea, but if you don't have the right people to execute the idea, it's at risk of becoming a failure. KL Wong, founder and CEO of Hello Pal, has an impressive CV to his name. KL, a Malaysian born, studied and worked in the UK for 10 years. He graduated with a law degree from Cambridge University and started off his career as a lawyer at Clifford Chance (world's largest law firm) in the UK and Hong Kong. KL is fluent in English, Mandarin and Cantonese, and has a working knowledge of Malay and French. He is currently learning Japanese and Korean.
In 2008, shortly after the birth of his daughter Felicity, KL founded BrillKids Inc., creator of the multiple award-winning early childhood education program Little Reader. Having already one internet success under his belt, KL Wong knows what it takes to make Hallo Pal his next success.
Listen to our interview from July 20th with CEO KL Wong here.
Money, Valuation & Listings
Hello Pal first got listed on the CSE (Canadian Stock Exchange) on May 13th of this year after closing an oversubscribed placement of C$1.8m. Most of this money will be used in large part for user acquisition in order to aggressively increase the user numbers further.
Apart from a strong investor demand, Hello Pal also has the backing of New Margin, one of the top three Venture Capitalists in all of China with more than US$3B under management. New Margin has invested more than $1.7B in more than 160 companies of which over 40 have gone public in domestic or international stock exchanges. That track record speaks for itself and as the Chinese are well-known for their patience and shrewdness, we don't see a lot of risk in the next year at least as New Margin will support Hello Pal going forward.
In the world of apps & internet the upside is virtually unlimited which makes for great risk/reward. And although the risk is also there, we don't see it as very big in the first year or so because of the backing and strong connection to New Margin. Hello Pal will not have an issue finding new money as they go forward.
Hans Xu, whom we had the pleasure to meet on our trip to China, is a key managing partner at New Margin. Not only that, he is personally one of the largest shareholders in Hello Pal. For someone with Hans' connections, influence and investment experience, Hello Pal must be a small investment in comparison. That tells us a bit on how big the potential in Hello Pal is.
Now why would a multi-Billion VC firm invest and support a small start-up app? What's better than a quote from Hans Xu himself on the matter:
"Hello Pal is one of the best app ideas since I saw QQ* which is now worth billions"
Fully diluted, Hello Pal has 70m shares which at 40 cents give the company a Mcap of 28 Mcad. With what's known today, that feels like a fair valuation. At the same time one must recognize that Hello Pal is a fairly new company and unheard of by most investors. As milestones are met and the app grows, we think the industry will be forced to discover and recognize Hello Pal. The potential for exponential growth is absolutely there and if that happens, we want to be invested.
Hello Pal's main listing is on the Canadian Stock Exchange under the symbol 'HP'. To make things easier for international investors, Hello Pal has established secondary listings on the OTCQF under the symbol 'HLLPF' and on the Frankfurt Exchange under the symbol '27H'.
*QQ is a chat application for Facebook
What is Hello Pal?
Hello Pal has several layers which makes it very useful for a large audience even though their needs might be slightly different. This is also a large part of why we think Hello Pal has a great chance of success.
Hello Pal was launched on Android in May 2015 and on IOS in November 2015. By June 1st (seven weeks ago) Hello Pal had more than 700,000 downloads from more than 100 countries without having been promoted at all. It's amazing what word-to-mouth can do if the app is good, but imagine what could happen when the company soon starts to actively promote Hello Pal in order to expand the user base.
Hello Pal is a free social language learning app where phrase books, vocabulary lists, translation tools and an integrated social network all combined turns Hello Pal into a great language learning tool.
As a user, you don't need to know a single word of Chinese, Russian, Thai and Spanish etc. in order to instantly communicate and make new friends. By using Hello Pal's partner matching system, you can connect with people all over the world, without the barrier of not knowing their language. The best way to learn a new language is by speaking it and that's exactly what Hello Pal will let you do.
The app is absolutely free and on top of the main Hello Pal app, there are also six separate phrase books available for downloading (Chinese, English, French, Spanish, Japanese and Korean).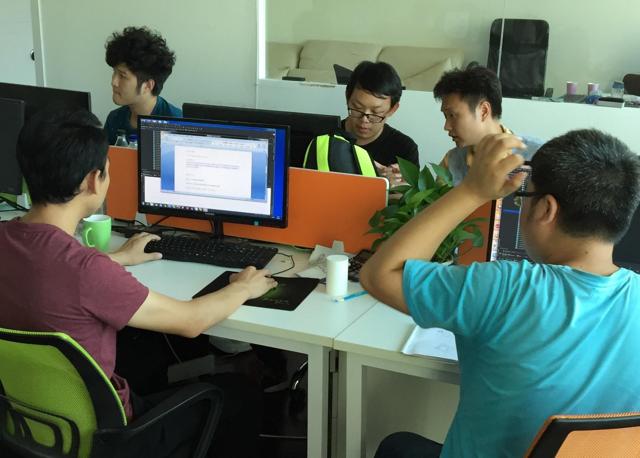 Programmers working in the offices of Hello Pal, Hangzhou, China. (source)
Going forward from an investment perspective
We learned that Hello Pal has an average of 3,500 downloads/day and that number has been steady for months. Assuming that the growth continues in the same pace, roughly 105,000 new users are added every month. By end of August or early September Hello Pal should be able to have north of 1m downloads, an even more impressive milestone when one considers that this has been accomplished with little money spent on marketing.
In order for the company to start monetizing Hello Pal (creating revenue), we have asked around and the general opinion is that at least 2m users is required. If we assume that marketing efforts along with increased peer-to-peer recommendations speed up new downloads, that 2m mark could be accomplished 6-8 months down the road. It's our opinion that once that 2m hurdle is achieved the investment risk is significantly lowered and if >3m downloads is reached, we may have a home-run on our hands.
When the 1m mark is reached it does not only give Hello Pal plenty of time to further develop the app, Hello Pal is also sending a clear message that they should be taken seriously.
Just five weeks ago, Hello Pal surprised us a bit when they were able to hire Daniel Kou as their Chief Technology Officer. For a small start-up to attract such a respected and experienced person as Daniel Kou is very impressive to us. Daniel's experience ranges from app development, system architecture design and programming to project management and product design, and includes 8 years working at Huawei Technologies as Chief Architect of several key product lines.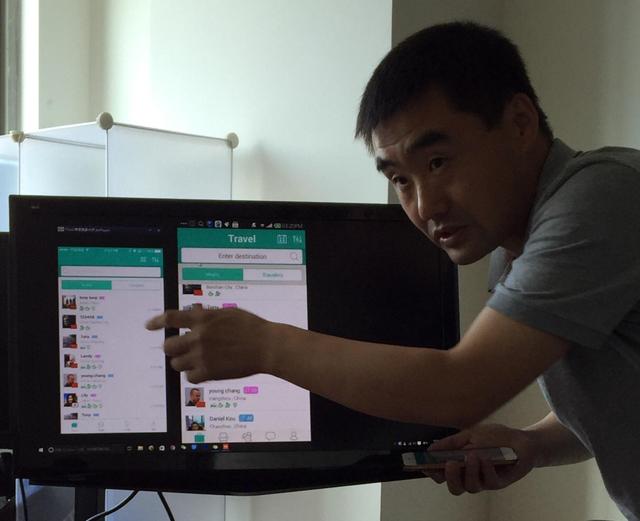 Hello Pal Appoints Former Huawei Chief Architect Daniel Kou as Chief Technology Officer. (source)
In the picture above, Daniel Kou is presenting to us the next product coming out of Hello Pal, the Hello Pal Travel app. Out of the whole idea 'Hello Pal', the company intends to develop three apps; Hello Pal, HP Travel and HP Language Learning (we are not sure of the name yet).
The bottom line when developing social apps like Hello Pal is to get enough users to be able to monetize; implement in-app purchases such as translation services, stickers, games and much more. We have bought an initial position and we are prepared to be patient with your investment, but we will always be part of the possible trigger that when dealing with the internet and apps, things can explode overnight. As targets are reached and progress is made, risk is lowered and our investment should appreciate.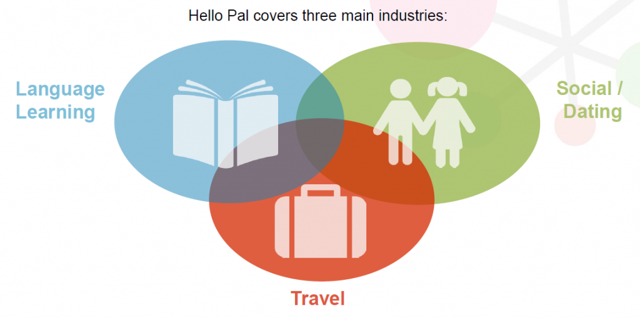 (source)
Paper
The only point we would like to make here is short and concise, Hello Pal is not a mining company in the need of 10-12 years and 200m to build a mine. Their cost structure with offices in the Ukraine, Hangzhou and Hong Kong is tight and we don't see future financings as very dilutive. In fact, since we assume that most of the cash in future financings will go towards expanding the user base, this will be extremely accretive for shareholders.
Conclusion
Going back to the Introduction above:
"It's mind-boggling how large the upside can be if Hello Pal turns out to be a success. We are not saying this will be the next Snapchat or Twitter, but Hello Pal most definitely have all the components to reach its own level of success."
We would like to add to that an even more important component, at least for the next 6-12 months before the app gets more established, and that is the participation of New Margin. Their presence provides Hello Pal with help to industry collaborations, secure future financings and in general provide their industry knowledge and expertise.
Our investment in Hello Pal is something that may require some patience on our part, which is not a problem for us. At the same time it's an exciting feeling to know that a tech company like Hello Pal can virtually explode to the upside under the right circumstances.
Downloads
Hello Pal Investor Presentation (pdf)
Hello Pal Quick Tour (YouTube)
Hello Pal Tutorial - The Basics (YouTube)
Hello Pal Tutorial 2 - Text and Voice Messaging in a Foreign Language (YouTube)
Hello Pal Tutorial 3 - Helping Your Pal When Receiving And Sending Messages (YouTube)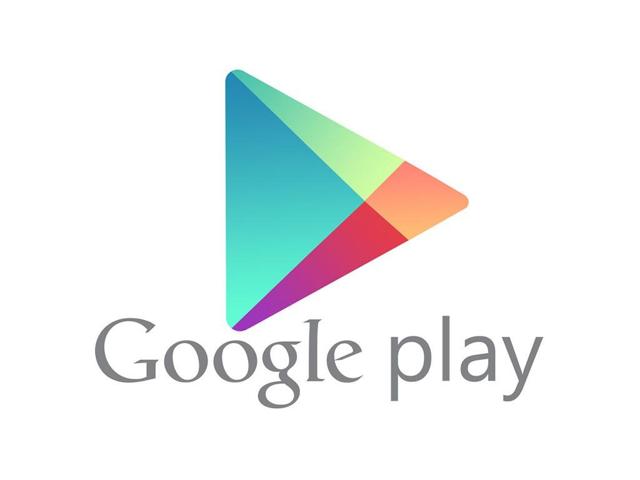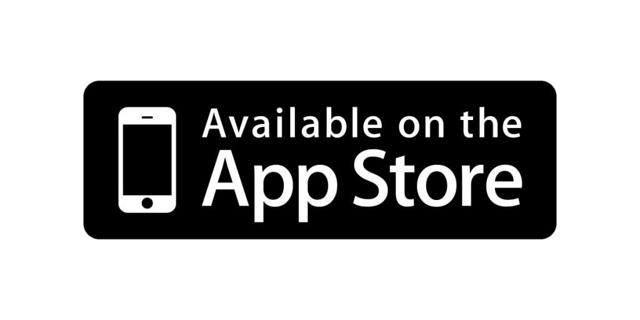 Disclosure: I am/we are long HLLPF.
Additional disclosure: The stock is often thinly traded which enhances risk. Buyers should not chase the stock but rather be patient until orders get filled. We are long Hello Pal and we will not sell any stock until earliest 2017.