Inflation: A Parade of Zombies
Please Note: Blog posts are not selected, edited or screened by Seeking Alpha editors.
Inflation: A Parade of Zombies
Let's see if I get this straight. The United States Federal Reserve tells us the rate of inflation is too low. The "Core" CPI is up only 1.3% over the last year. The BLS tells us food and fuel only make up about 20% of consumer expenditures. Besides... it is routinely claimed ... they are too volatile to use as a "reliable" measure of inflation. Consequently, food and fuel are excluded from calculating the "Core" CPI.
Media zombies parrot whatever the Fed tells us. Over and over again. It gets repeated so often, it becomes fact.  Even Fox News tells us there is no inflation.
Well .... what they say is true. Food and fuel are not all that important an indicator of inflation  ....  if you are lucky enough to be making over $100 grand a year.
The rest of us are screwed.
If there is no inflation, then can anyone please explain to us why the price of gasoline has
gone up 30% in one year, and 42% over the last 5 years?  Can anyone explain to us... if there is no inflation, then why has the price of food gone up 9% in one year, and 28% over the last 5 years? (Note 1)
And lets see. The price of gasoline has gone up 30% in one year, and the price of food has gone up 9% in one year.  BUT... per capita personal income has actually declined .1% over the last year. (Note 2)
Perhaps the folks who calculate the rate of inflation don't think the price of food is important.... but for me.... I'm really big on eating. I'm also big on driving my car. When food and gasoline prices go up, I get nervous.
 

 

The Price of Gasoline

The Price of

Food

Per Capita

Personal Income

 

 

 

 

 

 

1 Year % Increase

30%

9%

-.1%

5 Year % Increase

42%

28%

3.8%
I've graphed this data so we can see it in living color. See those two little bars on the right? That's how much American personal income changed. The bars to the left show how much the price of gasoline and food went up. Over the last 12 months, income went down, prices went up – big time. Over the last five years, gasoline went up over 11 times faster than per capita personal income, and food went up over 7 times faster than per capita personal income. Unless you are very rich.... that's important!   And that is definitely inflation.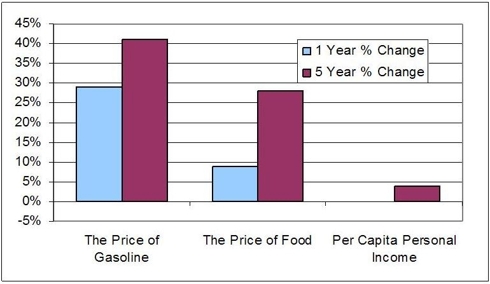 Things were relatively OK from 1990 through 2004. Then inflationary trends began to ramp up. As shown in the following graph, the US Federal Reserve Broad Dollar Index began to decline. We paid more dollars for almost everything we purchased. American food prices began to accelerate. World oil prices also went up, mostly due to speculation. But there is another factor in higher oil prices. Nations that sell oil try to maintain the monetary value of a barrel of oil. So. If the value of the dollar goes down, they want more dollars per barrel.  
And they can get it.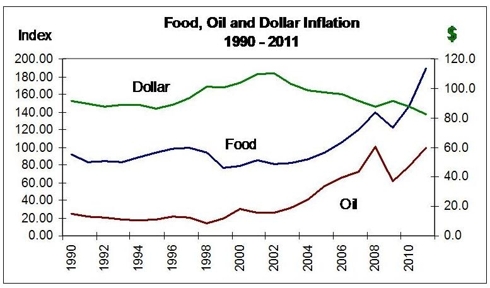 Higher oil prices also help to increase the price of food. It costs farmers more to plow, plant, cultivate, harvest, store, and transport the food they grow. Crop care and treatment costs go up. Soil amendment costs go up. Food processing and retail distribution costs go up.
Food costs also went up because some sugar crops (which went up 73% over 5 years) and certain cereal grains (up a chilling 92% over 5 years) were diverted to make ethanol. That means not only do we pay more for gasoline, we also pay more for the sugars and grains that are consumed to make ethanol.
According to the FAO, world food harvests have been inadequate for some time. Food stocks are marginal. We are one bad harvest from real trouble. If that happens, food prices will escalate further. More inflation. In some nations, nutrition is down: famine is up. Low income people can not afford to eat. Famine often breeds bloody conflict.
What happens next?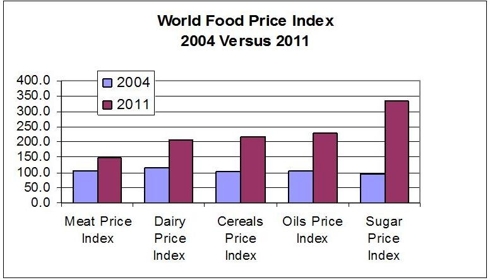 Of course the rate of inflation is volatile, and it will decline for a period of time. But if we make an honest assessment of projected food and oil production, versus projected demand, prices are headed higher. The gap between personal income and the price we pay for almost everything we buy will increase.
Count on it. 
For now, Obama isn't worried about inflation. Congress isn't overly worried about inflation. The Federal bureaucracy doesn't care about the rate of inflation (not their job). And the Federal Reserve actually thinks the rate of inflation is too low.
So....  Fix your eyes straight ahead, stare vacantly at the wall...  and repeat after me....
There isn't any inflation.

 
TCE
Note 1: Data from the Bureau of Labor Statistics, Department of Labor; The Bureau Of Economic Analysis, US Department of Commerce; the US Federal Reserve Price-adjusted Broad Dollar Index; and the United Nations Food and Agriculture Organization.
Note 2: Per capita personal income calculated from BEA data. Inflation calculated from BLS data. It could be argued that the gain in average personal income – adjusted for inflation, underemployment, and declining employment opportunities – is actually negative over the last 5 years.  

Seeking Alpha's Disclosure: Past performance is no guarantee of future results. No recommendation or advice is being given as to whether any investment is suitable for a particular investor. Any views or opinions expressed above may not reflect those of Seeking Alpha as a whole. Seeking Alpha is not a licensed securities dealer, broker or US investment adviser or investment bank. Our analysts are third party authors that include both professional investors and individual investors who may not be licensed or certified by any institute or regulatory body.