Grillit (OTCPK:GRLT) has gone from $0.26 to $2.50 to $1.30 to $3.50 in a matter of days on the backs of what seems like stock promotion.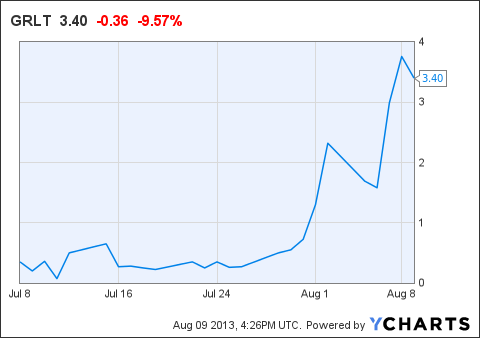 The company has over 8 million shares outstanding that have not been accounted for just yet, which will push the stock lower. More importantly, the company has plans to release another 190+ million shares at some point. It smells, not like delicious food, but like a pump and dump.
Where does it go from here?
The company has committed to a special dividend that gives out 4 shares for ever share currently owned.
Company Info
GRILLiT, Inc. operates a chain of fast casual dining restaurants under the GRILLiT brand. The company specializes in salads, rice bowls, noodles, wraps, and grilled chicken and steak. It owns three restaurants in Miami, Florida, as well as franchises a restaurant in Nashville, Tennessee. The company also provides catering services. It has master franchise agreements in Kentucky, Ohio, New Hampshire, New Jersey, Georgia, Pennsylvania, Tennessee, and North Carolina. The company was formerly known as Holdings Energy, Inc. and changed its name to GRILLiT, Inc. in March 2013. GRILLiT, Inc. is headquartered in Miami, Florida.
Disclosure: I have no positions in any stocks mentioned, and no plans to initiate any positions within the next 72 hours.
Additional disclosure: This is a work in progress.