My 20 Dec article said B&N could fight back. And now Borders is busted, B&N have a great chance to restructure.

We greatly appreciate our Kindle (can't get Nook Color here in the UK - yet), but my wife says she still likes the heft of a physical book, and seeing how much you've read. I know that may sound simple, but how many men prefer a wet shave because they like to see the bits-and-soap in the sink? A lot, according my friend in a major advertising and marketing firm.

Apply that kind of psychology to the way you run a store, plus the advantage of having 600+ college outlets. B&N could continue to please.

Meanwhile, the stock is up 33% in the less than two months since my first post on the subject. Anybody take note?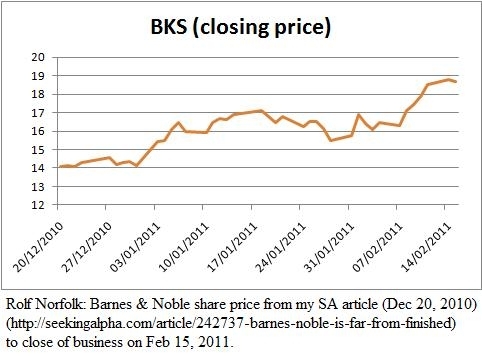 Before you ask, no, I'm not in - we're holding cash in preparation for a house move. But I enjoy gainsaying the experts!

Disclosure: I have no positions in any stocks mentioned, and no plans to initiate any positions within the next 72 hours.