Chesapeake is looking to unload a large amount of acreage in the plains worth quite a bit of cash. Looking to cut out non-essential projects based on their current focus, most likely their goal is to raise some funds. With a decent amount of it already sold off they are looking better everyday.
Becoming a leaner, more efficient oil and gas company, Chesapeake Energy (NYSE:CHK) is looking very attractive. The company has been selling off assets to pay down debt and build a considerable chunk of capital. The company recently sold $6.9 billion worth of gas fields and pipelines to Royal Dutch Shell (NYSE:RDS.A) and Chevron (NYSE:CVX). This sale of assets in the Permian Basin puts Chesapeake at the 85% mark toward a goal of $14 billion in sold assets.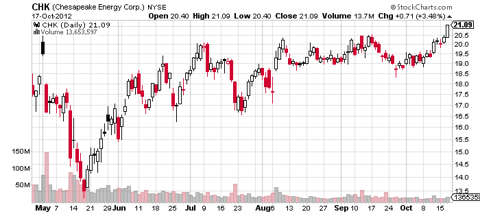 Royal Dutch Shell recently signed a 10-year contract with Transocean Ltd. (NYSE:RIG) for four new drillships for $7.6 billion. The ships are designed to drill wells up to 40,000 feet in water depths of up to 12,000 feet. Chevron gets about 264,000 acres in the Permian Basin in the asset sale deal. Chevron recently discovered natural gas offshore Australia in the Greater Gorgon Area, located in the Carnarvon Basin. The well, the Satyr-2, is located approximately 75 miles northwest of Barrow Island off the Western Australian coast, and confirmed about 128 feet of net gas pay. Chesapeake is raising about $3.3 billion from the sale of Permian Basin assets and is keeping roughly 470,000 acres in the Permian. The company also sold some land in Ohio's Utica shale formation for some $600 million in four separate deals. After that transaction Chesapeake has about 1.3 million acres left in the Utica.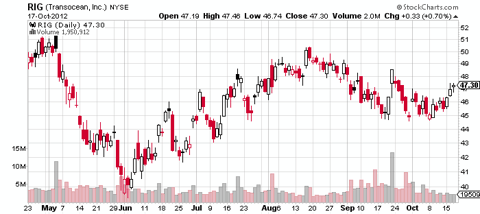 Chesapeake recently began offering Oklahoma drilling leases for sale. Chesapeake is trying to unload roughly 28,360 net acres in three counties west of the Colony Wash field. The acreage has 117 wells already drilled there and does not include any of Chesapeake's drilling sites in nearby Texas panhandle. Another energy company proving successful in the Oklahoma region is the Apache (NYSE:APA) which has 2,500 producing wells and controls over one million gross acres primarily in western Oklahoma and the Texas panhandle. Apache hit pay-dirt in 2011 when it increased its production of natural gas liquids by 244% compared to the prior year. These selling of assets for Chesapeake do not spell trouble for the company, but sets the foundation for success on the horizon. I believe that this is the best time to get on board a company with a bright future. Though heavy into natural gas, that may play in Chesapeake's favor over the long run.
Read Full Article Here: http://turnkeyoil.com/2012/11/06/cutting-the-fat-to-increse-focuschk-apa-boe-cvx-rds-a-xom/
Disclosure: I have no positions in any stocks mentioned, and no plans to initiate any positions within the next 72 hours.