Not many companies have been able to get around this downward trend in the price of natural gas. So seeing a company far outperform all of its competitors is hard to overlook. This one has figured out the secret to profiting off of natural gas even with its historic lows.
With new technologies like hydraulic fracturing and horizontal drilling unlocking natural gas from shale basins that were previously inaccessible, gas prices have plummeted in the past few years. Since 2008, the price of gas has fallen from a high above $13 per thousand cubic feet (Mcf) to today's price of $3.50 - a 73% decline in a little more than four years.
That sell-off has been a thorn in the side of energy companies.
Aside from the effect on day-to-day profits, many companies have also been forced to make downward adjustments on the balance sheet. Earlier this year, BHP Billiton (NYSE:BHP) took a $2.8 billion impairment charge for gas assets in the Fayetteville Shale. BP plc (NYSE:BP) had to write off $2.11 billion. And the largest gas producer in Canada - Encana Corp. (NYSE:ECA) - had to write down $1.7 billion.
But I've found one energy company that is prospering, despite low natural gas prices. In fact, this company has navigated the difficult pricing environment so well that despite gas prices trading at a third of where they were back in 2007, its stock price is actually up 81% in the past five years.
Linn Energy (LINE)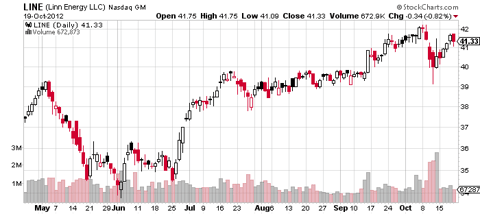 Read Full Article Here: http://turnkeyoil.com/2012/11/18/a-good-way-to-hedge-your-bets-line/
Disclosure: I have no positions in any stocks mentioned, and no plans to initiate any positions within the next 72 hours.