So, I was visiting my neighborhood Chipotle restaurant today and I was thinking to myself, "Why is this place so packed? " I ate my burrito and as usual it was quite good, so I decided to write a little article about Chipotle's (NYSE:CMG) stock. Chipotle Mexican Grill, Inc. operates Mexican food restaurants across the United States, Canada and the United Kingdom. The company has over 1,000 restaurants and pride themselves is using fresh ingredients when preparing their food. The company is headquartered in Denver, Colorado.

Chipotle has a market capitalization of over $9 billion with revenues of over $2 billion over the last twelve months. According to Yahoo! Finance, Chipotle has a P/E ratio of around 48 and a forward P/E ratio of over 35. This company certainly trades richly, but it is also growing rather fast. Chipotle has grown revenues from around $470 million and is projected to report close to $590 million for the quarter ending in December 2011 and for the whole of 2012, Chipotle is estimated to report revenues in the range of $2.6-$2.8 billion. Quarterly revenue year over yearis well over 20%. A point should be made that Chipotle has continued this growth even during the recession. As for earnings, Chipotle is a consistent winner here too. From 2008-2010 they reported EPS of $2.38, $3.48, and $5.16 repectively and for 2011 they are expected to report around $6.75. These sales and earning are reflected in the appreciation of the stock price shown in the chart of Chipotle below.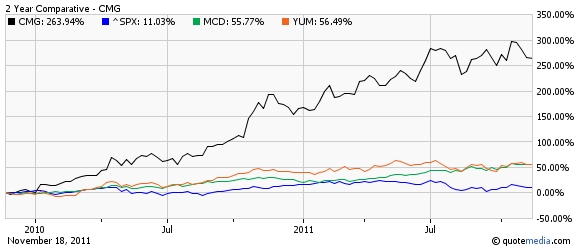 The chart shows Chipotle's stock compared to the S&P Index, McDonald's and Yum Brands and we can all see, if we had invested in Chipotle over the last two years we would have significantly outpaced the market and the competition. Overvalued? Maybe, but one must remember when investing in a high growth stock like Chipotle, classic valuation methods like price to earnings ratio become less important than sales and EPS growth. I believe that Chipotle may have more growth in its future, but will it lead to continued stock price appreciation? Let me know what you think?