as a serial diluter as one called SandRidge's CEO, they seem to be doing well.
We issued a Priority Update Message back in September when they showed us a classic breakout formation  [ read it kinda like Ray Lewis reads a Shotgun Offense], and got into it in the $4's.  
I dont have any reason to figure this run will be more than a few bucks, however as a position trade, although I'd ride it if it developed.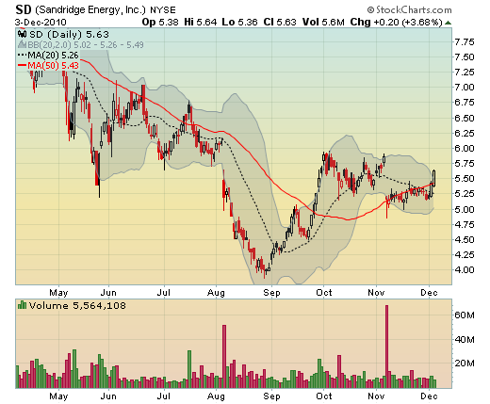 Basically it leaves me wondering if we are not going to get a pump in the Nat Ga price as I see a positive correlation between SandRidge and the Gas price.
Seasonally speaking, Nat Gas is on the downhill slope here, but that fails to take into account any of the builds going on, so you take  your chances there, on a secular trend developing.  Here is the link for seasonal patterns.  www.spectrumcommodities.com/education/commodity/charts/ng.html

As we work on this more please stop by anytime
www.denaliguide.us
where you can browse or sign up.  One warning>  Its all Technical Analysis

Good Luck.

DG