Today's article represents a significant departure for me: normally I'm a valuation guy through and through, whether it's shorting over-valued companies like ProofPoint and ServiceNow; or buying undervalued longs with potential catalysts like Flexible Solutions or Art's Way.
But today I'm discussing a purely speculative stock that doesn't have the value floor that my other long picks normally do. So if that risk is unappealing, this may be the time to stop reading. Moreover, anyone who thinks my picking speculative longs must mark the top of this market, I won't argue that point either ;-).
Marijuana Legalization - A Background
While I'm in favor of legalizing drugs (for reasons such as weakening organized crime and improving the relations between law enforcement and the general public), my political opinion is irrelevant to the investment case. What is relevant is my belief that we are only at the beginning of a trend to legalize marijuana throughout the country - and thus it's worth looking for pure play stocks to profit from that trend.
There are numerous reasons for which I believe marijuana legalization is just starting, including:
Legalization converts the untaxed black market sales of marijuana to a potentially lucrative source of tax revenue for state coffers; a transition which politicians of every underfunded state or municipality would welcome, whatever their other views on the subject;
The nation's jails are already well over capacity, so it makes much more sense to stop prosecuting victimless crimes than to spend all the time and effort to prosecute such crimes only to release the perpetrators due to lack of prison space;
Now that several states have gone down the road of legalizing marijuana, their experience can be used to debunk the worst fears of critics and opponents;
To a certain extent, competition between states will act as impetus for states which haven't yet legalized to do so, otherwise they risk permanently losing tax revenues to their neighbors.
Moreover, as indicated in this excellent short Pew study, the nation's attitudes towards legalizing marijuana have been steadily moving towards the positive; in other words recent developments aren't a blip or an anomaly, they're part of a longer trend. The two figures below best capture this, with the second highlighting the fact that legalization is more favored by the younger generations - another point supporting its continuance and acceleration: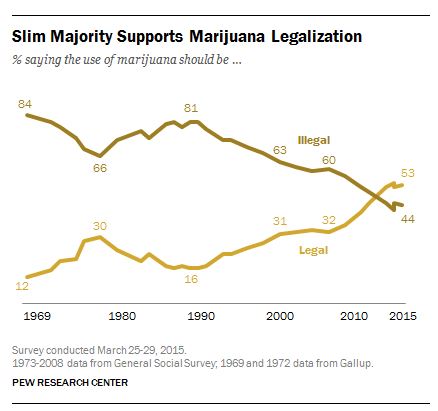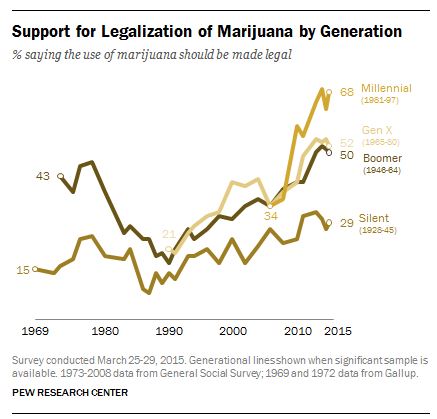 A final graphic from the study neatly summarizes where we are today, and how much opportunity for more legalization still lies in front of us: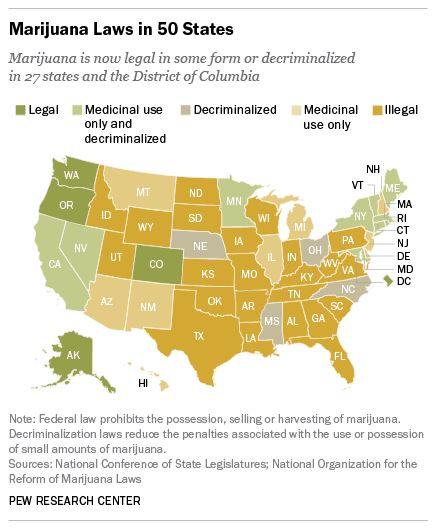 With that as background, let's look at the (stock) opportunities to play the trend.
Scarce Field
In searching the web for stock plays, one is struck by the paucity of potential plays. The single best one is GW Pharmaceuticals (NASDAQ:GWPH), but unfortunately that ship sailed long ago.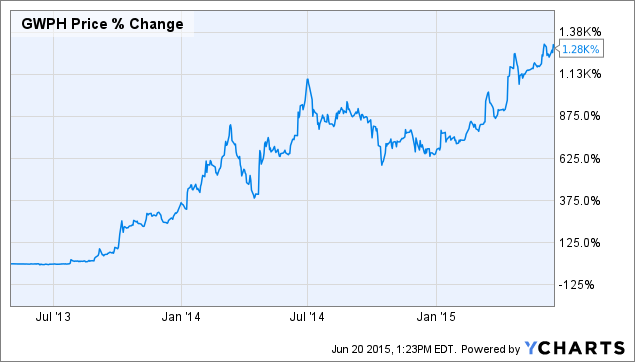 After that we get mostly pink sheet stocks which I personally never invest in (at least not from the long side). Moreover we're also bombarded with justifiable warnings, like this WSJ article whose title says it all:"Buying Legal-Marijuana Stocks: Just Say No?" (I recommend reading the article as part of my general caution for investing in the space.)
IGC
So given the dearth of candidates, a recent press release from India Globalization Capital (NYSEMKT:IGC) caught my attention (my emphasis):
IGC, Inc. (NYSE-MKT: IGC) announces the third vertical in its effort to gain a leading position in the emerging legal cannabis industry. Our strategy is to develop a product portfolio of phytocannabinoid-based therapies for the treatment of a wide range of therapeutic indications including pain, epilepsy, and other niche severe terminal diagnosis, which are life altering or life threatening.

Most recently, the company applied for a provisional patent based on a novel therapy that uses cannabinoid extracts for the treatment of seizures in dogs and cats. The therapy, which is expected to also have applications in humans, is administered using a variety of delivery technologies. We expect to establish metabolic profiling and apply to the FDA for trials.

To facilitate the development of the product portfolio, IGC is entering into partnerships with a range of organizations that can provide cost effective solutions for metabolic profiling, clinical trials, and regulatory approvals that in most cases will be necessary to eventually commercialize our products.

"The Company is also continuing to assemble an international network of doctors, veterinarians, and researchers with extensive expertise in various indications, medicines containing controlled substances, plant-based products, extraction technologies, and drug delivery technologies. In addition, we have assembled experts in patent law, clinical trials, and regulatory procedures," said Ram Mukunda, IGC's CEO.

Mukunda added, "Among our senior advisors is Dr. Ranga Krishna who founded International Pharma Trials ("IPT"), a company with over 150 employees that assists a number of U.S. pharmaceutical companies in performing clinical trials. IPT has a specialty in pain and epilepsy. Dr. Krishna himself is a neurologist with a sub-specialty in epilepsy surgery."

"Jack Lynch who has over 50 years of experience in practice before US District and Appellate courts and the US Patent and Trademark Office is another of our key senior advisors leading our intellectual property filing strategy and was instrumental in this filing as well as other filings, which we will be disclosing," Mukunda continued.
Phytocannabinoids for use in treating pain and epilepsy are of course GWPH's claim to fame. See these links - compounds, Epidiolex, properties - for more background.
So what is IGC? Here's a brief description from its latest 10-Q (my emphasis):
India Globalization Capital, Inc. ("IGC") is positioning itself to be a dominant player in the emerging legal cannabis industry. This cannabis industry includes marijuana and hemp with each having its own legal nuances. We have a three pronged strategy that is compliant with federal and state laws that includes: i) the construction of state-of-the-art facilities that can eventually be used for growing cannabis, ii) the pending acquisition of a New York based crowd-funding backed broker-dealer, Midtown Partners LLC, that will hold conferences, write research reports and provide legal cannabis investment banking services, and iii) the introduction of pharmaceutical and nutraceutical products that use cannabinoid extracts. In India, we trade iron ore and lease construction equipment. In Hong Kong, through a subsidiary, we trade commodities and electronic components.
On top of entering an exciting part of the cannabis landscape, what draws me to IGC as a speculative investment is its clear focus on moving into the space and actively publicizing its intentions and progress to investors. To this end IGC has launched a new website, highlighting the many aspects of the industry it's targeting. Here's the list of topics from the site:
Of these I'm particularly interested in the final two "picks and shovels" categories. From those pages IGC describes its strategy as:
Technology

We focus on businesses and business models that can help disrupt the legal cannabis industry. We take equity positions in companies that are in the second and third circles described above. For example: we are building indoor vertical farming facilities that can produce organic leafy green vegetables by utilizing advanced pesticide-free organic indoor farming technology. These facilities will provide us with a footprint in markets where we can eventually grow legal cannabis and extract cannabinoids. This will allow us to control the quality of ingredients that can eventually be used for our pharmaceutical and nutraceutical efforts.

Investment Banking

IGC acquired 24.9% of Midtown Partners & Co. LLC ("MTP"). MTP was founded in 2004 and has generated over $33 million in revenue and over $11 million in earnings cumulate. MTP is located in New York City and has eight registered brokers and three equity analysts. MTP specializes in raising both debt and equity through a variety of instruments including private placements, registered directs, ATMs, reverse mergers, and IPOs.

We believe that legal cannabis investment banking services will become an important part of our economy, as there is already a burgeoning wave of first movers across a broad cross section of the legal cannabis industry. These include peripheral, pharmaceutical, and nutraceutical businesses. MTP is positioned as the premier broker-dealer in this industry and the first call for quality legal cannabis companies seeking research coverage, capital formation, and financial advisory services. MTP provides us with companies that we can invest in or acquire.
Indeed, through Midtown Partners, IGC recently hosted a conference on legal cannabis.
These facts, I think, help establish IGC as a relatively pure play in the space. But what exactly would a speculator be buying were he to purchase IGC stock?
Valuation
To begin, here are the current Yahoo! stats from the company.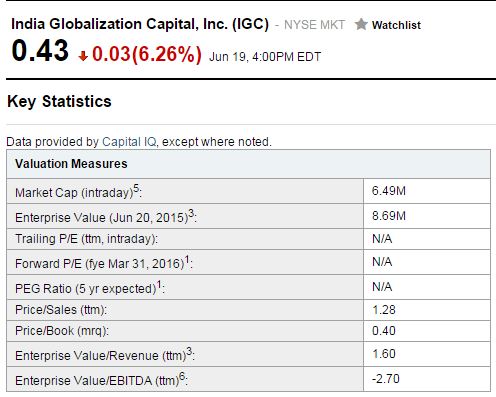 As can be seen, the company's total enterprise value is <$10M and it trades on a major market. Moreover, due to its other lines of business, IGC sports reasonable P/S and P/B ratios. (Ultimately its other lines of business are immaterial to my thesis so I'm not taking the time to examine them in this article, but any potential investor is encouraged to read about them in the company's most recent 10-Q and 10-K.)
This enterprise value seems eminently reasonable given that as of yet the company has only made preliminary incursions into the cannabis market. Or to put it another way, the company's valuation doesn't yet discount future success, so today's buyers should get the full value of any positive future developments.
Moreover, at the last filing date, the company had $2.777M in net currents assets, while it has been losing about $750K per quarter. That means it should have enough cash to last towards year end, though it will likely have to raise money a bit earlier to avoid risking liquidity concerns. Nonetheless the necessary amounts are small, so financing should be both possible and not too shareholder unfriendly.
Which brings me to my next point.
Potential Dilution
Of course the biggest worry with all such small speculative plays is prospective dilution (which can rapidly increase a company's market cap). As far as I can tell, all of IGC's convertible instruments have strike prices much higher than today's price, so none are currently dilutive. In particular the company has outstanding 11,652,648 (one tenth) warrants which allow the purchase of 1,165, 265 shares at a price of $50, and options to buy 130,045 shares at $5.60 per share. I'll be watching these numbers closely when the company issues its next 10-K in July, but in the meantime the share count and float look very tight and reasonable -- which is a big positive in making the investment case.
Catalyst and Conclusion
I believe that IGC represents a good speculative opportunity to play the trend of cannabis legalization. It features a tiny market cap, tight share structure and is listed on a major exchange. Moreover, it's just beginning to publicize its efforts, so as of yet it's relatively unknown within the investment community (for example, many of the sites that I looked at for lists of cannabis stocks don't yet include IGC). Any positive exposure, such as the acquisition of patents or the recognition from conferences, should put the company on speculators' radar screens. Longer term, if the company is successful with its "picks and shovels" strategy, much less its medical aspirations, the stock could be a big winner. As a result I'm long IGC, though my position size is smaller than average due to the risks inherent in investing in any micro-cap stock.
Disclosure: I am/we are long IGC.
I wrote this article myself, and it expresses my own opinions. I am not receiving compensation for it (other than from Seeking Alpha). I have no business relationship with any company whose stock is mentioned in this article.
Additional disclosure: I actively trade around core positions.