We hold the view that small cap investors who are interested in the heathcare/tech space should always be looking for companies that have found a great niche in the market with high barriers to entry and favorable risk/reward. We spend a lot of time looking for opportunity like this in the pharma sector, but occasionally we will stumble upon undiscovered non-pharma companies that are quite compelling.
Today, we'll talk about SurePure (OTCPK:SURP) - a small company that is challenging the traditional heat and chemical-based preparation process for beverages. We believe that SurePure has found a market niche that can generate stable income after an initial "break in" and "growth" phase.
To do this, SurePure uses a sleek device that "swirls" a liquid around a tube that emits Ultraviolet C (UV-C) radiation. This type of UV radiation is particularly effective against germs and other contaminants that need to be eliminated from liquid products like wine, milk, and syrup. UV-based purification is also environmentally friendly, and very energy efficient according to tests performed by the company.
If you took physics in high school, you may remember that the energy of electromagnetic radiation is determined by the wavelength (λ). The shorter the wavelength, the more "powerful" the radiation is. The shortest (highest energy) wavelengths are seen in gamma rays, which are incredibly destructive. The longest (lowest energy) wavelengths are seen in radio waves, which are not harmful. UV rays are intermediate in length, and intermediate in terms of energy.

Source: SurePure Website
Although UV radiation is supposed to be "moderate" in terms of its energy, UV-C radiation is just powerful enough to break the chemical bonds holding DNA together. This makes UV-C radiation particularly dangerous to one-celled organisms, since they are unable to repair excessive DNA damage.
Heating a beverage will also kill off the microbes within, although the process also destroys nutritional components (proteins, vitamins, etc.) found in the beverage. On top of environmental considerations and cost efficiency, UV-C treatment can also improve the "yield" of nutritional ingredients within beverages.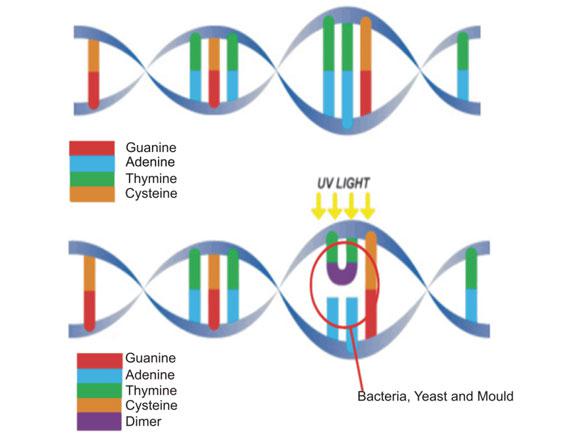 Source: SurePure Website
While UV-C sanitation has been implemented in a number of other industries that require purification of product, it is only starting to break into the beverage processing industry. SurePure is one of the few companies fighting for this niche market, and we believe that the patented "Turbulator" design has the potential to interest most small and mid-sized beverage manufacturers.
A number of new deals have already been announced between SurePure and companies in the food/beverage space. This includes Neil Patterson Wines - a winemaker interested in producing premium, sulfur-free wines. A deal was also announced in November 2013 with a liquid egg company called Izmir Pastorize Yumurta.
An investment in SurePure is only suitable for risk-takers, even though the company is only trading at a diluted market cap of $17.7 M. The company/stock certainly has a lot of upside potential, but this is contingent upon the success of the Turbulator product in the beverage processing industry. It seems that SurePure has already generated some traction amongst smaller companies, but it may be challenging to attract interest from larger ones.
So in conclusion, we see this as a higher risk/reward situation that we may revisit later this year.
Disclosure: I have no positions in any stocks mentioned, and no plans to initiate any positions within the next 72 hours.