AutoChina - The Beginning of the End 
After the markets closed on June 30th, 2011, AutoChina announced that they were delaying their 20F filing among a litany of other admissions. The press release also disclosed that the Securities and Exchange Commission was investigating the company and an accounting restatement was likely. They also confessed that in addition to the Company, an officer had also received subpoenas from the SEC. Finally, AutoChina disclosed that it had "a material weakness in its internal control over financial reporting as of December 31, 2010, due to a lack of requisite internal U.S. GAAP experience." Despite management's crafty reassurances, "neither the existence of the investigation nor the service of subpoenas means the SEC has concluded that any violations of law have occurred," we believe that these festering problems may be the tip of the iceberg for AutoChina, the "Dependent" Board of Directors, and sadly for shareholders. With the SEC and PwC presumably examining the multitude of unusual accounts and related party transactions (disclosed and perhaps undisclosed), it would not surprise us to see future inquiries and problematic disclosures. The unwillingness of the Board of Directors to even investigate our original alarming analysis speaks volumes about its cozy composition and indifference towards U.S. investors. While it may be a coincidence, a recent call Oppenheimer hosted with two partners from PwC China (AUTC's auditor) on "The State of Accounting for Chinese Companies," seemed to cherry pick the prominent warning signs from its own client, AutoChina.   
While the rampant and system-wide fraud accusations (and confessions) of Chinese RTO's has surely desensitized many investors, the complacency among AutoChina investors could is shocking. Despite management reassuring and misleading commentary about the business, and attempt to downplay the SEC investigation, we believe there is a high probability that AutoChina's stock will get halted, delisted, and ultimately be another sub-five dollar tragedy. We have tremendous confidence in the SEC, and despite some media criticism, their actions suggest they are aggressively addressing the RTO mess to ensure investors are protected. As the SEC and PwC continue their investigations, we are hopeful that they will consider the concerns that have been raised in past reports, as well as new areas of concern that are discussed below. Given our belief that AutoChina's Board of Directors does not possess one truly Independent member, we were relieved to learn that the SEC has now joined PwC as the last line of defense for U.S. investors. 
Did AutoChina commit blatant, unabashed Securities Fraud?
Since our original report on AutoChina, we believe that AutoChina's management team has misrepresented material facts to the investment community.[1] In our original report, as well as our follow-up report, we spent considerable time discussing the unusual earn-out for the CEO. Aside from creating horrific incentives for management to use aggressive accounting tactics to meet earn-out targets, it was our belief that the earn-out was "not currently treated in accordance with GAAP."  
AutoChina's management wrote a lengthy response to our report.[2] We believe that statements contained in AutoChina's response were either fabricated or knowingly erroneous. In its response, management stated emphatically that the earn-out (underlined is our emphasis) "has been discussed and confirmed with our current auditing firm, PricewaterhouseCoopers (and predecessor auditor Crowe Horwath)." We believe that based upon the Notification of Late Filing (NT 20F), AutoChina's statements regarding the sanctity of the earn-out accounting, and explicit blessing from PwC, were untrue.[3] In the late filing notice, the company clearly states that they were adjusting the earn-out accounting "after consultation with PwC during its annual audit process." This confession directly contradicts the earlier assurances that PwC had already "confirmed" the earn-out accounting treatment. Given the sterling reputation of PwC, we believe it would be highly unorthodox for an incoming accounting firm to "confirm" an accounting treatment before conducting an audit - yet AutoChina's management clearly stated otherwise, and did so in a public forum. 
Secondly, we would question whether AutoChina was timely and forthright with ALL investors as it relates to the SEC investigation. AutoChina filed its 6K for Q1'11 on June 6, 2011. In that filing, we were unable to find any disclosures of the SEC investigation under the risk section or under subsequent events.[4] So we must assume that AutoChina only became aware of the SEC investigation and subpoenas AFTER June 6th (otherwise they have a major disclosure issue on their hand). The lack of a disclosure in the 6K would suggest that AutoChina received the correspondence from the SEC between June 6h and 30th. While AutoChina only chose to disclose the SEC investigation and subpoenas on June 30th, we believe that they may have selectively disclosed certain "issues" earlier to analysts with banking ties.  
We had previously highlighted an ominous research report on April 21 that foreshadowed problems with the financials. In that report, an analyst at a firm with very strong banking ties to AutoChina (as well as banking ties to a recent SPAC that has significant management overlap with AutoChina) suspended his rating and price target after discussions with management concerning the 20F. We have no reason to suspect any wrong doing by the analyst, but it is a logical concern the selective disclosure was the impetus for the rating and price target suspension. If AutoChina knew about the SEC investigation well in advance of June 30th, why was it not disclosed earlier for all investors? It would seem logical that investors would have viewed such information as material.
An additional disclosure problem may exist if insiders were selling stock before the SEC investigation was disclosed. We believe any stock sales by insiders, disclosed or undisclosed, while having knowledge of an unannounced SEC investigation would constitute a material securities violation ("Examples of insider trading cases that have been brought by the SEC are cases against corporate officers, directors, and employees who traded the corporation's securities after learning of significant, confidential corporate developments").[5] In fact, we were able to find two filings for proposed insider sales within two weeks of the public disclosure of the SEC investigation. Ignoring the odd pencil filing, and the illegible signature, we would openly ask whether the company knew of the SEC investigation while Jinyu Peng filed to sell stock to U.S. investors that were unaware of the SEC investigation[6]: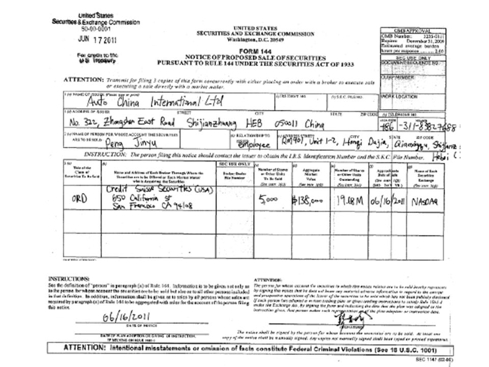 As a foreign filer, insider sales do not need to be disclosed. However, AutoChina's management team had publicly committed to disclose any stock sales greater than $200,000 by members of management. We would encourage the SEC to confirm that this public disclosure commitment has been upheld. Further, we think investors should be informed if members of management or the Board sold any stock subsequent to our initial report and prior to disclosing the SEC investigation.  
The misrepresentation of the earn-out fits a pattern of misrepresentations that have been made by AUTC management. AutoChina announced in mid-February that they would have AUDITED financials filed in March, "We look forward to announcing our fully audited 2010 fourth quarter and year-end financial results next month."[7] This timeframe for filing audited financial results would have been consistent with the filing of 2009 annual results, which occurred on March 22, 2010. In March, not only were no audited financials filed, but AutoChina seemed to retract the previous reassuring statement by issuing a new timeframe with no explanation, "The Company anticipates filing before June 30, 2011."[8]  
In its most recent earnings release, we believe AutoChina's CEO severely misrepresented the message from the research by China Automotive Review by attempting to characterize the end markets as healthy. Mr. Yi appears to have either misinterpreted the articles, or he brazenly painted a picture for investors in the press release that didn't appear to exist in the source he cited. The two articles cited by Mr. Li don't highlight the recent strength of the heavy-duty truck market. To the contrary, they actually describe the deterioration of the heavy truck market in China (production down 16% in April, 31% in May and forecasted to decline 26% in June).[9] There is a dramatic contrast in tone from the two negative articles and the positive commentary AutoChina used in its earnings press release (underline is our emphasis).  
Yong Hui Li, Chairman and CEO of AutoChina on June 6, 2011

"Since the latter half of 2010, we have seen demand in the heavy-truck market normalize from its previously high growth levels. In 2010, heavy truck sales in China rose by roughly 60% when compared to heavy truck sales in 2009. We feel this was an extraordinary jump over the historical growth in the market, driven in part by the effects of the government's stimulus program. However, we are still seeing steady growth in our sector. According to China Automotive Review, sales of heavy-duty trucks, including chassis and semi-tractor trailers, in the first quarter of 2011 totaled 299,436 units, up 8.4% from the first quarter of 2010. We believe that China's continuing economic development will keep driving demand for commercial vehicles in the long term"

China Automotive Review article referenced above

China's heavy-duty market in danger of negative growth by Wayne Xing  

According to the latest data available, China's heavy-duty truck market is slowing down significantly compared to the robust performance in 2010. Sales of heavy-duty trucks (including chassis and semi-tractor trailers) in the first quarter of 2011 totaled 299,436 units, up only 8.4 percent from the same period last year. Semi-tractor trailers, the star and fastest growing segment last year, saw sales drop 21.2 percent to 76,726 units. Another sign that the heavy-duty truck as well as the entire automobile market may be in for a difficult time is rising interest rates and tightening of credit by the central government to rein in inflation.

China Automotive Review's more recent findings:

Heavy-duty truck sales down 31 percent in May

China's heavy-duty truck market declined further in May, as sales plummeted 31 percent to about 74,000 units compared with the same month in 2010, reported cvworld.cn, a leading Chinese truck and bus news portal on June 7. Sales over the first five months were estimated to be around 470,000 units, which is about a 4 percent drop compared with the same period a year ago, when the market soared 120 percent. The heavy-duty truck sector is expected to further drop in June, with volume estimated to be less than 60,000 units, down about 36 percent from June 2010. The market may see a decline this year of as much as 15 percent, according to some analysts
 If we assume that the financials and operating assumptions are accurate, it does beg the question, why would AutoChina's management go to such lengths to distort the health of its end markets? We think the answer may be very straightforward. They need money. In past reports we have provided analysis detailing the massive hole AutoChina would appear to have in its 2011 funding plans. In the 6K issued on June 6, 2011, they clearly state the possibility of additional "borrowings from financial institutions and/or the sale of equity." Given that most of the company's incremental borrowings have come from related parties, our analysis would require the company to raise substantial amounts of equity from NEW investors. For this to occur, PwC's audit would need to play an integral role blessing the company's financials. We believe that this is another reason PwC must get the audit 100% right - it will serve as the key safety net for U.S. investors that would invest in any future offerings. However, the comments directly from PwC partners may suggest that they are not 100% comfortable with the characteristics of AutoChina.
Did PwC use AutoChina as a "Red Flags" case study the same day it was halted?On June 30th, 2011, Oppenheimer hosted a call entitled "The State of Accounting for Chinese Companies." The call was hosted by two audit managing partners of PwC China, Laura Butler and Stephen Ducker. Coincidentally, PwC China also happens to be AutoChina's newest auditor (although we would not be surprised to see them resign before completing an audit). On the call, Ms. Butler and Mr. Ducker outlined red flags for U.S. investors that have been harbingers of fraud. After listening to the call, it seemed to us that the PwC auditors may have been using AutoChina as their case study. Below we compare the red flags that PwC discussed and the parallels that we would illustrate at AutoChina. 
| | | |
| --- | --- | --- |
| Red Flag | Comment on Red Flag From PwC | AutoChina |
| Dominant Chairman and CEO | Chairman and CEO plays a dominate role at the company. Typically a founder and owns a large percentage of the company. There is no natural checks and balance with other members of the management team and audit committee. Management and audit committee are not willing or able to challenge senior management. | Yong Hui Li, AUTC's Chairman and CEO, is also its founder. He owns roughly 58% of the company and controls the operating companies through a VIE structure. |
| Weak Audit Committee | Audit committee lacks experience and members are not located in China or do not speak Chinese. Committee members often have no power to confront senior management with issues. | **We discuss AUTC's weak board and lack of checks and balances below. We do not view AUTC's three "external" directors as independent. None of the three directors live in China (they instead live in the United States, Canada and Hong Kong). |
| Weak CFO | CFO hired around IPO and not part of the inner-circle of management. CFO does not live in China or does not speak Chinese. CFO has limited CFO experience or accounting experience at publically traded companies and does not have a CPA. | Jason Wang, AUTC's CFO, lives in the United States and is not a CPA. Based on his resume, it appears that he had no relevant accounting experience prior to his appointment after the reverse merger. |
| Other Issues | Manipulation and collusion with cash balances. Transactions with related parties were specifically mentioned, as was accounts receivable that were never collected. | **See details below on related party transactions and the alarming alterations of these transactions. |
|   | Tax documentation | Disconnect between GAAP tax provisions and cash taxes |
|   | Employee expenses | Questionable expense base. Possible shared expenses with affiliated companies and rent free arrangements. |
|   | VIE ownership | AUTC has a convoluted VIE ownership structure where the shareholders do not own the operating companies. |
|   | Use of IPO Proceeds | This remains an open question as the original business model was focused on new and used car lots - a segment that was sold less than one year after the proceeds were raised. |
 On the call, Ms. Butler discussed a specific example where the SEC was focusing on a CFO and finance team's lack of experience with U.S. publicly traded companies. She also alluded to problems with CFO's that are not CPA's. While it may have been a mere coincidence, only several hours after the PwC call concluded, AutoChina disclosed that it "identified a material weakness in its internal control over financial reporting as of December 31, 2010, due to a lack of requisite internal U.S. GAAP experience" (underline our emphasis). As we have discussed in past reports AutoChina's CFO is not a CPA, and it appears that he had no relevant accounting experience prior to his appointment as CFO. The CFO also joined AutoChina from PEMGroup, where he was the Director of Research. While AutoChina's CFO may have been completely unaware while he was Director of Research, PEMGroup turned out to be one of the largest ponzi schemes in U.S. history. Given the extensive similarities between AutoChina and the "red flag" examples PwC used, we would be shocked if PwC is willing, or even able, to complete the audit and required restatement. But this does beg the question, if there are problems, why have we yet to see Board resignations and the lack of cooperation from management that ultimately leads to an auditor resignation? 
Management's $100 million incentive and the InDependent Board
Unlike many Chinese frauds that were discovered AFTER the money had already been misappropriated, AutoChina is unique in the sense management needs the audit to make approximately $100 million in an earn-out. Upon completion of the audit (the lone remaining hurdle for the earn-out), AutoChina's CEO will be issued approximately $100 million of stock. As such, management is highly motivated to "cooperate" with PwC, and do anything it can to ensure the audit gets completed. Given the monetary amount at risk, there is zero incentive for management to "take the money and run" as so many Chinese companies have done by refusing to work with auditors or special committees. But what about the Board of Directors; where have they been during the last four months since the original research was made public questioning so many elements of the AutoChina story? Shouldn't the "Independent" Directors have taken their fiduciary responsibility seriously enough to at the very least form a special committee to investigate very reasonable claims?  
We believe that a prudent Independent Director would have viewed an SEC investigation and associated subpoenas as cause for concern, providing a reasonable backdrop meriting an investigation. But given the unusual nature of AutoChina's Board, which arguably has no truly independent directors, it has not been surprising to see the Board look the other way. In fact, AutoChina's Board is one of the most "dependent" Boards we have ever come across. AutoChina's Board of Directors is made up of only five members. Of the five, three are labeled external directors. It would appear to us that the external directors are actually incredibly related in nature. The table below highlights the three outside directors and why we believe a reasonable person would question their independence. 
 

 

Committee

 

 

 

Director

Audit

Governance

Comp

 

Independent?

Diana Liu

Member

Member

Chair

 

Former AUTC President. Current CEO of Prime Acquisition. AUTC's Chairman and CEO is Chairman of Prime Acquisition. AUTC's third largest shareholder.

Thomas Lau

Member

Chair

Member

 

Co-owner with AUTC CEO of two businesses that have been AUTC's largest funding provider.

James Sha

Chair

Member

Member

 

Former Chairman and CEO of AutoChina until April 9, 2009. AUTC's second largest shareholder.
****As a reminder Prime Acquisition Corp was the recently capitalized SPAC that shares six members of management with AutoChina, including Mr. Li who is the Founder and Chairman of both companies. 
Areas of Focus (beyond the potential financial chicanery such as the earn-out)
There is no doubt in our mind that the SEC and PwC (although we would guess they'll resign) will conduct an intense and rigorous investigation into the previous operational and financial concerns that have been raised. In addition to the nonsensical financial claims that AutoChina has presented to-date, we would encourage the SEC and PwC to scrutinize other areas of potential misappropriation that we list below. Following the PwC conference call on June 30th (highlighted above), we feel reassured that the auditors are intensely focused on these issues and flags.
1) Related Party Funding and Transactions
Muddy Waters has been the gold standard for exposing Chinese fraud. An incredibly powerful tool that Muddy Waters has consistently used to identify fraud has been focusing on "accounts that we consider high risk because they are primarily evidenced by paper documentation, rather than their physical presence (as in machinery and equipment). The abundance of paper accounts on the balance sheet was one of the early signs to us that Rino International Corp. was a fraud. It is clear that auditors in China are having significant problems evaluating the veracity of documents" (underline is our emphasis). We believe the same "paper documentation" verification is where the SEC and PwC could face the most significant challenges.
The table below highlights the list of related party transactions that we have been able to ascertain. There may be other material related party transactions that have not yet been fully fleshed out. Given the sheer volume of dollars shifting back and forth between these related parties, there is ample opportunity for impropriety (such as hiding expenses and credit losses). Through nine months of 2010, the combined dollar amount of the related party transactions equated to a shocking $865 million. We believe the SEC and PwC are determined to reconcile the paper and money trail relating to the unprecedented related party transactions that we have found at AutoChina. While we are still working though the transactions, we would agree with PwC's assessment from the Oppenheimer call concluding that extensive related party transactions present huge red flags….
Account / Related Party

Nature of Related Party

Nature of Related Party

Capital and trading transactions

 

Honest Best

Parent of AUTC, owned by CEO & wife

Loan provided

Hebei Kaiyuan

Owned and controlled by CEO & wife

Bank guarantee

Kaiyuan Shengrong

Owned and controlled by CEO

Bank guarantee

Kaiyuan Shengrong

Owned and controlled by CEO

Bank guarantee

Hebei Ruihua Real Estate Dev

Owned and controlled by CEO & wife

Bank guarantee

Kaiyuan Doors

Owned and controlled by CEO & wife

Deposits for inventories for the purchase of trading materials

Kaiyuan Shengrong

Owned and controlled by CEO & wife

Loan provided

Beiguo

CEO and Director owns ~40% combined

Customer deposits received for the purchase of automobiles

Beiguo

CEO and Director owns ~40% combined

Deposits for inventories for the purchase of trading materials

Wantong Longxin

CEO's Brother owns 40%

Deposits for inventories for the purchase of trading materials

Renbai

CEO and Director owns ~40% combined

Customer deposits received for the purchase of automobiles

Ruituo

Owned and controlled by CEO

Sale of automobiles to the Company

Kaiyuan Shengrong -

Owned and controlled by CEO

Interest expenses incurred

Hebei Kaiyuan

Owned and controlled by CEO & wife

Purchase of trading materials

Kaiyuan Doors

Owned and controlled by CEO & wife

Sale of trading material

Kaiyuan Shengrong

Owned and controlled by CEO & wife

Interest paid

Wantong Longxin

CEO's Brother owns 40%

Sale of trading material to the Company

Beiguo

CEO and Director own ~40% combined

Sale of automobiles to the Company

Beiguo

CEO and Director own ~40% combined

Purchase of automobiles from the Company

Beiguo

CEO and Director own ~40% combined

Purchase of trading materials from the Company

Beiguo

CEO and Director own ~40% combined

Interest paid or expensed by the Company

Renbai

CEO and Director own ~40% combined

Sale of automobiles to the Company

Renbai

CEO and Director own ~40% combined

Interest paid (or expensed) by the Company

Renbai

CEO and Director own ~40% combined

Purchase of automobiles from the Company

Deposits for inventories, related party

 

Beiguo Commercial Building

CEO and Director own ~40% combined

Beijing Wantong Longxin Auto

CEO's Brother owns 40%

 

Hebei Kaiyuan Doors & Windows

Owned and controlled by CEO & wife

Due to affiliates

 

 

Hebei Kaiyuan

Owned and controlled by CEO & wife

Honest Best

Parent of AUTC, owned by CEO & wife

Kaiyuan Shengrong

Owned and controlled by CEO

 

Hebei Shengrong

Owned and controlled by CEO & wife

Mr. Li

CEO himself

 

Accounts payable, related parties

 

Beiguo

CEO and Director owns ~40% combined

Renbai

CEO and Director owns ~40% combined

Hebei Ruituo Auto Trading Co.

Owned and controlled by CEO

 
 Additionally, we are concerned that related parties appear to be shifting and morphing as well. AutoChina director Thomas Lau may have become uncomfortable with the related party activities between AutoChina and Beiguo Commercial Building Limited and Shijiazhuang Beiguo Renbai Group Limited (both partially owned by Mr. Lau and AUTC's CEO Yong Hui Li). This could be the motivation for AutoChina attempting to shift their related party debt to firms 100% controlled by Yong Hui Li (including Honest Best, the parent company of AutoChina, and Hebei Ruituo Auto Trading Co.). On May 31, 2011, AutoChina announced it had transferred its related party debt to a company 100% controlled by the CEO. The debt was transferred on March 29th, two full months prior to the disclosure, and just two days before quarter end. Was this transfer related to the audit? Was it related to the SEC? Why was Mr. Lau's exposure to AutoChina suddenly removed? 
Disclosed related party transactions leave plenty of room for comingling of funds and cash exchanges that are beneficial to management. Unlike most troubled RTO's, AutoChina actually needs to receive cash to keep the machine going because funding is needed - unless loans are fabricated, but we trust that the loans do exist. So what should be made of cash infusions from related parties at massive discounts, in some cases at a zero percent interest rate? We aren't entirely sure, but we do know that the CEO stands to make $100 million in earn-out shares should the game last through the 2010 audit. 
Additionally, we would love to be a fly on the wall when PwC and the SEC carefully examine Hebei Chuanglian Trade Co, Hebei Xian Real Estate, and Mr. Yong Hui Li. Also, we would guess the SEC will look at the ownership structure of Changjie and Chuangshend Auto Trade and any cash acquisitions that those entities may have made with loans from Hebei Chuanglian Trade, to verify that AutoChina paid a financing charge of approximately 4% in 2010 in excess of the cost to Beiguo and Renbai for the funds obtained due to the financing arrangement guaranteed by Mr. Li.
The payable balances of each loan from Beiguo and Renbai will also be interesting (the cash payments) as both were due within 180 days on Dec 31, 2009 (were payments ever made?). Similar issues may exist between Honest Best and Hebei Ruituo Auto Trading balances. Further any undisclosed vehicle purchases by ACG through Chuanglian Trading from parties related to Mr. Li or Mr. Yong would be a material problem. Additionally, we wonder who represented the ownership of Xinjiang? Was this a truly independent purchaser of the auto dealerships? Was the full purchase amount of $68.8 million ever received by AutoChina subsidiaries in cash? Did the ownership structure of Xinjiang qualify as a related party transaction that was not disclosed? Was there ever a physical delivery of materials in the sum of $1 million (NYSEARCA:USD) that AutoChina paid Kaiyuan Doors, or was the cash simply transferred to a company owned by the CEO and his wife? Further, Beiguo (the grocery story) purchased $19 million of "trading materials" from AutoChina - what were these materials? Why was a grocery store owned by the CEO buying materials from an auto leasing company? In addition, we would guess the SEC will perform a similar exercise with the accounts relating to Wantong Longxin (owned by Mr. Li's brother).  
2) Credit
We have not been shy in noting our extreme skepticism towards AutoChina's credit quality. Given the myriad of related party transactions, it would appear to be very easy to hide repossessed vehicles and losses inside of related party entities. Management claims to have experienced fewer than 20 defaults (versus 23,000 leases) and cumulative losses of roughly 15 basis points since inception. We believe this would represent one of the greatest accomplishments in modern finance, defying all conventional laws of lending. As such we would implore the SEC and PwC to verify (beyond paper documents) the purported loans AutoChina has made to confirm that they have only had 20 defaults. We would also guess that PwC will insist on verifying the trail of cash interest payments from every loan all of the way through third party bank statements. 
3) Hidden expenses
Given the limited expense growth and extremely low ratio of expenses per employee at AutoChina (which we have documented in the past), we believe AutoChina could have offloaded expenses to affiliated companies. This would include rent free transactions, as well as services and employee expense burdens being passed to related party companies. If this is true, it is not disclosed and would severely alter the expense structure at AutoChina. As a result, it would be prudent to review and audit the expense structure and payroll of related party companies that share employees with AutoChina (for example Mr. Li who hypothetically could be highly incentivized to shift expenses to Hebei Kaiyuan to remove said expenses from AutoChina's P&L - to hit the EBITDA targets stipulated by the earn-out). Also, for example, Hebei Kaiyuan Real Estate Development - formerly Shijiazhuang Kai Yuan Auto Trade Co.,Ltd. - 86 311 8382 - should not be able to transfer a caller to an AutoChina employee.
4) Size and Scope of Operations
We would encourage the verification and authenticity of the 318 AutoChina branch locations. A common theme in Chinese RTO frauds has the exaggeration of the actual size and scope of the operating company. We are confident that PwC has requested documentation at the branch level for the leases that AutoChina has claimed to underwrite for their normal audit procedures. We would be thrilled if management would release the addresses for each of the 300+ branches. 
We also believe there are several other accounting issues that could cause material restatements at the company (beyond the earn-out). We are concerned about other accounting issues including sales-type lease accounting (AUTC is not a captive finance company so this treatment does not apply to them), credit reserve accounting (credit reserves against their accounts receivable which represent their delinquent loans does not conform to GAAP, in our opinion), interest expense (debt with below market interest rates must be discounted), and stock compensation. In the first quarter 2011 the company restated part of their reserves for the first quarter 2011 and the fourth quarter 2010, shifting a portion against the "Current maturities of net investment in sales-type leases." There was no mention of this shift in accounting policy or notification of the restatement that we have been able to find.  
5) Things that common sense would say aren't so common
*It defies common sense that that AUTC has only 20 defaults out of more than 23,000 leases
*It defies common sense that a $1.7 million reserve is sufficient to cover over $850 million of leases
*It defies common sense that a grocery store has provided hundreds-of-millions of dollars of funding to AutoChina
*It defies common sense that the expense base is virtually non-existent for a national network of 300 stores and thousands of employees
*It defies common sense that AutoChina can account for its delinquencies as "account receivables" and its related party debt as "accounts payable" and "due to affiliates 
U.S. investors in AutoChina are investing at their own peril. The stock is currently more than fairly value on reported financials and has seemed to completely discount any risk from the SEC investigations. If the SEC or PwC were to find more problems at AutoChina, there is no reason to think it will not suffer the same fate as so many halted Chinese scams once they reopen - a quick trip to a few bucks per share. But, even if AutoChina somehow manages to get through its audit and escape unscathed from the SEC investigation, the company could face a severe funding gap. The company claims to have $242 million of book value at March 31, 2011. This amount will be materially lower after the earn-out restatement.  When one considers that AutoChina has recognized significant earnings upfront through gain on sale accounting and has a mere $2.4 million of reserves, we think book value is likely materially overstated.  At 50% of stated book pre-restatement, the company would be worth $5 to $6 per share. In run-off, we think there would be little to no value for equity holders.
Disclosure:
*** The author of this article is short AutoChina stock. TFF goes to great lengths to ensure that all information is factual and referenced. All facts that we present herein are true to the best of our knowledge. All opinions presented are our own and accurately reflect our opinion on the relevant subject being discussed. We recommend that investors perform their own extensive due diligence before buying or selling any security.
---