Treasury Inflation Protected securities, or TIPs, are a unique offering of the U.S. Government. They're bonds that pay interest equal to the current monetary inflation rate as determined by the Consumer Price Index. The theory is TIPs help protect your money by keeping pace with inflation. It used to be TIPs would pay two rates, a base coupon and the CPI as it was adjusted every 6 months. Currently the base coupon is dismal, thus TIPs basically yield only the CPI.
Theoretically we should be able to match the TIPs inflation rate with the CPI, knowingly a little bit skewed since the CPI is updated monthly and TIPs every 6 months. Since buying TIPs from TreasuryDirect.gov is impossible (see my article on bonds), we can look at iShares Barclays TIPs Bond Fund (NYSEARCA:TIP). Since TIP's price movement is tied to supply/demand/and the treasury curve we must look at its dividend yield: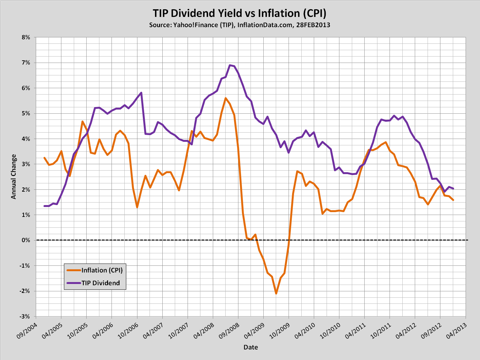 If we correlate this data: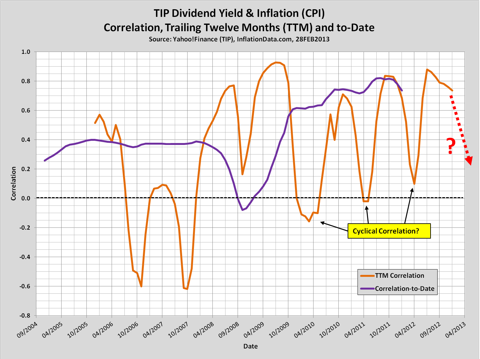 It appears the correlation between TIP's yield and inflation breaks down in the long run, likely there are more variables that affect TIP's yield than just the CPI. However we should note the TTM correlation appears cyclical. Since correlation is currently high it might be a safe bet to assume TIP's dividend will pull away from the published CPI.
Disclosure: I have no positions in any stocks mentioned, and no plans to initiate any positions within the next 72 hours.