Customer service is personal for each shopper searching for a new television to take home.  True tech enthusiasts will arrive at their favorite retail location with a clear understanding of what they want, while the majority of consumers need more help understanding why the quality of a high definition television enhances the viewing experience.  The question is would you rather find a service representative yourself or would you rather be asked if you need help within 30 seconds of entering the front door?  Let's take a look at how Best Buy (NYSE:BBY) and HHGregg (NYSE:HGG) go about meeting this customer service dilemma.
Tale of the Tape
Listening to a story about an unhappy customer service experience at Best Buy this holiday season prompted me to write about these two electronic retail heavy weights.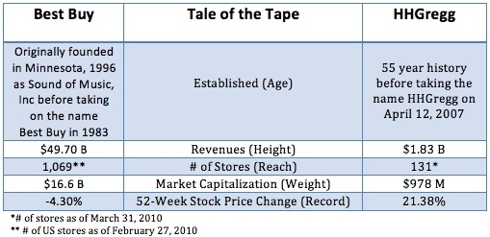 Differentiating Factor: Sales on Commission
First, I have to say that I am the guy who needs help figuring out which new high tech offerings will work best in my living room.  I have had good shopping experiences at both retailers.  The service representatives at each tend to be very knowledgeable or willing to call someone else over to help, but upon hearing further details about the unhappy customer experience mentioned above I learned that HHGregg differentiates itself from competitors by having the majority of its sales associates work on commission.
Customer Commitment
HHGregg believes that its commissioned sales force has more motivation than the sale representatives of their competitors to work with each customer quickly and effectively.  Customers who have a bad experience at Best Buy or prefer a slightly more aggressive sales approach from a commission driven sales force may ultimately boost the bottom line of HHGregg.
Same Store Sales
TV's have evolved from flat screens in the early 2000s to plasmas, high definition screens and 3D sets just over the past few years.  HHGregg and Best Buy are two of the primary beneficiaries of television and electronics upgrades in United States homes.  Best Buy experienced a 1.7% increase in comparable same store sales for Fiscal 2010 due to increased sales of notebook computers, flat-panel televisions and mobile phones. (1) HHGregg had a tougher experienced and reported a 6.6% decline in same store sales for its Fiscal 2010 period. (2)  The decline was attributed to a decrease in prices for its video category of products. 
Too Close to Call
Best Buy is still the king of the hill in terms of revenues, domestic and international locations, and same store sales growth but, it would be wise for investors to keep their eyes on the commission driven sales approach being offered at the HHGregg down the street.  Past performance is no indicator of future performance, but if you haven't noticed HHGregg stock has been ahead on the scorecard over the past 52-weeks ending in early December 2010.
Sources
1.   Best Buy, 10k (2010), http://phx.corporate-ir.net/External.File?item=UGFyZW50SUQ9NDQ3NTB8Q2hpbGRJRD0tMXxUeXBlPTM=&t=1, page 32
2. HHGregg, 10k (2010), http://files.shareholder.com/downloads/gregg/1089551290x0x376922/5E6EE665-64B4-49B0-AB08-5A8858EE3BB1/hhgregg_10k2010.pdf, page 35
Disclosure:
I have no positions in any stocks mentioned, and no plans to initiate any positions within the next 72 hours.