As a former client of Best Direct Securities, a subsidiary of PFGBest Direct, I can say that the recent revelations concerning PFGBest are of no surprise.
I had the displeasure of dealing with Best Direct Securities, first hand during 2011, and determined quickly that they should not be in the securities business. Their only saving grace, and I thank my lucky stars for this, is that their clearing house on the securities side, was Sterne Agee. Best Direct Securities didn't clear the trades, and therefore the money (my money) had to go to Sterne Agee to actually execute trades.
When I decided to pull my money out (after 4 months of frustration), the money was all there, and I attribute that to the fact that Best Direct was not a clearing house.
So as a curious (former) customer stimulated by the recent revelations that the former CEO attempted and failed, a fairly weak attempt at suicide, I wanted to see how PFGBest was fairing.
I then lost total confidence in our regulators when I went here, on July 17, 2012, 4 days after the fraud has been uncovered.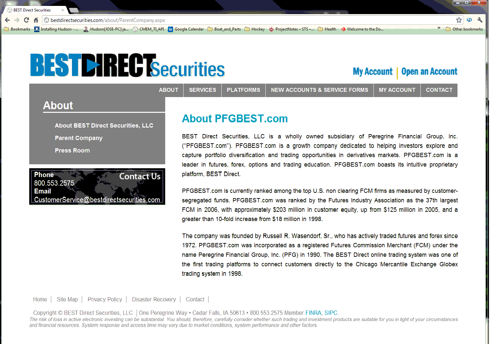 "PFGBEST.com is currently ranked among the top U.S. non clearing FCM firms as measured by customer-segregated funds. PFGBEST.com was ranked by the Futures Industry Association as the 37th largest FCM in 2006, with approximately $203 million in customer equity, up from $125 million in 2005, and a greater than 10-fold increase from $18 million in 1998."
So we have these regulators being paid to surf adult sites, and they can't get a website of a fraudulent operation down immediately.
If you're confidence isn't shaken already by Madoff, Stanford, Shawn Merriman (and a litany of other mini-Madoffs), MF Global, PFGBest, you have an iron stomach. Understand, though, that you are your own regulator. You would think with all of these regulatory bodies full of highly paid "professionals" that your interests would be a priority, but clearly if we're going to cut the budget, we could start with these silly organizations that haven't performed.
Unfortunately I've constructed an argument in favor of Too Big To Fail. If a large bank goes under, FED-Uncle-Ben will be there with electronic money transfers to make everyone whole again, even if fraud is the cause.
This summer, beware of volatility as the data creeps in and continues to paint a picture of a slowing global economy, coupled with our regulatory bodies being probed by congress. A congress which can't really agree on a fiscal policy while running a $1.5 trillion deficit a year. It's hard to be optimistic this year or next.
Caveat Emptor