Presenting Gold's 7-Sigma Move | Zero Hedge.
Bargain Hunters Shore Up Gold - WSJ.com.
Asians Snap Up Bargain Gold - WSJ.com.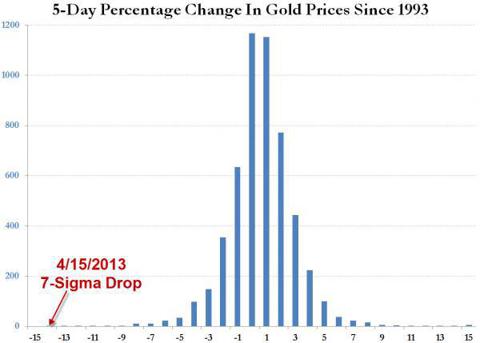 Gold is on a wild ride. The 7-Sigma move on heavy volume highlighted by ZeroHedge and illustrated above leads me to conclude that gold has entered a bear market. People, mostly dumb-money retail folks, are using this drop as a buying opportunity. One gentleman needed gold for his daughter's wedding and bought the gold today rather than waiting until the summer.
This is actually the anatomy of a market swoon. People move up their buying to take advantage of a price reduction lessening future demand. The lack of demand in the future ensures that the market continues to fall.
Paschi Prosecutors Seizing $2.4 Billion of Nomura Assets - Businessweek.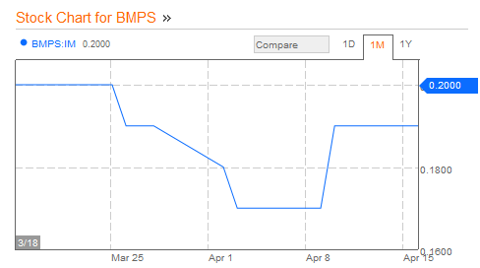 The cash-starved Italian government just stumbled upon a new way to pay for bailouts: confiscate money from the bailed out institution's counterparties on its stupid trades. If you doubt that this is purely a political move, note that Deutsche Bank entered into similar trades with MPB, but the Italian government is not attempting to confiscate its profits, just those of the Japanese firm.
Turkey Cuts Interest Rates By 0.5% - WSJ.com.
This is an odd move. The Turkish economy is exhibiting persistently high inflation amidst a surge in credit to the private sector and a decaying balance of payment situation, both of which would tend to augur a rate increase. On the other hand, unemployment has risen from a low of 9% in July to 9.4% as of February. Perhaps, employment and growth have continued to deteriorate, and the central bank is attempting to get in front of the problem.
Merkel plans to quit midterm, says author - FT.com.
Now we know why she is so desperate to save the euro. She will need a new job sometime in 2017, and what better place to work than the EU. If she wants van Rompuy's job, she better stop pissing off the entire periphery and France.
Apartment Building Bubbles as Single-Family Homes Struggles.
Housing Starts in U.S. Surge on Demand for Multifamily Units - Bloomberg.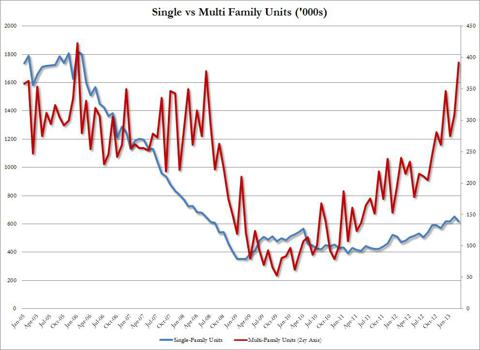 Who will live in all of these apartments being constructed? New household formation is low and will remain so until the labor market is roused from its torpor. Cheap money is creating a bubble here. When all of these units begin hitting the market, rents will drop and developers will struggle to let them all leading to defaults.
Note the much-hyped recovery has yet to materialize with total housing starts a small percentage of the peak hit back in 2006.
Slower China Growth Signals Days of Miracles Are Waning - WSJ.com.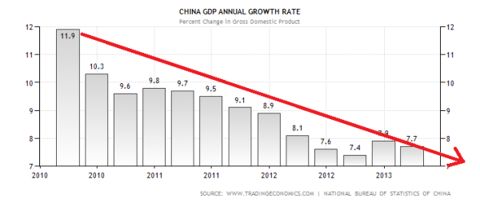 Even the Wall Street Journal has jumped on this bandwagon. China's growth is being fueled by credit creation, which is allocated to nonproductive projects. This is an unsustainable paradigm, but I dare you to call the end.
Workforce dropouts loom as Fed weighs tighter policy | Reuters.
Central Banks at Ease Limit Risk Political Backlash - Bloomberg.
Central Banks do not have a plan B. As soon as the effects of the current money printing begin to wear off, they will double down like they have in the past. They will continue this policy until the economy hits a take-off point and grows on its own or until they create a catastrophe. Any and all excuses will be used to continue financial suppression including the tepid labor market.