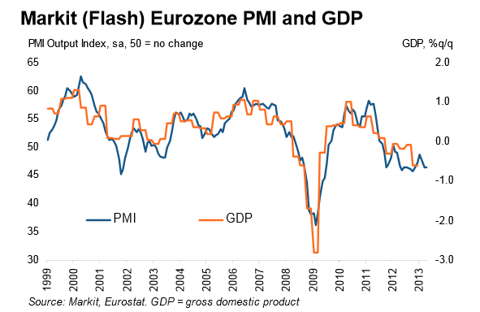 Euro-Area April Manufacturing, Services Contract - Bloomberg.
Microsoft Word - EZ_Composite_ENG_1305_FLASH.doc - 745fac706a3642ccb7aee03b21caa5e9.
Eurocrats and Eurozone governments have been promising a recovery for months now. Each quarter it fails to materialize, so it is just pushed back a few months.
There is no basis for predicting an end to this recession in the near future. All economic indicators point towards a continuing contraction. The eurozone recovery meme is based on increased exports to the United States and China and higher economic activity from Germany leading the continent back to growth. Exports from the Eurozone have risen, but the change is not large enough to overcome the precipitous decline in Europe's consumer and government spending.
Moreover, Germany's nascent recovery has stalled with its output has entering contractionary territory. This bad economic bad news could not come at a worse time for Angela Merkel who is standing for reelection in five months; however, slowing German output in a time of low inflation throughout the Eurozone should remove German objections to an ECB rate cut probably after the next meeting in May.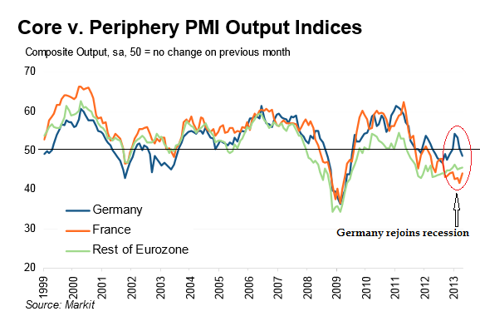 Rising unemployment is bad for the incumbent, and Germany's shrinking output is reducing workforce growth. The temporary rebound in employment looks to be coming to an end amidst economic contraction. While German unemployment is not rising, that is where the trend is heading: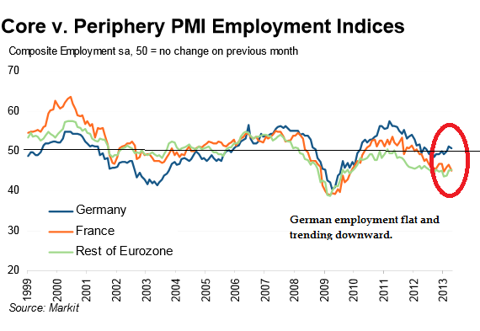 The current numbers illustrate Europe's continuing economic decline, and there is no end in sight to this recession. Each European government has projected a smaller budget deficit this year based on a recovery developing in the second half. As these numbers make clear, European government budget deficits should continue to rise in 2013 as tax receipts fall short of projections.