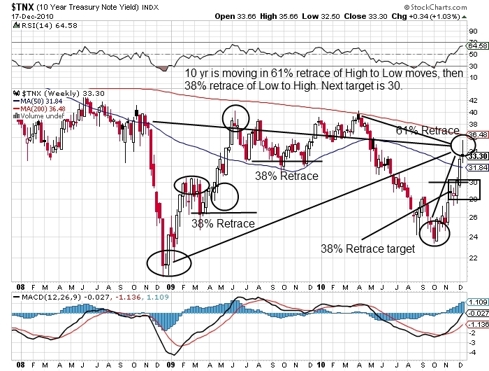 Above we have a two year chart of the 10yr bond. The movement of the 10 year directly influences the S&P 500. Markets tend to move in same multiples of time and distance.
The 10yr has completed a 61% retrace of both the 2008 High to Low, and the 2010 High to Low. Each subsuqent Low to High was completed with a 38% retrace of that move. We can expect this pattern to continue, with a pull back to the 30 level, or 38% retrace of the 2010 Low to High.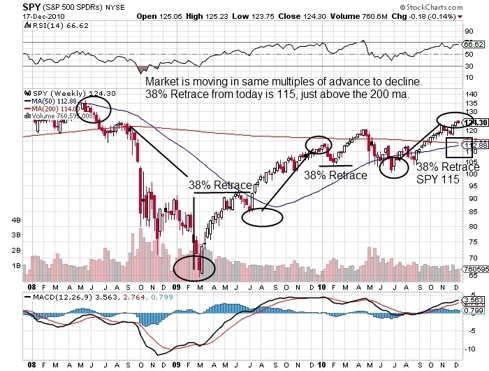 The SPY, we see the same repeated 38% retrace of Low to Highs over the last 2 years. Should the pattern hold, we expect a pullback to the $115 area, or 38% retrace from current levels.
Keep in mind both the 10yr and S&P are in bear market up wedges within the larger 15 year secular Bear market that begin in the year 2000.
Despite the governments best efforts, then end results will be the same as the previous 120 year bull/bear cycles; a major decline of the indexes until the p/e ratio is below 10 and dividend rates are above 15%.
Disclosure:
I have no positions in any stocks mentioned, and no plans to initiate any positions within the next 72 hours.