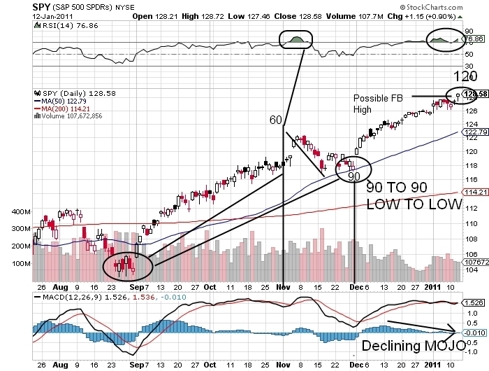 If you have heard of W D Gann then you might now about his Time Cycles. Basically stocks tend to find tops and bottoms within cycles of Time consitent with historical time durations.
Next week, SPY has a high probability of 120 day top cycle from the September low, which also correspondes with the 90 to 90 low September to December.
I have marked the 60 probability, which resulted in a small pull back, but the market was able to ovecome that. The 90 probability which the market held, and now we are moving into the 120 day next week. Todays up move could prove to be a False Break High, which is very common in tops.
Again this is probability, which we have to aware of as traders. We don't have a crystal ball, but we do have history as our guide which gives us something to watch for. If your watching for something and it happens, then your trading accuracy climbs to almost perfection. ALMOST.