Intel yet again reported earnings today that would impress even the most stubborn critics-earnings and revenues up big, raised dividend payout, raised guidance.
On paper a conservative valuation puts fair value at $33 per share.

So then why is this a value trap dog with fleas and a sure loser if you buy and hold the shares? Why will I be shorting the shares with both fist full of newly printed Bernanke declining US dollars?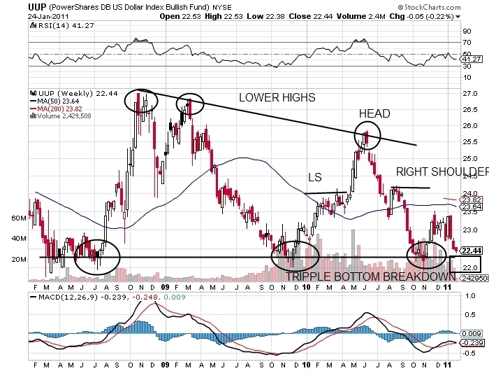 Here we have a chart of the UUP-US Dollar ETF. A clear descending triangle pattern with with lower highs-a perfectly formed Head-N-Shoulder formation which is about to result in a tripple bottom breakdown.

This break down will send oil skyrocketing back towards prior decade peak prices and along with it the cost of living for the entire world to become unsustainable. This action will also force Bernanke's hand to immediately cease QE2 program thus removing mojo multiple expansion juice-not earnings expansion-stocks have enjoyed since QE2 begin.

INTC is a laggard in multiple expansion and the market hasn't rewarded earnings expansion, thus the stock will experience multiple contraction along with the broader indexes as the FED loses control and the economy spirals downward. American and International companies will respond as they always do, by cutting labor and scaling back R&D and technology upgrades. Plus the higher input cost related to skyrocketing oil will cause Intel management to revise their earnings forecast-downwardly.

Now of course you are a INTC bull and don't believe me, so lets look a some INTC charts for further confirmation. The markets are supposed to look ahead and tell the story, so what are they saying?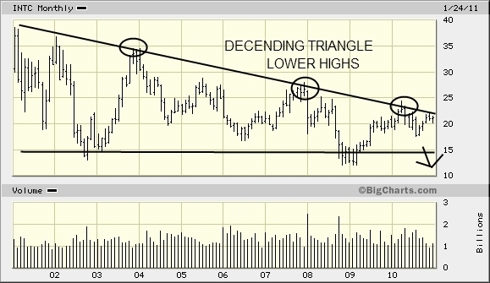 The above chart of INTC is over the last decade. You can see clearly a descending triangle with lower highs and an about to be broken double bottom. Look like the US dollar chart, doesn't it. Hmm?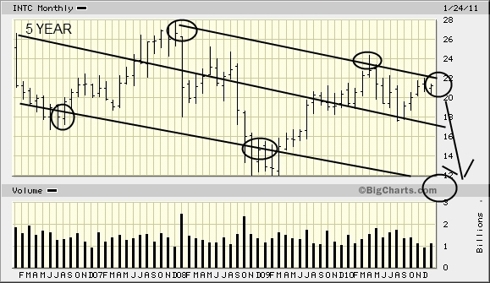 Next chart if a 5 year chart, same thing clearly defined downtrend channel, even though earnings reports continue to improve?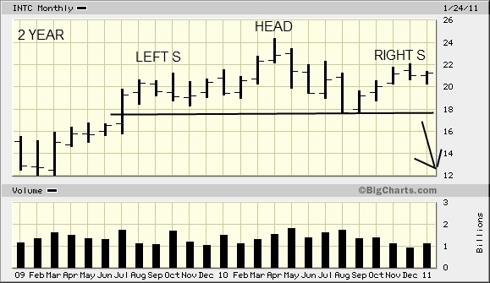 Last chart because I don't want to be typing all night and you get the picture by now or refuse to--a 2 year chart with a nice Head-N-Shoulder pattern about to be completed.

Bottom line Intel, despite its extremely competent management team and its desire to bring shareholder value to its investors, has the same problem most American companies have.

Bad Government and an out of control Central Bank-neither of these they can do much about.

Follow me at twitter/tkathlinastocks



Disclosure: I have no positions in any stocks mentioned, and no plans to initiate any positions within the next 72 hours.