I will begin a weekly series of nightly post for you short term traders, and for us trend traders looking at Major Indices two day Candle Stick Formations of potential.
Keep in mind very short term trading signals are not high probability as too many daily factors can negate the signals.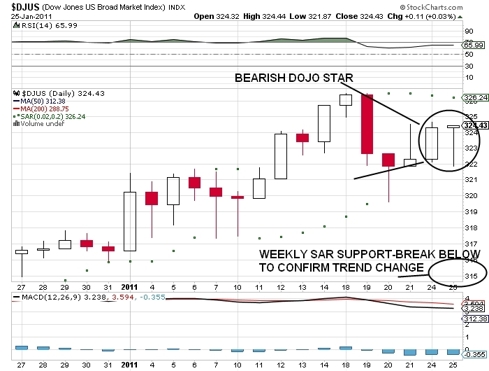 Dow Jones Broad Index is the largest 2500 stocks within the Dow Jones Total Market Index-which is an Index of all tradable securities.
Todays action against yesterdays move formed a Bearish Dojo. This is an uptrend warning that bulls are possibly losing conviction. Tradable Confirmation would be a break below 322.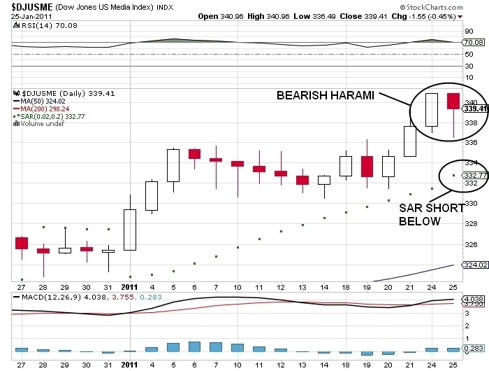 Dow Jones Media-Bearish Harami-Shows bulls upward conviction is losing participants.
Some names in this space to consider for downside follow thru are:
CVC,CBS,IMAX,DISCK,MHP,NYT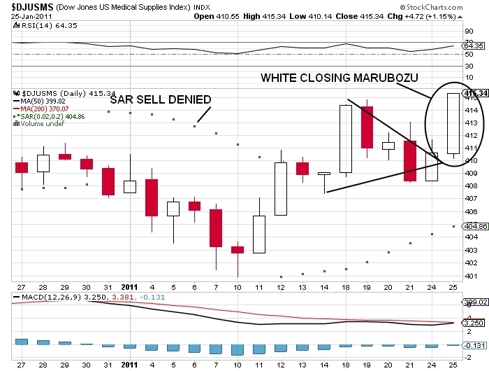 DJ Medical Supplies has broken to the upside out of a Flag Pattern forming a White Marubozu. The Marubozu shows a lower open which was strongly purchased by money waiting to get in.
Stocks to consider for bullish follow thru would be:
PRXL,PDCO,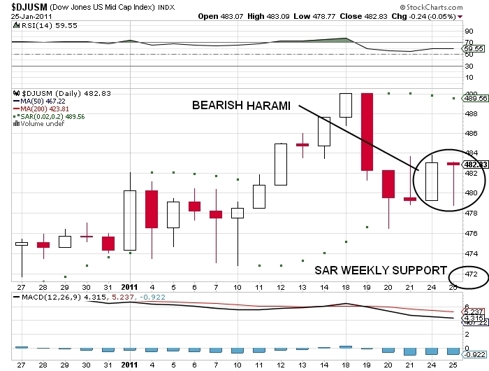 Both DJ Mid Cap and DJ Industrials formed Bearish Harami. Industrials would confirm the pattern with a break below 11850.
Potential canidates for downside follow thru are:
KFT,HPQ,AXP,JPM,AA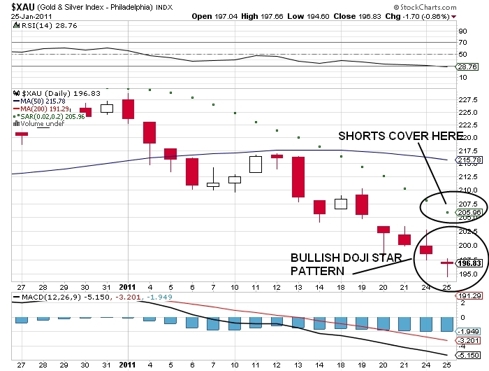 Watch to see if Gold/Silver can catch a bid tomorrow.

CANDLESTIC PRACTICE PORTFOLIO-We will short: CBS, MHP
CANDLESTIC PRACTICE PORTFOLIO-We go long PRXL

Good Luck!