Per PRXL website:
PAREXEL is a leading global bio/pharmaceutical services organization that helps clients expedite time-to-market through our development and launch services.
 
Ok-what ever. This is not a fundamental write up. In Fact, even though the market is about to pull back and even though per Vector Vest PRXL shares are worth $21 per share--the charts right now tell me this stock is going higher; just needs a push.

What's going to be the push you ask??
Boston, MA, January 10, 2011 – PAREXEL International Corporation (NASDAQ: PRXL) will release Second Quarter Fiscal Year 2011 financial results on Monday, January 31, 2011 after the close of the stock market.  The announcement will be available on PAREXEL's website at www.PAREXEL.com

Lets look under the hood: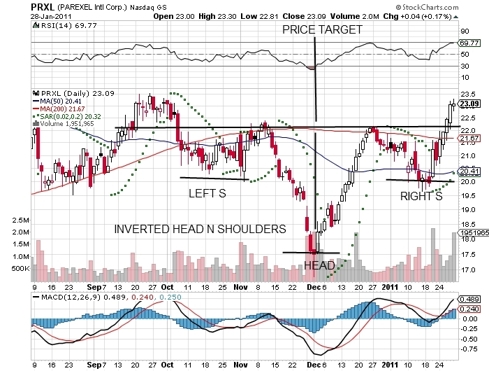 A first year technical wannabe can spot this pattern from a mile a way-Inverted Head n Shoulders on daily chart. To get a price target, you draw a line from the head to the neckline, then an equal distant line above that. That gets us to around $30.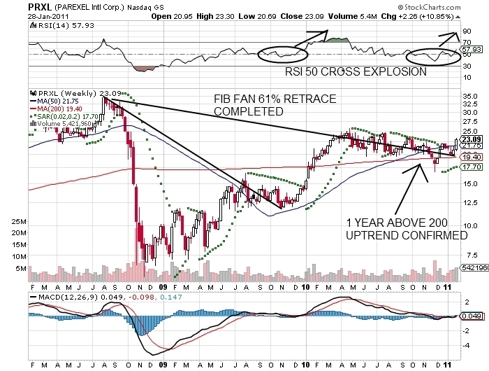 Here I have drawn a FIB FAN as you can see the 61% retrace level PRXL has been hugging for almost a whole year. This has all happened above the 200 avg and therefore sets up an explosive move higher.

Notice as well the 50 RSI bullish cross. The last 50 Bull Cross we got, the stock exploded higher from $12 to $25 in a little over 2 months-that's 100% return!

Last don't forget, we came into this stock for our Candle Portfolio based on the Medical sector breakout; sector moves are 60% of any individual stock moves.

If you believe in EMT-Efficient Market Theory, the markets believe Monday's earnings report will be the fuel PRXL needs to get to the next level.

Just need PRXL management to come thru!!

Price Target $27.50

See Ya