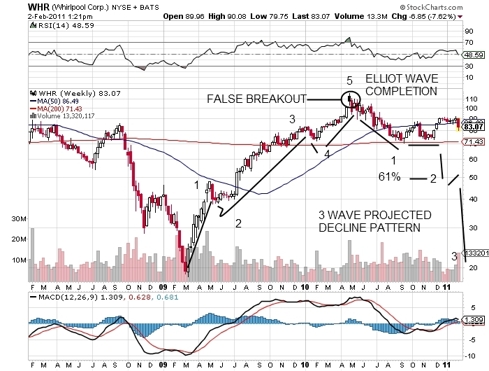 Nice headline today for WHR earnings report, "Whirlpool 4Q rises on lower cost".
Sounds good until we actual dig in and find this, "
Raw material inflation is driving costs higher and we expect to mitigate these costs with improvements in cost productivity, innovation and recently announced price increases," Whirlpool Chairman and Chief Executive Jeff Fettig said"
And This:

Revenue from Whirlpool's North American segment fell 1% amid a
61% drop in operating profit caused by a lower production volume and higher materials costs
."
Once again, as it has been with the US stock market for a while, all is not what is seems, or is headline reported to be. I have been warning my Twitter followers about cost/push inflation coming to a supermarket/retail chain near you for a while, thank you Mr. Helicopter Ben Bernanke.
You see, it is more important to bail out the banking cartel, then to worry about bankrupting Americans and the rest of the world
. Well, cost/push inflation has arrived as business in order to satisfy Wall St can no longer just eat the skyrocketing cost; thus will be taking a big bite out of your cash flow by charging you more for everything you buy.
The only option for Whirlpool to achieve substantial growth and profits going forward is for Americans to be given a raise and a job. Since that is unlikely to happen because business are not going to hire when they clearly see no demand and cost/push inflation hitting their bottom lines. Thus, we are back to cost cutting and job layoffs.
OBAMA and Helicopter Ben seem to not be able to understand this; or don't care.
So, since we have established that WHR is over valued with no growth potential and will have to lower earnings expectations-where is the stock going to end up?
We can see clearly on the weekly chart that WHR completed a 5-period Elliot Wave top with the ever present False Break High. Now, we have begun the long 3 wave down move, with wave 1 completed.
We use our Fib Retrace figures of the 09 low to the 2010 high, to arrive at 61% retrace or $54 to complete Wave 2.
Wave 3 which is the panic wave stage, we turn to the actual earnings figures supplied by Whirlpool, which we assume based on what I stated earlier, will only deteriorate from here.
WHR has $7062 in assets-real estate,cash,inventory and $11470 in liabilities, and this is cutting them some slack. This means investor leverage or risk is at 1.62 OR 80% more risky then current Non Farm Corporate risk leverage of 1.11 based on Federal Reserve Numbers.
If then we take 80% out of the current market price, we get down to around $16-$20 a share price target, or the equivalent current price of a competitor GE.
So unless WHR gets a buyout offer, we expect Wave 3 to complete at or around $20 a share.
Strong Sell-Price target $20