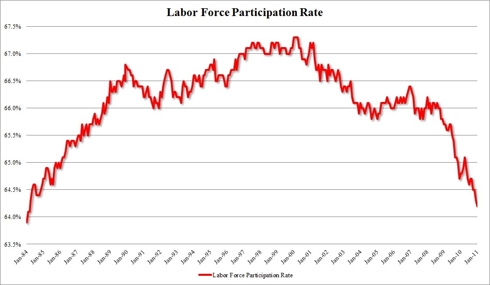 Yet here we were again, 3rd month in a row with CNBC economist on TV throwing out triple digit workforce growth projections; only to have those wishful thoughts thwarted with yet another statement of the obvious:
www.youtube.com/watch
 --Ben Bernake Must Go Before Its too late!
THERE ARE NO JOBS BEING CREATED-THE ECONOMY IS NOT GROWING-WASHINGTON AND THE FEDERAL RESERVES BAIL OUT OF BIG BANKS AND WALL STREET IS BEING DONE AT THE EXPENSE OF THE AMERICAN PEOPLE.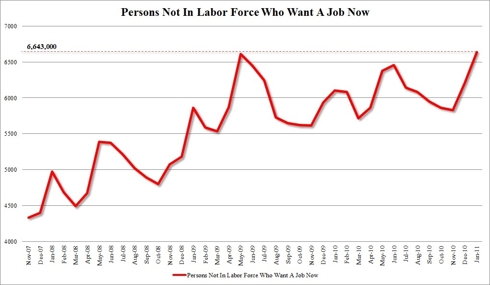 What is growing is the bill that will be due for out of control Debt, what is growing is the cost of everything we need to live, such as food, water, gas.
Look at it from another perspective, there are 12 million baby boomers retiring or about to retire, if they can, who is going to support them????
Generation Y, which is the generation following baby boomers, doesn't have a job. Generation Y is mostly on food stamps. Generation Y, even if they were doing well, only had 9 million babies.
Nine million tax payers, can not support 12 million tax papers social security checks and Medicare coverage; while at the same time pay down the largest debt in history-especially considering they DON'T HAVE A JOB-OR ONE THAT PAYS VERY MUCH.


Keep drinking the Kool-aid now Wall Street-the day of reckoning is coming fast. What message do we send to our business leaders, when
they cut jobs and outsource the rest of the jobs; we send their stocks up 80%.


Do we really believe they are going to hire someone? Why would they?