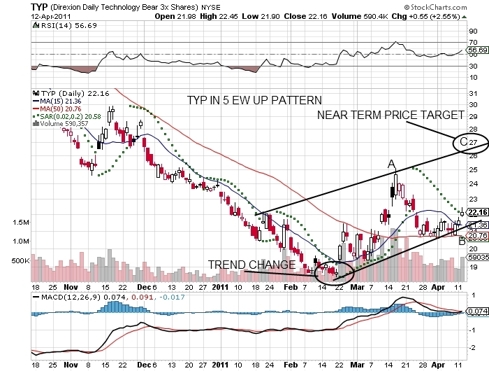 Its been a long time coming, finally I can recommend going short. I have been wanting to write this post since December 2010.
As we see in TYP daily chart above, trend change occurred in late February, the date where the bulls were able to last push the market higher. Since then, the markets have been in a distribution pattern; one wouldn't know that by just watching the headlines on CNBC.
Notice the volume difference in the last few months verses 2010. We see just the opposite of this on the bull ETFs; no volume other then Helicopter Ben buying.
TYP has moved into what looks like a clear uptrend channel, complete with rising RSI and a flattening 50 day.
Expect this 1st wave of a 5 up wave pattern to complete around $30-with 5 fractal moves, 2 already completed. Expect the stock to move up to $26-27 for fractal 3, down to $25 to complete sub wave 4, then up to $30 to complete the 1st wave.
See ya