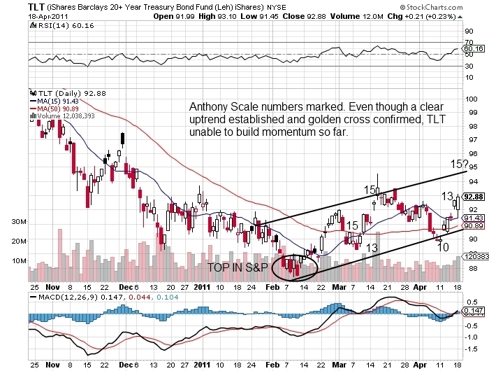 I use a simple counting method to visualize mojo and pattern strength. Basically I look at any 30 day period and start to count beginning at 15 (half of 30) up one point on up days, back down one point on down days. I average the entire 31 day sample to get the mid-point range; which then helps me judge strength of pattern or mojo.
We look at bonds verses stocks using chart pattern, then candlestick patterns, then my Anthony Scale. By doing so, we can project out a few days and anticipate moves.
On the chart above, I have noted the AS numbers with the corresponding dates. We see the rise in TLT began with the top in the S&P back in Feb. The clearly defined trend channel lends credence that a 5th wave top in stocks is firmly in place and a downtrend has begun. Considering the Fed is pumping in 200 billion dollars a month, yet S&P can not make new high, is encouraging for the bears.
However, overlaying the Anthony scale count on the trend, shows that stock traders are anything but bearish, and that this up trend has yet to develop any impulse of fear or strength to it. Not un-common in the 1st leg of a 5 wave up pattern. (IF THAT IS WHAT WE ARE IN)
Today a
Long White Candlestick
was formed. This shows that the prices advanced significantly from open to close during the day under strong buying pressure.
If the pattern of trend over the last 30 days holds, we can expect an extension of 2-3 up trading days (could have a minor pullback day in between) to get Anthony Scale to 15. At that point, a fast reversion back to the mean of 13, or even a few more down days back to 11 or 12 on scale; would be in keeping with current trading trend pattern.
What this means for stocks is expect a strong reversal or large up day in the near future to once again shake out the shorts.
Until this pattern can extend beyond 15 on the Anthony Scale, thus putting it into a new trade pattern, building momentum; shorting stocks will continue to be a day to day book your profits as you get them exercise.
Good Luck!